Do you want to know the best microwave with toaster oven combo that can air fry chicken breasts, bake a pizza, or toast slices of bread in no time?
Galanz GTWHG12S1SA10 is the best multifunctional and space-saving microwave toaster that can perfectly toast your bread, rolls, and bagels and reheat food simultaneously. Other top options are:
Toshiba EC042A5C-SS
GE Mechanical Air Fryer Toaster Oven
Breville BOV800XL Smart Oven Convection Toaster
Sharp SMC1585BB Convection Microwave
Top 3 Picks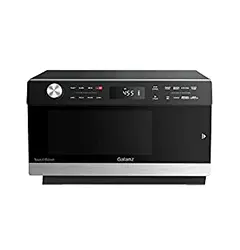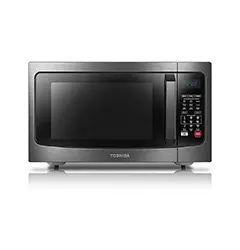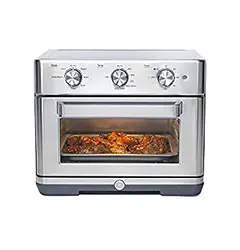 Below, we'll review the 5 best microwaves with toaster oven combo and their benefits to help you make the right buying decision.
What Are the Benefits Of Using Microwave With A Toaster?
Before reviewing the best microwave with a toaster oven, here are the benefits you can expect to get from investing in this kitchen appliance.
More convenient
A microwave with a built-in toaster lets you toast bread and heat food quickly, as there is no need to switch on two separate appliances. Also, you don't have to wait for the toaster to cool down before using it again.
Space Saving
If you don't have a lot of space in your kitchen, then a microwave with a built-in toaster is an ideal choice. They occupy less space than two separate appliances and fit on the countertop or inside a cabinet.
Budget-Friendly
Since a microwave toaster functions as a single unit, it helps you save money. You don't have to buy a standard microwave and a toaster separately, which can be costly.
Faster Cooking
In a microwave and toaster combo, every cooking function influences one another. The microwave function speeds the cooking process using the oven or toaster options like broiling or baking. With this type of conventional oven, expect to prepare your meals 30 to 50% faster than the normal time.
Best Microwave With Toaster – Top 5 Reviewed
Now that you know the benefits of using a microwave toaster combo, it's easier to see why it is a great treat for every household. We tested over 30 models to determine which ones perform the best and picked the 5 top choices to choose from.
Let's review these 5 microwave toasters one by one.
Galanz GTWHG12S1SA10 4-in-1 Microwave Oven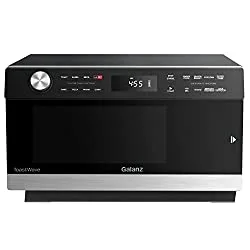 Dimensions: 21.25 x 22.25 x 12.56 inches
Item weight: 40.2 pounds
Capacity: 1.2 cubic feet
Energy consumption: 1000 watts
Material: Stainless
Numerous functions allow for versatile and convenient performance
Comes with all the accessories you need for better cooking results
A patented smart sensor simplifies the cooking process
Inverter Technology allows for even cooking results and less energy consumption
The 10-second time increments may be too much for some foods
Lacks a glass turntable
Galanz GTWHG12S1SA10 4-in-1 microwave is a must-have appliance for fans of pizza, cookies, chicken, and other favorite dishes. Thanks to its versatility, you get a microwave, an air fryer, a toaster oven, and a convection oven all in one appliance to perfectly reheat, air fry, roast, bake, and toast your favorite foods.
Apart from its versatility, the 1.2 cubic feet capacity of this microwave toaster combo appliance is more than enough to hold relatively large dishes. This makes it a suitable choice for cooking for the whole family or guests without worrying about space.
In addition, cleaning this microwave is easy, thanks to its non-stick interior with a removable turntable. Simply use a piece of damp cloth and wipe off any spills or splatters.
With a wattage of 1,000 watts, you'll love how powerful this unit is. Galanz will cook your food evenly and quickly without compromising the taste. Additionally, the 12 pre-programmed settings let you prepare any meal without a fuss. So, you can make popcorn, pizza, or your favorite meal with just a tap of a button.
Toshiba EC042A5C-SS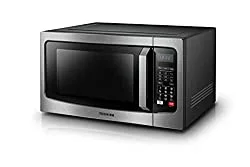 Dimensions: 21.77 x 21.50 x 12.99 inches
Item weight: 30.3 pounds
Capacity: 1.5 cubic feet
Energy consumption: 1000 watts
Material: Stainless steel
Spacious microwave ideal for serving large families
Quality design and non-scratch stainless steel ensure durable performance
13 preset menus allow you to cook a variety of foods conveniently
Comes with handy features at an affordable price
Some users claim that the microwave takes a long time to cook
The Toshiba EC042A5C-SS microwave oven is a convenient option for large families due to its 1.5 cubic feet capacity. It can easily accommodate a dinner plate and more without compromising on the quality of cooking. , this microwave cooks food fast and evenly.
With 1,000-wattage power, this microwave toaster combo appliance also features a convection mode that cooks food faster and better than traditional units. It can usually reheat frozen pizza in just 20 seconds – an impressive feat!
The intelligent sensor technology automatically detects your food's humidity levels and adjusts the cooking time and temperature to ensure excellent results.
With 13 preset menus, you don't have to guess how much heat or time your meal needs to cook to perfection. An easy-to-maintain stainless steel finish makes the microwave durable for a lifetime.
GE Mechanical Air Fryer Toaster Oven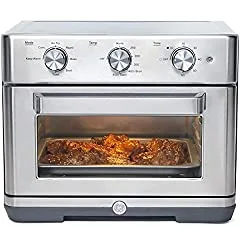 Dimensions: 15.8 x 20.7 x 12.2 inches
Item weight: 33.7 pounds
Capacity: 1.1 cubic feet
Energy consumption: 1000 watts
Material: Silver/stainless steel
Smart sensor removes the guesswork from your cooking process
The broil function offers crispy and excellent results
Ideal compact design for small-spaced kitchens
Multiple pre-programmed settings enable you to cook various foods with ease
Tiny control buttons and fine print make it hard for some users to read and operate the microwave toaster
The tinted glass door restricts you from watching your food as it cooks
This microwave oven has a built-in toaster, making it suitable for busy students and professionals who want to cook food in a hurry. It's also ideal for apartments and homes with compact kitchen spaces. Although it's not a top-of-the-range appliance, it's still super functional and a worthwhile investment.
One of GE's mechanical microwave toaster combo functions is the FlashXpress broiler function, which provides faster and more even cooking. With a 1000-watt cooking power, it heats your food in the shortest time possible. The inverter technology is another bonus that offers delicious taste, crisp texture, and well-cooked dishes without consuming extra energy.
The Broil setting on the microwave toaster works perfectly, as you could toast two muffins or bake four slices of bread without effort. The 18 pre-programmed settings allow you to cook a vast range of foods with just a touch of a button.
Breville BOV800XL Smart Oven Convection Toaster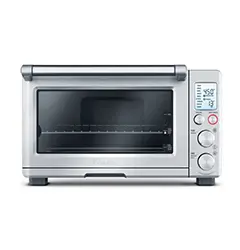 Dimensions: 15.7 x 18.5 x 11 inches
Item weight: 1 pound
Capacity: 1.5 cubic feet
Energy consumption: 1800 watts
Material: Brushed Stainless steel
Nine cooking functions make it a versatile appliance
Offers incredible cooking performance due to the 1800-watt power output facilitated by the ELEMENT IQ SYSTEM
Non-stick coating on the interior for easy cleaning
The exterior may overheat while cooking
The Breville BOV800XL microwave toaster oven is perfect for those seeking speedy cooking while enjoying toasting, baking, broiling, and other cooking functions. Its high wattage power of 1800 watts sets it apart, produced by five quartz heating elements that can efficiently cook your frozen chicken or turkey.
The unit features a convection setting that reduces cooking duration by 30% without compromising the cooking results. The inbuilt fan helps cool off the interior parts while cooking, preventing overheating.
The Breville microwave toaster combo also offers a generous optimum internal capacity to hold 6 slices of bread, a 13-inch pizza, and a 6-cup muffin. With this capacity, you can confidently prepare a meal for up to 6 people to perfection without worrying about cooking space.
Unlike some convection ovens, Breville boasts an impressive backlit LCD, making it effortless to program, operate, and watch the timer countdown as your food cooks. Overall, the Breville BOV800XL microwave toaster oven is an excellent investment for those looking for a versatile appliance that can cook food quickly and evenly while saving kitchen space.
Sharp SMC1585BB Convection Microwave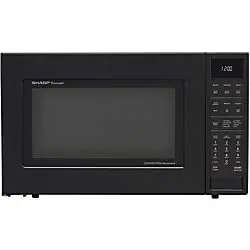 Dimensions: 24.7 x 19.0 x 14.9 inches
Item weight: 60 pounds
Capacity: 1.5 cubic feet
Energy consumption: 1100 watts
Material: Stainless steel
Stainless steel interior ensures durability
An intuitive display allows you to keep an eye on your meal while cooking
Versatile and multifunctional microwave designed to offer you value on your investment
Convection technology provides you with excellent baking, browning, and roasting results
Some users claim that the microwave has reduced its performance after a few years
Sharp SMC1585BB microwave is a 2-in-1 appliance, providing the benefits of a convection microwave and a toaster.
While it perfectly fits on a countertop, this microwave boasts a large capacity of 1.5 cubic feet. That's quite an ample interior space to prepare a meal for your relatively big family. It gets all that power from the 900 and 1100 watts, which you can select to suit your cooking speed preference.
The precise cook sensor technology helps you cook dishes efficiently for incredible results. Sharp comes with a touch control panel fitted with a white display, making it easy and efficient to operate.
With 12 one-touch options, you can auto-defrost your meat, make popcorn, reheat pizza, and more without much effort.
What is a microwave toaster combo?
A microwave with a built-in toaster combines two kitchen appliances in one unit. There are two types of microwave toaster combo available on the market. The first features a toaster function; the Galanz GTWH12BKSA10 is a good example that can perfectly toast your bread, rolls, and bagels.
The other type involves microwaves that come with a broil or grill function. They may not toast slices of bread like a traditional toaster oven, but you almost get the same results as a toaster.
What should I look for in a Microwave toaster?
You should look for size and capacity, wattage output, unique programming features, ease of cleaning, and safety feature while buying a microwave with toaster oven.
Size and Capacity
The size of the microwave toaster is a crucial factor to consider. Why? Because it determines how much food you can cook at once. A large family needs a bigger appliance, while a small family can resort to a smaller unit.
Wattage
The wattage power of a microwave toaster determines how fast your food cooks. Most of them have a power input of 700-1000 watts. Be that as it may, you can find a few options with higher wattage power to 1800.
A more powerful unit will cook your meals pretty fast, but make sure you consider the type of foods you're preparing. That's because different foods have different cooking temperatures.
Automatic Cooking
Some microwaves with built-in toasters come with pre-programmed settings for specific foods. For example, a few units can defrost a frozen dinner by selecting the firm dinner setting to automatically set the time and power level for your convenience and cooking accuracy.
Ease of Cleaning
Most microwave toaster ovens are effortless to clean. However, some come with a quick clean feature that allows you to wipe the interior with a damp cloth. This is especially useful if you are in a rush and must clean up quickly after cooking something messy.
Safety Features
You probably have children in your home. So the microwave toaster combo unit you select should have safety features, including a child lock and auto shut-off. However, make sure to put only microwave-safe containers on dishes in the appliance.
Conclusion
A microwave with a toaster combo is a beautiful yet worthwhile must-have appliance for any kitchen. It is a suitable addition to your kitchen, saving you from buying a separate toaster.
In this article, we've discussed the 5 best microwaves with a toaster oven and revealed our favorite choice. We hope you can now choose a microwave toaster combo appliance that is worth your money and will give excellent cooking, toasting, baking, broiling, and roasting results.