Things have really changed in our modern kitchens. Appliances including microwave ovens, air fryers, and toasters have made cooking fast and easy.
Cooking in the microwave doesn't have to be fully manual these days. Microwaves are packed with a handful of advanced features.
Top 3 Picks
| | | |
| --- | --- | --- |
| #1 Panasonic NN –SN966S | #2 Toshiba EM131A5C-BS | #3 Toshiba EC042A5C-SS |
| | | |
| | | |
What to Look for in a Microwave with Sensor
Microwave type
Countertop, built-in, and over-the-range are the main types. The most common and affordable microwaves are the countertop models.
They are easy to use and carry since they don't require additional installations.
On the other hand, Over-the-range and built-in microwaves are quite expensive and may be permanently built into a home. But they have some unique features.
The built-in microwaves give your counter a built-in look making your kitchen look extravagant.
Microwave size
After choosing your preferred microwave, put your kitchen space into consideration. If it's too large for your kitchen space, there are convenient smaller models to opt for.
Microwave sizes range from 0.5 cubic feet (not less than that) to 2 cubic feet or more. You might want to measure the space of the location and distance from a power outlet for good accommodation.
Wattage
A microwave with high wattage functions better. Most recipes assume you are using a microwave with 1000 watts. Microwaves with less wattage tend to heat food unevenly.
Short on Time? Here are the Top 5 Picks for Microwaves with Sensor
1. Panasonic NN –SN966S Microwave Oven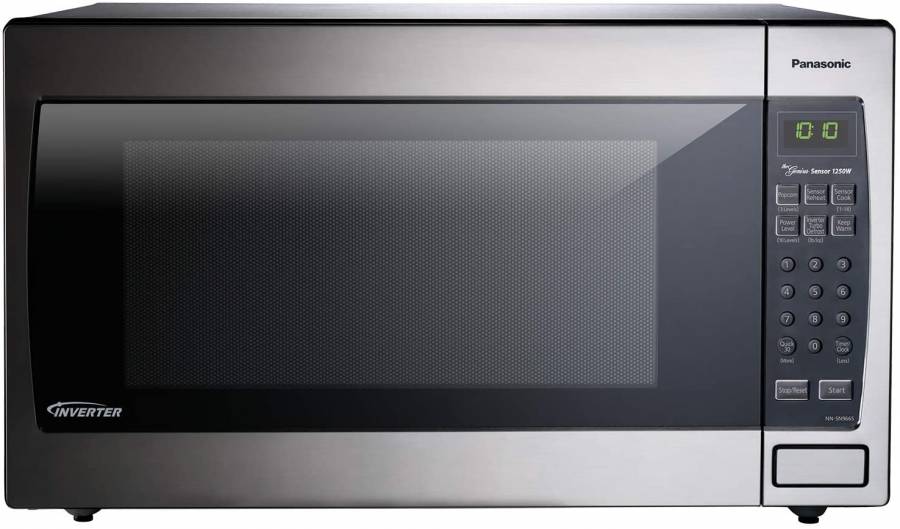 Basic information: 
Dimensions: 14 × 23.9 × 19.4 inches
Item weight: 37 pounds
Capacity: 2.2 cubic feet
Energy consumption: 1250 watts
Material: stainless steel
With 1,250 watts, the Panasonic Microwave Oven NN –SN966S heats food faster than all the other microwaves tested. It has ten power levels and can heat quickly, even in the fifth level. You will appreciate its auto cook option with 14 levels.
Featuring inverter technology, it has a high heating power to defrost evenly, steam, cook, or warm your food. Find a safety lock to keep curious kids safe.
The Panasonic Microwave Oven NN –SN966S has a Keep Warm option, which keeps food warm until ready for consumption. Sometimes defrosting time may vary from time to time.
Be mindful of its large capacity, so it is only suitable for large kitchens. You can't ignore its stainless steel impression with an interior space measuring 2.2 cubic feet.
Thanks to its sensor button that automatically cooks food. Though some reviewers have said the control button and display are prone to fail, most people find them easy to use.
Pros:
Has inverter technology for automatic power and cooling time adjustment
Preset modes for quick heating
Defrosts without cooking
Its stainless steel finish boosts easy cleaning
It manages noise due to its quiet operations
Cons:
Sometimes defrosting is inaccurate
Large dimensions
2. Toshiba EM131A5C-BS Microwave Oven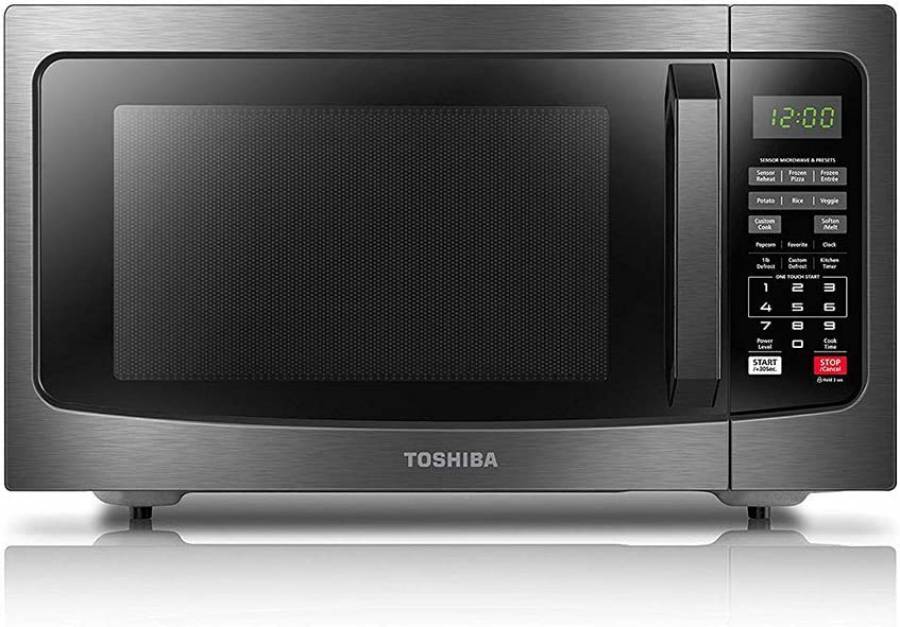 Basic information: 
Dimensions: 17.1 × 20.5 × 12.8 inches
Item weight: 34.6 pounds
Capacity: 1.2 cubic feet
Energy consumption: 1,100 watts
Material: stainless steel
Toshiba brand is renowned for its good quality household products, and the countertop Toshiba EM131A5C-BS microwave oven is no exception.
It is built with steel stainless finishing and has an impressive look with its black color.
What about its 1100 watts and capacity of 1.7 cubic feet? It cooks faster and in large quantities. Another feature is an intelligent sensor that approximates the cooking time and the right temperature.
Though not as big as Panasonic NN –SN966S, large families find it convenient with an interior of 1.2 cubic feet. The turntable is 12.1 inches, so fitting large dishes is not a problem. Even better, it has a loud and clear beep.
If you prefer it off, you can long press button 8. This powerful Toshiba microwave has inverter technology that regulates energy consumption. The power setting has ten options to choose from.
You will love the touch start button for speedy cooking. Most people love how the microwave fits the countertop of its large display, and the door handles are easy to clutch.
With 17 by 21 inches, it won't consume much of your space. It has a LED light with even illumination. The turntable is easy to remove for cleaning. Its exterior is fingerprint-proof, so it remains clean for a considerable period after cleaning.
Pros:
Multiple settings for easy cooking
The glass turntable and fingerprint-proof exterior make it easy to clean
Its high wattage enables fast cooking
It comes with a door handle for fast cling
Cons:
Large dimensions are not fit for small kitchens
Lacks convection mode
3. Toshiba EC042A5C-SS Microwave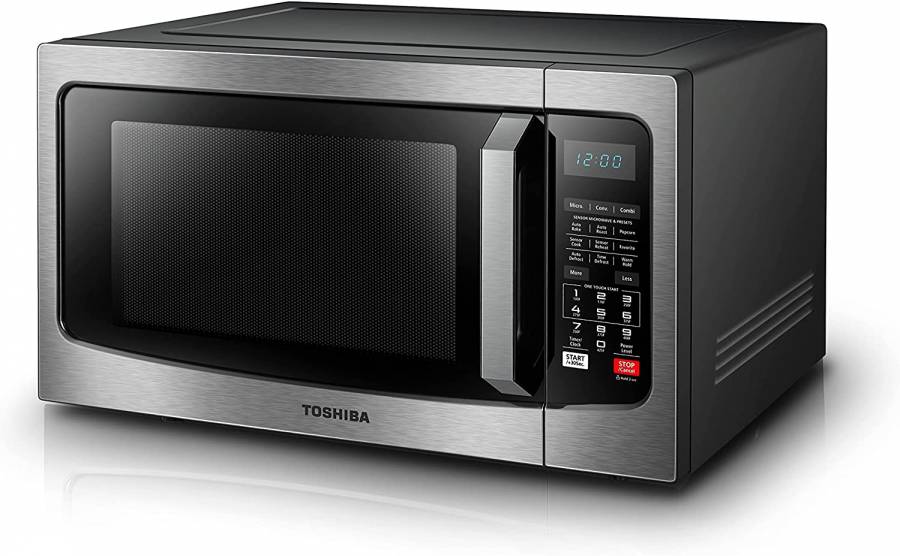 Basic information: 
Dimensions: 21.77 × 21.5 × 12.99
Item weight: 44.8 pounds
Capacity: 1.5 cubic feet
Energy consumption: 1000 watt
Material: stainless steel
For roasting, baking, reheating, and cooking, Toshiba EC042A5C-SS does it all. It has 1000 watts of heating power with time defrost, favorites, auto defrost, sensor reheat, and popcorn.
There is a child safety lock and a smart sensor. The turntable is 13 inches, and the interior is 1.5 cubic feet. You don't have to worry about keeping it messy as its stainless steel cover is easy to clean.
As a lightweight multi-functional microwave, it is perfect for dorms and small kitchens. Among the tested microwaves, it is the only one with a quick-start feature that needs pressing numbers to start.
You don't have to worry about installing a toaster oven. Its built-in convection oven has a setting that allows toasting, though it does it unevenly.
The process may take longer since the setting instructions are pretty complicated.
I liked how the buttons are easily navigable and the loud and clear sound. Unfortunately, it has a large oven that occupies most of the countertop space.
With 50 pounds, it is heavy to move. You can utilize the inverter technology if you don't prefer the convection oven or any additional feature.
Pros:
It has powerful heat for its high wattage
Quite operations to manage noise
Child safety lock to minimize potential accidents
Has a convection oven for toasting
Smart sensor for automatic cooking
Cons:
Unclear instructions
Too small for standard dinner plates to fit
4. Whirlpool WMH31017HZ Over the Range Microwave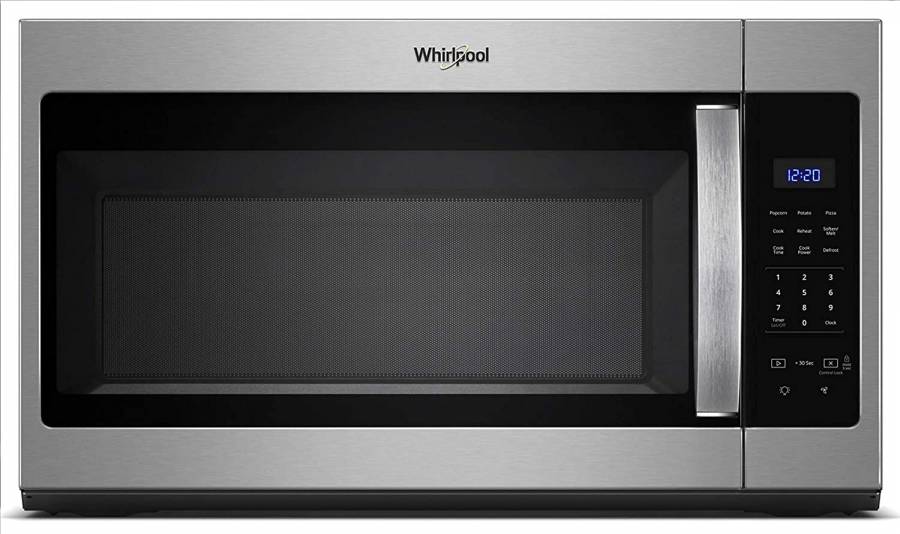 Basic information: 
Dimensions: 15 × 29 × 17 inches
Item weight: 59 pounds
Capacity: 1.9 cubic feet
Energy consumption: 1000 watts
Material: stainless steel
Whirlpool WMH31017HZ has four finishes, including stainless steel, stainless steel with fingerprint resistance, white and black.
You can match it with your home design. For your pizza, popcorn, and potatoes, find preset options and a special button for melting or softening.
These buttons will save you from guessing the power levels and time to wait for food to get ready.
There is a control mode for defrosting, reheating, and cooking. A control lock is available to prevent kids from possible accidents. Plus, the Whirlwind model has a cooktop light and a three-speed fan.
The fan can go to more than 280 cubic feet in a minute. That's enough to get rid of cooking odors. Adjustable cooktop lights are rare, hence making them extra. There is no rack, so double spacing is not a choice.
Most online reviewers praise this model for its fair installation but miss the unclear settings instructions. However, there is a large internal space to make up the rack. It also doesn't have a feature that shuts down the sound.
Pros:
Quiet operations fit for quiet environments
High-end design with four finishes that are easy to blend with
Has control lock for automatic safety measures
Cons:
There is no shut-off sound feature
Unclear instructions
5. AmazonBasics Microwave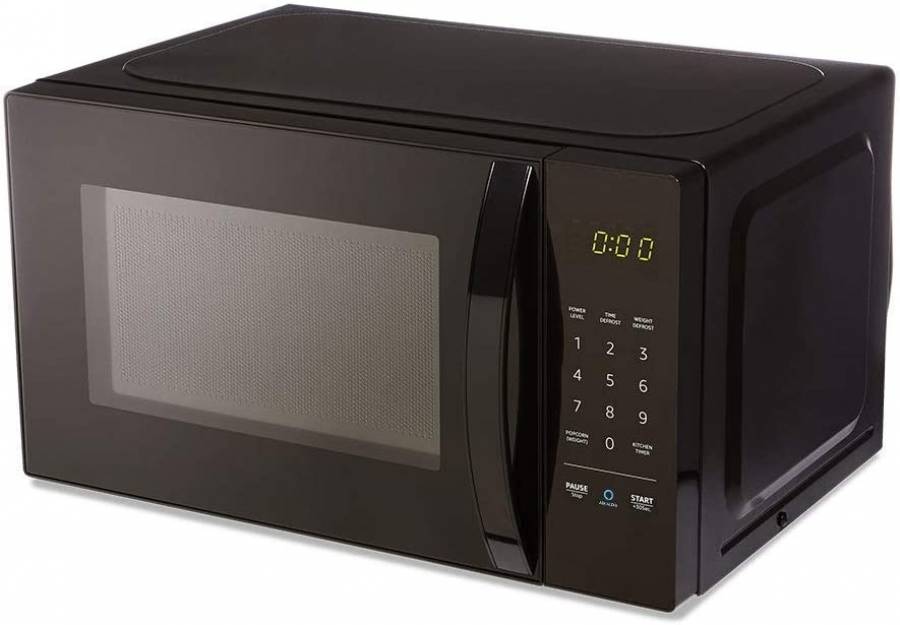 Basic information: 
Dimensions: 17.3 × 10 × 14 inches
Item weight: 22 pounds
Capacity: 0.88 cubic feet
Energy consumption: 700 watts
AmazonBasics microwave secures the bottom position in our list, but it is not the least with Alexa integration. Plus, it's among the first devices on amazon to have the feature.
There is a high possibility for other products to use the Alexa commands in the future. Its black exterior gives it a standard appearance that doesn't match its budget.
You can get this affordable AmazonBasics microwave and enjoy the voice-activated commands with Alexa. You only have to command Alexa, which automatically cooks for you with suitable power and time settings.
This model lacks a built-in microphone, so you must install an echo device for commands. You can trust its small size to fit the smallest of living spaces.
Its interior is 0.7 cubic feet and has a power of 700 watts, so it's not fit for large family meals.
Sometimes the Alexa commands give inaccurate results. Don't worry about evenly cooked beverages and pizza, thanks to its preset cooking functions.
It comes with a timer and clock featured in its LED display. There is also a child lock to ensure safety.
Pros:
It is the cheapest on the list
Has Alexa integration for command
Child lock to ensure safety
Compact to fit in any cabinet
Cons:
Alexa results may have inaccurate results
Its small interior is not fit for large family meals
Too small for standard dinner plates
What are the Benefits of Having a Microwave with Sensor Cooking?
Automatically turns off the light when unoccupied
Optimizes energy by auto-dimming light
String sensitivity to detect any movement
It covers a wide range
Ability to detect motions behind obstacles
Have high reliability, precision, and interference immune
Servicing is done one in a lifetime
Suitable even in areas with irregular heat cycles
Microwave sensors also serve medical purposes, including detecting liver disease and treating breast cancer.
Frequently Asked Questions
What is a humidity sensor in a microwave?
A microwave oven has a humidity sensor that auto-detects food humidity and saves you from setting power levels and time.
How do you heat a sensor in a microwave?
The sensor reheats casserole, soup, pizza, dinner plates, and beverages. You need to press the sensor heat once and press the start button when the item is displayed.
Related posts: Best Microwave With Toaster
Conclusion
You already know why you need a microwave with a sensor. It makes everything look easy in the kitchen.
You just need to choose the one that suits your needs while considering your budget, microwave types, wattage, and size.
The decision dwells with you. Replace your traditional microwave with a sensor microwave to enjoy cool cooking in your kitchen.