Do you crave a delightful combination of tart cherry cobbler with buttery cake mix and want to know the easy recipe to make it with minimal effort?
To make the cherry cobbler with cake mix at home, evenly spread a can of cherry pie filling at the bottom, and add a thick layer of cake mix at the top of a casserole dish. Cut the butter stick into small slices, layer it on top of the mix, put the casserole dish in a 375 °F preheated oven, and bake it for 40-45 minutes.
In this article, we'll share a simple and easy cherry cobbler with cake mix recipe, so you can make a mouthwatering treat that will leave everyone asking for more.
How Do I Make Cherry Cobbler With Cake Mix At Home?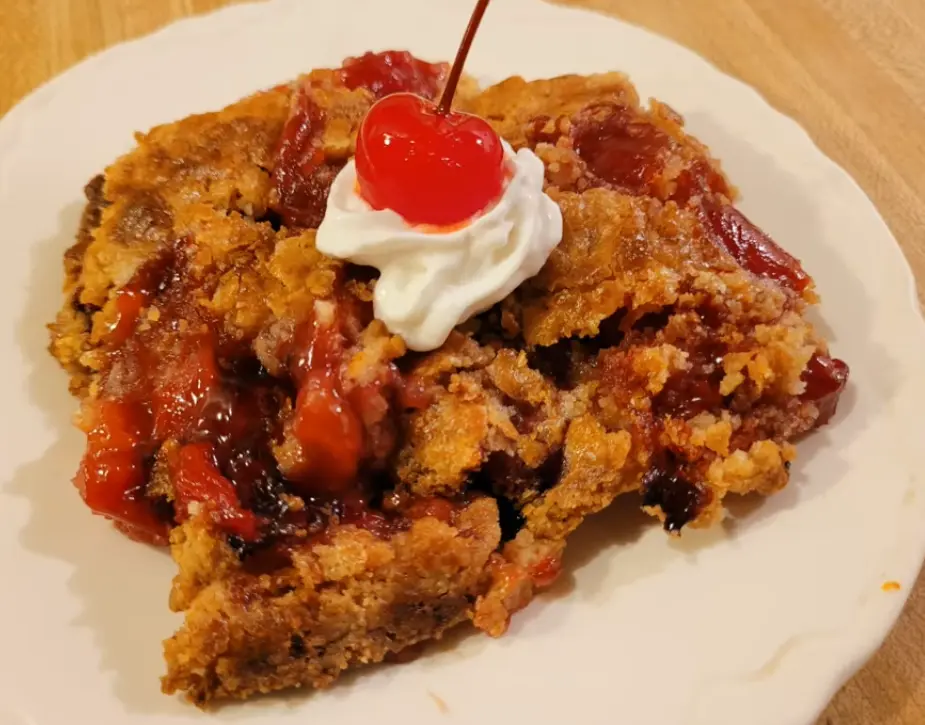 Cake mix cobbler is a delicious mouthwatering dessert that keeps you hooked until the last bite. It's incredibly easy to prepare, and the combination of sweet-tart fruity filling and buttery top cake creates a delightful contrast. The best part is that you can savor this cobbler all year round, as it doesn't rely on fresh fruit.
To begin with the recipe, you need only these three ingredients to make a buttery cake on top and a scrumptious filling at the bottom for this delicious treat:
Cherry pie filling – 1 can
White or vanilla cake mix – 1 box
Salted butter – 1 stick
Now, let's begin with our recipe to make the best cherry cobbler with the cake mix:
1. Assembling the Ingredient in Casserole Dish
Cover an 8×8 casserole dish with melted butter or oil, and pour in the cherry pie filling can. Now, take a spatula and spread the filling evenly at the bottom of the casserole.
Open the Vanilla cake mix box and spread it over the cherry pie filling in the casserole. Make sure it forms a ½-inch thick layer of the cake mix. Next, cut the salted butter stick into small slices and spread it across the top of the cake mix.
2. Baking
Preheat your Samsung or another oven to 375 °F and pop the casserole dish into it. Now, bake it for 40 to 45 minutes until the top layer is golden brown and the filling starts bubbling.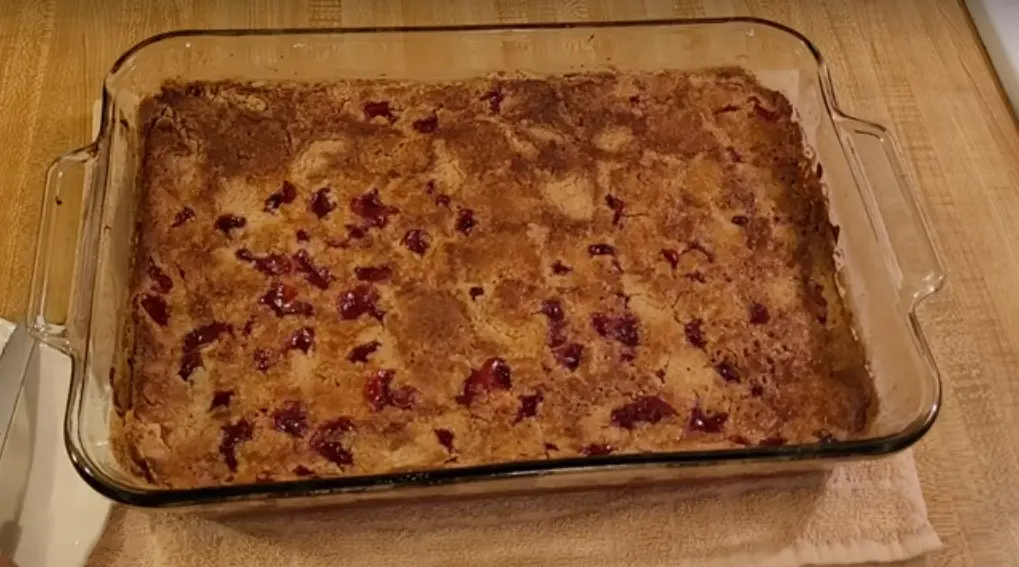 Remove your cake mix cobbler from the oven and wait a few minutes to let it cool down. You can now serve it with a scoop of vanilla ice cream or whipped cream.
Is Cobbler Better Hot or Cold?
Cobbler is better hot or warm, as it enhances the flavors and textures of the dish. The warmth helps to soften the tart cherry filling and creates a pleasant contrast with the crispy or cakey topping. 
Does Cake Mix Cobbler Need To Be Refrigerated?
Generally, the cake mix cobbler does not need to be refrigerated if it's fully baked and cooled. However, if you prefer to store it for an extended period, it's best to refrigerate it to maintain freshness and prevent spoilage.
What's The Difference Between Cherry Pie And Cherry Cobbler?
Cherry pie and cherry cobbler differ in their composition and presentation. Cherry pie has a double crust, encasing the fruit filling, while cherry cobbler has a biscuit-like topping and lacks a bottom crust.
Conclusion
In this article, we've shared the cherry cobbler with cake mix recipe with you, and is it better to serve cold or hot? We've also discussed whether you need to refrigerate the cake mix cobbler and how it differs from a cherry pie.
Hopefully, you can make this delicious treat quickly at home and enjoy it with your friends and family.