Are you seeking to add a high-end enameled cast iron oven to your cookware collections? With your hard-earned cash, settling for just anything will be an embarrassment.
Tramontina and Lodge are two famous names in the Dutch oven world. So, it's no surprise that Tramontina Vs. Lodge Dutch Oven is an everlasting battle of which one is better.
If choosing one is necessary, the Lodge Dutch Oven wins at an average stoppage time. The handles, finish, and shape are just remarkable.
Let me compare the two budget heavyweights and recommend one worth buying.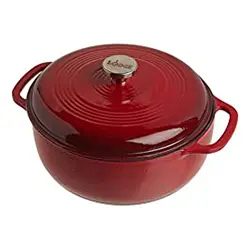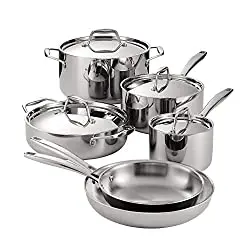 These two products, with nearly similar qualities, offer a better cooking performance. Alternatively, they can be essential to your Thanksgiving or Christmas preparations.
At affordable prices, the finish and fit of these two items differ vastly.
However, this depends on the available model; some are made in the USA, Brazil, and China. Though closely matched, general usability is another factor that tells them apart.
The Dutch oven is astounding if you want to make nourishing comfort food all year long. Oh, and they look appealing and attractive.
When comparing, I will use the following criteria:
Appearance and design
Build quality
Cooking performance
Warranty
Tramontina Vs. Lodge Dutch Oven Showdown
A Dutch oven is one pot that can braise meats until they tender and turn out savory stews and soups. It can also bake a crusty cake.
While a sound product should last years, it also does well than expensive pots.
Again, it needs slightly less maintenance, oversight, and attention than a slow cooker or Crockpot Avid cooks even scrimp to save for Tramontina or Lodge Dutch Oven. First, let's review each:
What's Tramontina Dutch Oven?
The Tramontina Dutch oven is made from enameled cast iron. Nonetheless, the brand isn't just limited to that and has stainless steel and ceramic lines.
That way, you can consider other interior or cooking surfaces for your collection.
You'll get some models for the Tramontina Dutch oven itself. These ovens come in different sizes, colors (blue and red), and two shapes – oval and round.
With an enamel coating, you won't need to season it. Besides, this eliminates sticking.
It's simple and easy to care for, clean, and maintain. The item may look heavy, but it's the lightest of the casserole dishes you'll find in the market.
Why Should You Buy Tramontina Dutch Oven?
Of course, these ovens come with many benefits. From braising to steaming to sautéing to searing, Tramontina is worth your money considering its ability.
Let's jot down the pros and cons of the Tramontina Dutch oven.
Cheap but quality ovens
Relatively lighter in weight (Both lid and pot are pretty soft)
Even browning on a gas range (distribute the heat evenly across the small base)
Good performance and results
Oven safe to 450 degrees Fahrenheit
Uneven browning on an electric range
Narrow base
Enamel chips in case of a slight bang
What's Lodge Dutch Oven?
Dutch ovens are ideal for heat retention and slow cooking. An entire range should be your closest ally for beef bourguignon, stews, or sautéed veggies.
The Lodge Dutch oven is enameled inside and out and is made from cast iron.
It delivers excellent heat retention and distribution. Considering its budget-friendly, Lodge is a high-quality oven.
Still, many users say this piece is fun to cook with and versatile to win their hearts. Probably, it's the best Dutch oven.
Like many cookware, the Lodge oven comes in sizes ranging from 1.5 to 7.5 quartz. So, you've got a chance to select the size that will suit your needs. There's also a wide selection of colors to choose from.
Why Should You Buy Lodge Dutch Oven?
Just like the former, there are reasons why this oven stands out from other models. These pros and cons will play a big part in determining whether to go with the Lodge Dutch oven.
High-quality oven Affordable price
Oven safe up to 500 degrees Fahrenheit
Has superior heat retention and distribution
Easy to clean
The enamel finish chipped if put in a dishwasher
Requires higher oven temperatures
Tramontina Vs. Lodge Dutch Oven – True Comparison
The Dutch oven is a well-known term often used in our kitchen. Those familiar with this cookware know they typically come with tight-fitting lids, thick walls, and knob or loop handles.
Let's compare the Tramontina Dutch oven vs. Lodge comparison using various aspects.
Build Quality
While both Lodge and Tramontina are cheaply prized, the build quality is significant. Both brands are great and allow different styles of cooking. Enameled cast iron made, both are reassuring medium-heavy.
In terms of quality, both are well-built. You've nothing to worry about if you add it to the cart. The cast iron and enamel are sturdy.
The fact that some Lodge ovens are manufactured in China shouldn't make people shy away. The company always sets standards to ensure that the cast iron is top-notch.
Tramontina is incredible. Its build quality is overkill. It feels like you own one of the market's most expensive and stable brands.
Their difference is minimal and marginal, and you'd be happy with either. Maybe, the only area of concern is chipping and scorching.
Tramontina can scorch outside when subjected to a stovetop at maximum temperatures.
For Lodge cast iron, there are reviews that enamel can chip. Though this will happen if you heat the cookware when empty, it's advisable not to make that error with any Dutch oven.
Another overwhelming comment from users is about color dulling. Therefore, you shouldn't use Tramontina in a dishwasher.
Though the manufacturer states otherwise, it's better to be safe.
Generally, we were convinced by the build quality. The finish on both was superb to gain praise. My finger crossed! Everything is decent on this side of the dice.
Cooking Performance
How will these two brands perform in your kitchen? Are they good or worst? Let's see into the details:
The cooking performance of the Tramontina oven is very similar to Lodge.
After testing their bruising ability, we noticed even browning by cooking chicken pieces. The heat was equally distributed on the base.
Remember, cast iron is slightly heavy and thick. Expect a Dutch oven to hold much heat for a longer time. Don't pick the lightweight models for the stove because they're just a nightmare.
When using Tramontina, ensure you keep the heat low. This will allow results, impressive cooking time, and even heat. Plus, no fear of scorching.
One area that Lodge wins is providing more cooking space. Even better, such a feature will ease stir-frying and stirring. That way, better stews, soups, and more tender meat will result.
Design and Appearance
Probably, this is where we've got significant differences between the two. If you look at Tramontina vs. Lodge Dutch oven, the design is a vital factor to tell. It helps ease of use and performance.
We will curate three aspects in this area of concern: the lid, interior, shape (body), and handles.
Shape (Body)
Both lines feature a range of colors with trendy and classic choices. The Lodge is more expansive and shallower, allowing perfect heat distribution and easier stirring.
On the other hand, Tramontina has straight sides, is slightly taller, and features a smaller base. This shape allows better heat distribution and reduces the risk of scorching along the bottom.
Handles
Tramontina has a loop handle design. Handles are relatively small. Together with a smaller diameter, it saves space for easy storage.
The only drawback is that these handles don't reassure a stable or comfortable grip. It's stubby to carry, especially if it's full of liquid.
Lodge handles are large, sturdy, and quite comprehensive. It feels stable to hold and pick up this oven.
Because the handle protrudes outward, hooking in your fingers for a firm grip is simple. Even though you must sacrifice some space for storage, the cookware is a real deal.
Lid
The lid in both is magnificent and ultimately fits the body. In Tramontina, it holds firmly to eliminate the loss of moisture.
Most people prefer keeping moisture in the oven. It can affect either positively or negatively depending on what you're cooking.
Interior
The two products are enameled coated (finish) in the interior. Just like ceramic cookware, these types are PTFE PFOA-free.
Take care of them by heating the enamel on low heat. Otherwise, this can result in chipping.
Thankfully, both are dishwasher, oven, and microwave-safe as well. But I urge you to hand wash your pots to retain and preserve the original enamel finish.
Warranty
Lodge and Tramontina come with a warranty. Check it out before you buy. The manufacturer protects you against defects in the enamel.
As a buyer, you're entitled to a replacement in case of dissatisfaction.
Frequently Asked Questions
In this comparison, people have thrown in many questions. Either of the two is fantastic. For me, having both is a big plus. Let's get to answer some potential questions.
When should you go for the Tramontana Dutch Oven?
If you choose to prepare a thicker stew
Do you prefer a more loose lid
If you don't have enough space for storage
When should you choose Tramontina Dutch Oven?
When you prefer larger handles/large hands
If you want to subject your cookware to a high oven temperature
If you regularly cook challenging pieces of meat that need to tender
Where can I buy a Dutch Oven?
The products are available both online and offline. For a more straightforward deal buying online is the best move. I ordered mine from Amazon for an affordable price.
Is Lodge as good as Le Creuset?
Le Creuset is reputable cookware in the market. The Lodge is slightly heavier but available in different size options.
Uniquely, it boasts similar features and specs to the pricey Le Creuset. With a tight budget, the Lodge oven is a mesmerizing option.
Final Verdict
Between Tramontina vs. Lodge Dutch oven – which one is better? In our comparison, there's little to tell about their differences. Both are promising.
If it's a must to choose one, the Lodge wins at an average stoppage time. The handles, finish, and shape are just remarkable.
Overall, I think these pieces will offer colossal cooking performance – what we can call 'their main task.'
The value you enjoy from both is exceptional. Yes, they will deliver excellent results.