I love my Cuisinart cookware set, which incorporates items like a saucepan, pot, and frying pan, and I cook with each of them. With this brand, you can save money yet make a difference.
Recently, I decided to splurge on the All-Clad cookware set. So, between All-Clad and Cuisinart, which one is better?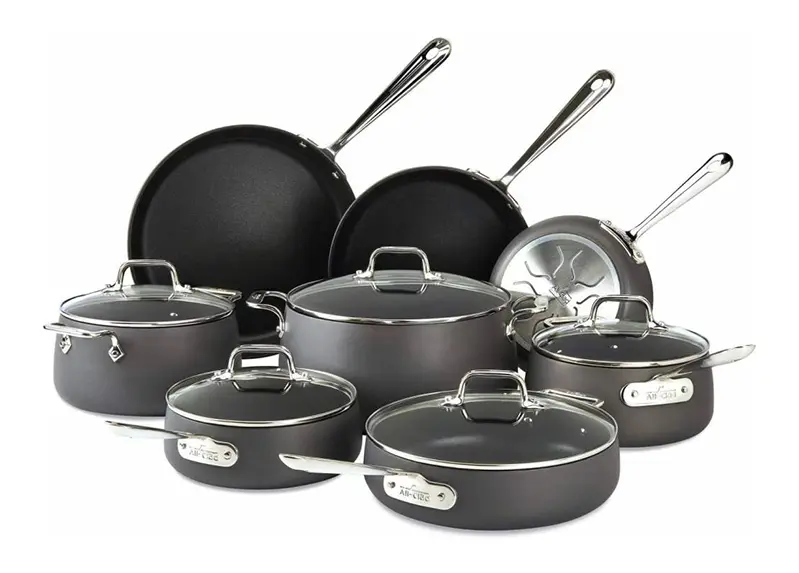 If it's your first time coming across these pans and pots, their price difference is enormous. All-Clad cookware is pricey but worth buying, while Cuisinart is a cheaper option.
In this post, I'll help you navigate through Cuisinart vs. All-Clad, see how their features and benefits, and compare them in terms of design, material, performance, reputation, price, and more.
Don't miss: All-Clad Ns1 Vs. Ha1 Cookware
Why Are These Brands Popular?
Cuisinart and All-Clad are the most popular brands. The two heavyweights strike a balance between excellent performance and functionality.
There's been an ongoing debate surrounding the difference between these brands. More often than not, many cookware buyers can't find a real difference between them at first glance.
Both companies offer robust, different collections between the non-stick and stainless steel ranges.
All-Clad Vs. Cuisinart Quick Summary
Whether you're on the hunt for non-stick or stainless steel cookware, picking either of the two to match your needs can be a challenge.
You need to figure out your needs before making an informed decision on which brand to go for.
After All-Clad adopted a unique technique of bonding several layers, many renowned companies, including Cuisinart, Tramontina, and Calphalon, welcomed the technique. Let's nail down each product line.
All-Clad Cookware
Since 1967, All-Clad has been manufacturing one of the best cookware in the United States.
They've embraced one of the best technology- cladding to deliver quality products in the world market. That's one reason out of many that makes it enjoy a vast customer base.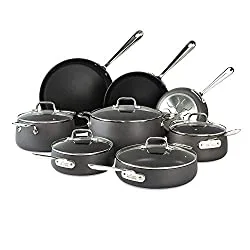 I dreamed of owning my All-Clad pan for cooking omelets. Of course, there are reasons for this; it's fantastic to cook with it. A stylish finish brings a curb, an appealing look, and a nice feel. Also, it distributes the heat evenly.
Since the company's inception, most people have praised its exquisite craftsmanship.
How their pans and pots do their cooking jobs is enough proof of how determined they regard customer satisfaction.
Reason To Buy
Made and designed in the United States
Durable aluminum and quality stainless steel construction
Bonded or alternating layers add durability and strength
The cooking surface distributes heat evenly
Stylish design and attractive finish
Brushed and polished steel cookware is pricey but top quality
Are All-Clad products durable?
With so many manufacturers in the market, the typical appliances, cookware, and gadget aren't built to last. More products are designed to deteriorate within a given time.
As a result, manufacturers tend to benefit since most of us will go back to the shopping list in no time.
From durability to performance, All-Clad has made a mark in the industry. In fact, they were the first ones to construct kitchenware using alternating layers.
The aluminum layer is sandwiched between two stainless steel layers. Their products are sturdy and quite impressive, explaining their premium price tag.
Cuisinart Cookware
Cuisinart was launched in the US in early 1973. Initially known for producing flagship products, the company expanded and joined the cookware space.
Today, you'll get one of the best pans and pots you'd dream of from them.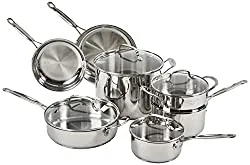 Featuring an innovative multi-layer design, frying pans from Cuisinart give products from other distinguished companies a run for their money.
They prefer stainless steel handles on their pans instead of polymer because they are durable and dependable.
The cooks and chefs have a reason to smile when the name 'Cuisinart' gets around their minds. Apart from affordability, you'll find the pride-worth cookware of your choice.
As of 2014, company products are now made even in China, Canada, and France.
Reason To Buy
Made in the USA, Canada, China, and France
Stainless steel handles on the products
Solid and robust construction because of tri-ply technology
Affordable items
All-Clad Vs. Cuisinart: How Do Their Features Compare?
Every home cook won't go wrong with either product. Both brands embody the same attributes, and this makes prospective buyers, especially the starters, confuse them. Let's see how their features compare.
Materials
It's not a surprise that most Cuisinart and All-Clad stainless steel pans and pots are constructed with rugged aluminum encapsulated by two layers of sturdy stainless steel.
These companies win when it comes to offering customer satisfaction in every aspect of the cooking experience.
Additionally, All-Clad crafts some collections with a copper core that replaces aluminum. Copper is much better in terms of heat conductivity. The base is made out of steel to prevent warping.
Construction
Products from both brands are constructed by alternating layers to do great cooking that will serve generation to generation.
All-Clad comes with a polished finish both on the cooking and exterior surfaces. The surface is smooth, non-porous, and non-reactive.
Aluminum, on the other hand, conducts heat superbly. It not only conducts but also retains heat better than other materials, except copper.
Other companies, including Cuisinart, have copied them. They are designing incredible products and a couple of collections, such as Professional Series and Chef's Classic.
Durability
In terms of durability, both score top marks. Many reviewers' report confirms that All-Clad is a more solid feeling and heavy cookware. Unlike Ceramic and Teflon, it doesn't scratch easily.
Notably, All-Clad enjoys an advantage simply because most of them source their materials from the United States, while Cuisinart makes their products in China.
Brands have invested much in quality, as seen throughout the manufacturing and supply chain process.
Their collections undergo inspection to ensure they meet their rigorous specifications and standards before being dispatched to the market.
Design
Cuisinart and All-Clad make elegant and handsome cookware that everyone will love to use in their kitchen.
D3, D5, and D7 are the best-selling products from All-Clad, whereas Cuisinart Multiclad Pro is a veteran from the other side.
These items look nearly identical. Both feature a highly polished interior, stainless steel handles with steel rivets backed by flared rims, and stainless steel lids.
Probably the only difference is their finish. Cuisinart Multiclad Pro is matte and brushed, while All-Clad D3 is shiny and polished. That's when you take a closer look at these collections.
All-Clad Vs. Cuisinart: Main Differences
Price/ Value for Money
The significant difference between All-Clad vs. Cuisinart cookware collections is the cost.
If you've got a tight budget, Cuisinart will carry the day, but if your budget is adjustable, All-Clad will get my vote worth your money.
Handles and Lids
To be honest, I've never come across an All-Clad pot or pan featuring a glass lid. However, Cuisinart ones do. Just get down to metal lid versus glass lid. One is durable, while the other one is susceptible to damage.
Several Cuisinart pots come with glass lids that shatter easily – that's a negative thing as far as safety is concerned.
Personally, I like glass because it's easy to monitor the cooking process without having to remove the lid. Still, Cuisinart is lighter than the former.
When we get down to handles, All-Clad has relatively straight handles. Cuisinart's handles are somehow curved.
Some cooks complain that All-Clad handles don't give a comfortable grip. So, it's not easy to lift the pan well. Since comfort is subjective, what works better for me may not work for you.
I have learned that polymer handles possess an ergonomic design that offers a firm grip. Compared with stainless ones, you may find it daunting to use them in ovens.
All-Clad Vs. Cuisinart: Cooking Performance
Both product lines heat up very fast. Along with that, they respond quickly to heat changes. That's one area they outsmart non-stick cookware under the same temperature setting.
Clean-up is just a breeze. It's manageable as long as you use the cookware correctly.
One point to note is that All-Clad items are oven-safe compared to Cuisinart. This means D3 or D5 is compatible with almost all induction cooktops. Some Cuisinart non-stick collections prove otherwise.
Both ranges are perfect for use in any professional kitchen. You'll find them in most restaurants in the US and Canada.
When Cuisinart Wins Over All-Clad
When you want an elegant and super beautiful design that can match your kitchen and dining décor.
If you're a low budget-consumer, Cuisinart can work better for you without splashing a staggering amount of money.
When All-Clad Wins Over Cuisinart
Pan and pots are subtly compatible. When choosing, consider the number of layers when comparing All-Clad versus Cuisinart pans. A pan with many layers like All-Clad, D5, D7, or copper core performs remarkably.
If you're looking for a powerhouse, you should invest in a high-quality pan. Upgrade and quality increase the price. All-Clad cookware is worthwhile. What's more, it will last longer, favoring home cooks and not seasonal cooks.
Is Cuisinart Cookware Good Quality
Calphalon and All-Clad are indisputable when it comes to functionality, quality, and durability.
Nonetheless, Cuisinart is equal to the task in terms of quality and is the most affordable option that will yield positive results.
Verdict: Which is Better, All-Clad or Cuisinart?
Looking at the attributes between All-Clad and Cuisinart, it's evident that both cookware performs well. They share several useful features and differ in construction, quality, and price.
Many cooks prefer the beautiful design of Cuisinart pots and pans.
Together with a comfortable handle, they claim that their sauté pan is excellent when cooking. Others appreciate the solid construction and quality of All-Clad products.
If budget isn't a problem, I bet to go with the All-Clad cookware set. However, the Cuisinart cookware set is budget-friendly yet worth purchasing. I would recommend All-Clad any day.