Is it worth buying the most expensive cookware? The simple answer is yes. High-end cookware is typically associated with good quality and brand name.
These most expensive pots and pans are made better.
They come with a solid construction, handles that don't jiggle, a non-corrosive interior, and a beautiful finish. Also, they're easier to use and handle. If you drop them, they're less likely to warp or damage.
Copper is claimed to be the most expensive material used to make pans, pots, saucepans, frypans, stockpots, and saute pans. The metal conducts heat evenly and retains it after you're done with cooking.
However, copper metal is very reactive – something that has pushed manufacturers to instead coats it with other metals like stainless steel or tin to reduce reactivity.
In A Hurry? Here's Our Top Pick For The Most Expensive Pots And Pans
Everyone cooks. But if you're a serious cook and fancy the art, look no further. Manuviel cookware set is unbeatable.
It's the most expensive kitchenware that gives an amazing steak crust.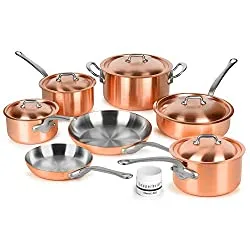 If you're in the process of remodeling your kitchen, here is the best cookware that is a worthy investment.  
Does Most Expensive Cookware Really Make A Difference?
Cookware is essential in any kitchen. If you've purchased pans or pots lately, you've noticed that the price can be extremely steep.
When dealing with kitchenware, there are three unique attributes to look for. Those things answer the question, 'Why are some pots and pans more expensive than others?' They include:
Reactivity
Reactivity measures whether the pan or pot reacts chemically with the food while cooking, resulting in an undesirable change in taste, flavor, or color.
Some nonreactive materials, such as stainless steel and ceramic, are nonreactive.
For expensive cookware, like copper, the manufacturers bond the metal with nonreactive metals like stainless steel (copper + stainless steel) to eliminate any reactivity. Copper is very durable. It conducts heat superbly and distributes evenly.
In many expensive pans, copper is sandwiched between unreactive metals, mostly stainless steel, to produce long-lasting products.
Heat Conduction
Copper is the greatest conductor of heat. Probably, this is a vital attribute to look for when shopping for a kitchen item. How well will it transfer the heat from the stove cooktops to the food cooking inside?
Copper pan cooks food carefully and evenly. It outsmarts other metals such as aluminum, steel, cast iron, ceramic, and more. Apart from that, it ensures no food burns even under high heat.
However, avoid cooking things like eggs, and acidic foods, such as tomato sauce, inside a pan made of copper as the only core. It's reactive.
Build Quality
Quality is the king of cookware. The copper brand has gained popularity because of investing in quality construction. This cookware line addresses durability, making it exorbitantly expensive.
Others like All-Clad D7, D5, and Copper core are crafted with all these layers with quality in mind. So, it's a no-brainer why they're pricey.
For instance, All-Clad uses a copper core to bond its products, producing the best non-stick cookware. And because of the supply and demand for their items, their sales tend to boom. The pan is overkill and performs better.
The prices may seem inflated, but the forces of the market and manufacturer are the boss. That's the least I can say.
4 Most Expensive Cookware (Recommended)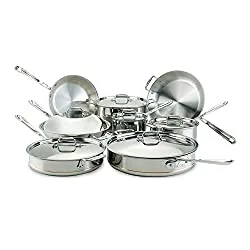 All-Clad 60090 Copper Core is among the world's best expensive, made from the finest hand-hammered copper core. The cookware collection gains compliments because of its quality.
The brand inspects each pan by hand to ensure mesmerizing cooking performance that equates to its quality.
Why Is It That Expensive?
All-Clad 60090 designs its cookware in Italy and forges them by hand in Mexico. They forge, hammer, and inspect by hand to ensure premium, pride-worth cookware with a stylish and luxurious look.
The polished aesthetics, signature lids with riveted flower handles, and hand-cast bronze handles make it cute at a glance.
The unique part is that you unbox the set from a wooden gift box. To many, the unpacking looks special and even more memorable.
Unlike other models, the cooking surface is bonded with two layers of tin, ensuring the durability of the first class. If you want to see its performance, the 2mm thick make has everything to prove it.
It's expensive because of varied and relevant reasons – superior in quality, luxurious look, and hand-made by a reputable brand.
Is It Worth Your Money?
This cookware set is worth it if you're considering something exceptionally unique. Other copper cookware is available at a pocket-friendly price, but none is distinct.
For something splendid, long-lasting, and versatile, look no other than Amoretti Brothers copper cookware.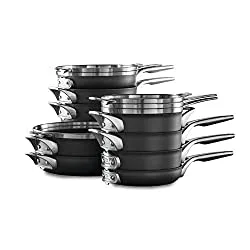 All-Clad remains a popular brand in the kitchen and cooking industry. Found in the US, they are infamous for fully cladding their pans and pots, ensuring a stylish look and durability.
With both polished and brushed stainless steel sets, All-Clad has found an edge in the market for what they offer.
Why Is It That Expensive?
Put simply, All-Clad sources its construction materials from the US. Their product lines take a unique design – they combine properties of different metals to craft durable pans and pots.
In fact, many manufacturers like Calphalon have used a similar design.
Although their target is professional chefs, their premium products are also perfect for home cooks. The cookware set you to get from them is equipped with everything you'll need to make your kitchen look great again.
For example, the 5-ply cookware is bonded by alternating layers of hard-anodized aluminum and stainless steel.
This design is warp-free. It cooks quickly and evenly. Best of all, the pan retains heat to keep your food warm after cooking.
You don't leave with quality cookware set alone. They add a lifetime warranty to your package. Such a sign shows how confident they are with their products.
Apart from a stunning look, the items come with a highly polished exterior matching décor in our modern kitchen or countertop. With such features, I won't shy off from trying All-Clad cookware.
Is It Worth Your Money?
It's no surprise that All-cookware is pricey. The pans and pots are worth every penny. I stumbled upon their cookware five years ago, and the least I can say is that their pans look as new as they were half a decade ago.
The D5 design is durable. The set comes with the same construction, design, and the same cooking goodies as the latter. However, if the price is your problem, they've 10-piece cookware set up for grabs.
Another cheaper yet quality alternative is All-Clad D5 set, made from a combination of aluminum and stainless steel.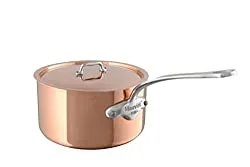 Made in France, Mauviel copper cookware is among the most valuable brands globally. The design, quality, construction, and evenness in heat conduction and retention are the reasons why users praise
The pans and pots are more than beautiful at a glance.
Why Is It That Expensive?
The brand stands out when it comes to construction, which is the epicenter of better cooking.
The items are 2.5mm thick and are constructed by combining 10 percent 18/10 stainless steel and 90% copper. The steel is non-corrosive and brings in extra warp resistance.
Along with that, the set is outstanding in terms of a stylish finish. The pans have a brushed exterior that's handsome and candy. The textured matt stainless steel-made handles stay cool and offer a comfortable grip when in use.
The lids are made of domed brushed copper that matches well with the handles. Stainless steel and copper complement each other supremely.
Just like All-Clad, Mauviel guarantees not only products worth the money but also a lifetime warranty. Ultimately, a lavish look, design, and premium materials contribute to this high price tag.
Is It Worth Your Money?
The excellent quality of the cookware equates to price. Mauviel is a trusted brand, something evident in the reviews and comments all around.
If you're seriously looking for a long-lasting thing, I recommend you break your bank and go for it. It will take you years and years to purchase the same.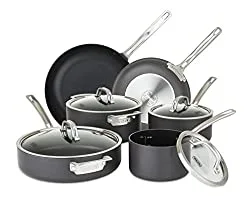 Another premium cookware set is the Viking Professional 5-Play. The items come with solid construction.
It cooks quickly and evenly on almost all cooktops, including broilers, glass top stoves, ovens, and grills. It's safe up to 315 degrees or 600 F.
Why Is It That Expensive?
The interior is made from 18/10 stainless steel, which is nonreactive. Unlike many brands, cookware features interior capacity marking to enhance easier measuring.
The items included are 10-inch and 8-inch fry pans, 2 and 3-quart saucepans with lids, a 3.4-quart sauté pan, and an 8-quart stockpot with a lid.
Again, the pan's handles are made of signature Viking. This ergonomic design allows balance, control, comfort, and a secure grip.
Even better, the cookware is dishwasher safe. While the items are made in the USA, the manufacturer gives a lifetime warranty to all buyers.
Is It Worth Your Money?
Key features you'd expect for quality cookware are available in these pans and pots. What's more?
Talk about the elegant satin finish, even heating, and more – get them all from Viking. These products are fun to cook with, and professional cooks can tell.
What Cookware Do Professional Chefs Use?
Do you want to cook mouthwatering food like a professional chef? Said than done, most pros seem to prefer cookware that's made from copper, carbon steel, and cast iron – most own All-Clad products.
For instance, most professional cooks can agree with me that Cladded and cast iron-made skillets are arguably unbeatable.
For everyday cooking, induction cooktops, stovetops, and Cooper cookware are favorites.
If you like cooking acidic foods like sauces, chefs reckon that some cookware like Teflon is harmful and not healthy for cooking.
Final Thoughts
If you want to be an expert in the culinary world, quality cookware is a necessity.
Just like chefs who follow a recipe, you can do the same and create unique dishes and style up to entirely new textures and flavors.
It's not a wonder why chefs use the most expensive cookware, especially those made of copper metal. Just give it a try. All our picks will provide the desired results.
Cheap is very expensive, remember!