All-Clad d3 Vs. d5: Which cookware is better? All-Clad Cookware is a trusted American brand that promises pride-worth performance and lifetime durability on all its cookware collections.
Its perfect stainless steel cookware is undeniably critical for boosting intensely flavored dishes.
If you want to prepare the best sandwich, better than your mum ever made, the D3 or D5 will be critical.
Unless you're so familiar with All-clad, it's a tough choice to get apparent differences between them.
The main difference between D3 (Tri-Ply) and D5 (5-Ply) is that D3 features 3 bonded layers (steel, aluminum, steel); on the other hand, D5 comes with 5 layers (steel, aluminum, steel, aluminum, steel).
| | |
| --- | --- |
| All-Clad D3 Cookware | All-Clad D5 Cookware |
As such, D5 distributes heat evenly, and because of its added layers, it's pricier. D3 is more responsive and heats quicker and faster.
I'll take you through the D3 series and D5 series – each factor including construction, performance, price, compatibility, warranty, material, design, pros, and cons.
It will be easier for you to make the right decision between these cookware sets. Otherwise, All-Clad D5 has my vote.
Read Also: All-Clad D3 Vs. D5 Vs. D7- Unbiased Comparison & Review
All-Clad D3 Vs. D5 Cookware – Quick Summary
Unfamiliar with All-Clad D3 or D5 cookware? We've got you covered. There's much to know and consider before picking the choice that will suit your kitchen.
Both items enjoy a vast customer base. If you're a cook, you must have heard about the products.
All-Clad D3 Review – Everything You Need To Know

As a senior chef, I'm passionate about cooking mouth-watering meals for my clients, family, and friends. D3 stainless steel cookware set has been my timeless inclusion around my kitchen.
This piece is reputable for its ease of use, cooking performance, and construction.
D3 has three layers at which the conductive and heat-spreading aluminum is sandwiched between two stainless steel layers.
The steel is non-reactive, durable, and adds sturdiness to softer aluminum. Featuring the original 3-ply design, this All-Clad line can optimize its performance.
To enhance durability and stability, the cooking surface is constructed with 18/10 stainless steel. Conversely, the exterior is made of 18/0 for induction compatibility. That's why D3 is superior.
With these pans and pots, you can sauté, simmer and sear. They allow versatile cooking. Upon its construction, the single aluminum layer transfers heat quickly and evenly to the stainless steel interior surface.
When you turn on your burner, it takes only a few minutes to get the pan ready for action. The best thing is that it's compatible with broilers, induction cooktops, stovetops, and ovens. Also, its dishwasher safe.
Is All-Clad D3 Good?
D3 has been a standout in the last two decades, which seems not to end any time soon.
The product is fun to cook with, but it will also brown your dishes. As many would expect, Tri-ply is crafted to deliver brilliant performance.
They are greater skillets, saucepans, pots, and sauciers made to last long. As per reviews, most users appreciate these items in any cooking experience.
Backed with a limited lifetime warranty, some feel that this is unfairly invalidated. All-Clad claims that you should take great care of D3.
Pros:
Made of quality stainless steel and aluminum layers
Versatile option Quick and even heat distribution
Great cooking performance
Dishwasher safe, boiler safe, and oven safe
Lightweight
Compatible with almost all cooktops
Cons:
Has a limited lifetime warranty
Requires great care
All-Clad D5 Review – What's So Special?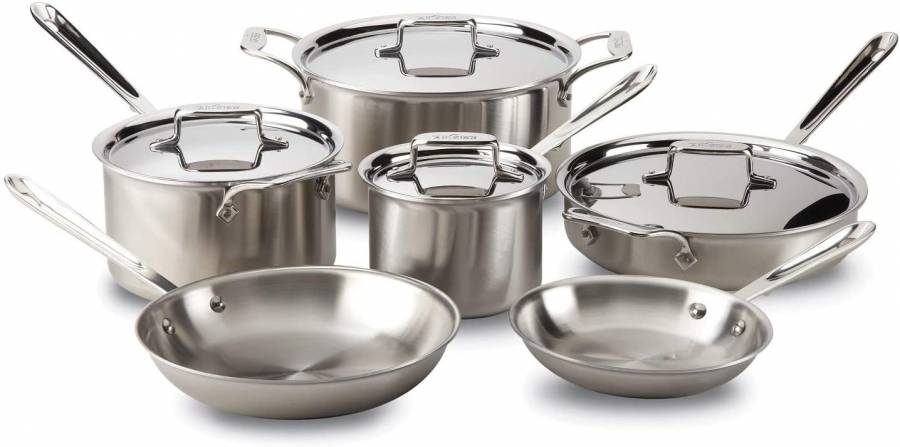 D5 is arguably the most valuable set from All-Clad. It's a highly-priced line than D3, but for a good reason. With 5 layers of metal, the pans and pots are substantial to execute an immersive professional appeal in your kitchen.
The stainless set offers stunning performance together with long-lasting durability and sturdy construction. Along with that, the D5 design is more unique. It's constructed using 5 layers (stainless steel and aluminum).
The cooking surface is crafted with 18/10 stainless steel. This adds both durability and stability. Aluminum follows as the second layer, while the third layer is stainless steel. Aluminum, which is the fourth layer, contributes to even heating.
The exterior layer is 18/0 stainless steel, magnetic-made to allow compatibility with induction cooktops. Overall, it features 3 stainless steel and 2 aluminum layers – 2 more than D3.
Being more forgiving, this series distributes heat evenly. Additionally, it heats food slowly, which protects food burning and overcooking.
The cookware is well-polished. It will remain shiny and gorgeous for long, though you must take a hand by taking care of it.
I'm a fan of polished cookware, and I've owned these sets all my life. Whether it's searing, simmering, or braising, D5 is promising. Manufactured and adopted in the USA, this is trusted cookware. You can grab an individual set too.
Is All-Clad D5 Worth It?
The short answer is yes. The All-Clad company continues to scale up and innovate the D5 line with add-on features to remain relevant in the cookware industry.
After continuous years of testing, All-Clad D5 pans and pots are worth it. It's dishwasher safe, compatible with most cooktops, and heats evenly.
You'll be happy with the consistent food flavor cooked in these items. Due to their high-quality construction, and versatility, many customers are addicted to using them.
Excellent heat control is another plus, while superior cookware is a bonus.
Is All-Clad D5 Non-Stick?
D5 guarantees 3 layers of PFTE and PFOA-free non-stick coating. This ensures a breeze cleanup and allows effortless, drip-free food release.
Even better, a brushed stainless steel finish adds extra beauty.
As your plan for your next Christmas gift, remember that D5 will allow a lifetime of performance and cooking enjoyment.
Pros:
Remarkable heat control
Dishwasher, oven, and broiler safe
Even heat distribution
Durable construction
Excellent heat retention and tolerance
Compatible with most cooktops
The material is scratch-resistant and hard to warp
Cons:
Heats slowly and slow response
Heavier than D3 Exorbitantly expensive
All-Clad D3 Vs D5 – In-Depth Comparison
Looking at these two broad All-Clad cookware lines, there are many good things to brag about. No doubt that loyal customers have invested in them despite their price.
Thousands of them have appreciated either D3 or D5 superiority. They may seem similar, but what is the difference between All-Clad D3 vs. D5?
Similarities
Composition and Materials
Both collections have identical 18/10 stainless steel cooking surfaces. The construction is incredibly stable, non-reactive, and durable, so the pans last regardless of the frequency of use.
The stain resistance feature makes it easy to use and clean. Still, the exterior is constructed using 18/0 stainless steel.
You can use this kitchenware on any induction cooktop. The aluminum core is bonded between the stainless steel layers on both.
Compatibility
Both cookware lines are compatible with nearly all cooktops.
Because the innermost layer is non-reactive, it won't rust even if you cook acidic food like sauce and vinegar. The outer layer is for use on induction cooktops, durability and aesthetics.
Bonded construction
D5 and D3 employ All-Clad bonded metal tech that consists of conductive aluminum and durable steel combination.
Every cookware from All-Clad is fully claded, meaning the entire products have aluminum elements in them.
Made and accredited in the USA
Both items are manufactured in the USA, where they meet strict quality control and premium manufacturing standards.
They are tested for safety and eco-friendly before being accredited to the world market.
Dishwasher safe, oven safe
The two lines are broiler and oven safe. You can also throw them in a dishwasher for washing.
Warranty
Though they are anticipated to serve for many years, All-Clad guarantees a limited lifetime warranty on both.
Durability isn't for only marketing and sales pitch. If maintained well, they can serve from generation to generation.
Key Differences
Is there a difference between Tri-Ply vs. 5-Ply? The main differences are down to the design and construction.
The number of bonded layers, which is the pivot of other differences, influences longevity, heat transfers, and performance. Spare your few minutes as we look at the differences.
Layers
Aforementioned, the massive difference between the two models is the number of bonded layers during construction.
D3 comes with three alternating layers (Tri-ply construction), whereas D5 employs five bonded layers – that's the reason behind the name 5-Ply.
Overall Design
From a design point of view, you'll notice some differences at a glance. People differ when it comes to design choices.
These differences come in three aspects, namely: exterior finish, rims, and lid handle.
a) Exterior Finish
First, D3 cookware comes in a traditional, convectional polished stainless steel finish, which is beautiful and shiny.
D5, on the other hand, features both a brushed and polished stainless exterior. The brushed finish is dull to hide scratches but adds an elegant look to the cookware.
However, the difference doesn't impact the cooking performance. It's purely aesthetic. Before we wrap up, we will look at the All-Clad d5 brushed vs polished finish.
b) Handles
Both collections come with stainless steel handles that are securely riveted with engraved All-Clad logo.
D5 has a slightly larger and brushed handle than D3, and this enhances a comfortable grip. Furthermore, it's more expansive with a finger stop on the bottom, hence stable.
D3 handles are smoother. Though they are heat resistant and sturdy, they lack an engraved logo feature. The design may feel uncomfortable to cookware enthusiasts, but it is one of the safest. In fact, the difference is minimal and unnoticeable at times.
D3 lids come with smaller handles, and this makes them lighter. D5 has heavier and thick handles, thus heavier, though the difference in handling is minimal.
c) Flaring rims
Both pieces have flared edges for mass-free pouring. On 5-ply, the flare is more pronounced than that of D3. While all D sets come with flared rims, only the skillets, saucepans, and pans have flares for tri-ply.
Flared rims aid with functionality. Soups, eggs, and others are made easy to pour (slide off) through a D5 distinct flared rim. Pancakes and eggs may slide off at ease in flared edges while you flip them. Again, cleaning will be simple.
Overall, if the design is subjective, cooks will choose any of two – the one that will fall on their hands first. But if handles are something to go by, D5 has a comfortable and firm grip.
Cost
From the word go, the All-Clad brand is known to be premium. It's no mistake that their products come with a high price tag. The newer collections – mostly D5 come with a hefty price tag than the traditional D line. All in all, quality is assured. Assuming all other things except cost, I prefer D3.
Heat response
Each collection is constructed uniquely but with the same materials. Because of this, they respond differently to heat and application. D3, which has fewer layers (3), reacts to temperature changes faster, while D5, with two more additional layers, responds slowly to the same.
If you leave your meal for long under high temperatures, D3 is less forgiving. If most people consider this factor unimportant, D3 will outperform D5.
Options
The all-Clad company offers a range of cookware collections, but they provide different purchase options to choose from. D3 line has these three variations:
D3 Armor
D3 Compact
D3 Stainless
D5 will provide you with these varieties:
D3 Vs. D5: Cooking Performance
All-Clad is dedicated to innovative cookware that will satisfy their client's cooking needs.
All that they manufacture is fully clad. Both D5 and D3 collections are made by cladding aluminum and stainless steel layers. Why is this instead of bonding the entire product out of one specific material?
They layer different materials to produce a product that offers an optimal mix of durability, quality, and heat conduction. Aluminum metal is a good conductor of heat and evenly than steel, but steel is more durable.
Steel alone is durable but may heat up unevenly, slowly, and poor in heat retention.
On the other hand, aluminum alone would result in weak cookware and a disappointing interior surface. Both have the opposite spectrum when it comes to strength and heat conduction.
Now, how does this construction impact their cooking performance? Theoretically, 3-styled layers on D3 means that heat will travel through fewer levels.
Therefore, there is a faster response. This also reflects that heat will be dissipated faster through these fewer layers present.
As for D5, there is a slower response to heat changes because of two additional layers. Though both pans have the same wall thickness of 2.6mm, the alternate of these layers influences the heating performance.
Unless you perform daily cooking tasks, I doubt how a first-time user will notice this small difference. For stellar performance, my preference would be less expensive and versatile D3 sets. Do you want better results? Try out D5.
What Are the Impacts of 2 Additional Layers in D5?
Yes, the two additional layers do have impacts in one way or the other. Let's start by figuring out the positive side of the dice.
Positive Impacts
Heat retention
The two additional layers come with a desirable benefit. When making dishes and soups, it's advisable to simmer them over low heat for quite some minutes.
Compared to D3, the two core layers 'locks' in the heat for some time after you wide up cooking. As a result, your food won't get cold.
When you're having guests who are trickling into the dining room one after another, you don't need to serve at once or immediately. In such a case, the heat retention idea will come in handy.
Even heat distribution
A thin layer made of stainless steel between the aluminum layers acts as a barrier specifically to allow even heating in the entire pan or pot. No cold spots or hot spots, or burning in the dish you're heating.
All-clad claims that this technique enhances lateral heat flow. Depending on the ingredients you frequently make, D5 fits in preparing almost all. That doesn't mean that D3 is poor; no, D5 is an upgrade with bonus features.
Durability
Without a doubt, D5 has additional durability than other brands. While aluminum boosts heat conduction, stainless steel strengthens sturdiness.
The 5-ply line is more destructible to serve for many years than the decent D3 collection.
Heat Tolerance
D5 is slower at cooling and heating too. This allows the cook more room for error.
At one time, you may accidentally switch on the cooking gas too high or leave your cookware unattended because of other kitchen chores.
The D5 is forgiving, but Tri-ply won't. The chances are that your food will neither overcook nor burn. Though this may not always happen with D5, you'll still enjoy a large margin of error in case of an unexpected blunder.
Negative Impacts
As per the rule of thumb, if there are positives, there must exist negatives as well. What are the disadvantages of these extra two core layers?
Slower response
Maybe one main disadvantage is the fact that D5 takes time to convey upon heat upon heat changes. When you want to cook food fast, the cookware will take time to heat up.
Also, it's a drawback when you're dealing with sensitive dishes such as scuffles. These kinds of food precisely require immediate temperature adjustments from time to time.
Increase in weight
The presence of extra layers adds extra weight. As we understand through our chemistry, steel isn't a lighter compound.
Three core layers of steel combined with two aluminum layers won't weigh the same as one layer of aluminum with two steel layers.
It may take time to feel the difference, but, of course, you must be using the two collections. Mathematically D5 is heavier than D3. Maneuverability and comfortability when cooking is paramount.
D3 Vs. D5: Product Options
If you're looking for either D3 or D5 line, there are different buy options to choose from. Let's talk about variations in each so that you are aware of their core differences.
D3 Product Options
While this line is the most favorite among kitchen enthusiasts, it comes in 3 varieties that include:
D3 Stainless Steel
Probably, D3 stainless is All-Clad's best-selling and most popular piece, UpToDate. Their original 18/10 bonded stainless steel cookware is a blessing to thousands of home cooks in the United States.
In total, All-Clad offers 54 D3 products that fall under this umbrella. 46 pieces can be purchased individually, while 8 different sets range from 5-14 pieces.
It provides beyond classic non-stick stainless steel, yet a versatile option.
D3 Armor
This kitchenware is nearly identical to D3 stainless steel, only that it has small pumps crafted on the interior surface to allow easier release. Importantly, you get features of stainless steel and durability.
Although the collections are minimal, Armor features 5 products, including top-notch fry pans (8, 10 & 10-inch), 3-quart sauté, and an oval fish pan.
D3 Compact
The third option is the D3 compact, which is built with storage and space in mind. It's fully clad standard, ordinary three-layered cookware.
The curved handles and sizing contribute to its space for storage and comfortable cooking habits. There are around 6 product offerings under this category.
D5 Product Options
D5 is available in two options:
D5 Brushed
D5 brushed standard and quality is unquestionable. It's the most beautiful 5-ply collection.
What makes your guests draw compliments whenever they have a chance to visit your kitchen is the noticeable difference in delivery and performance, whether frying, sautéing, or simmering.
Users highlight that this exterior design is useful at hiding scratches as compared to the D5 polished steel surface. I've been using polished pans and pots for years, and great care has left them shiny and gorgeous.
D5 Polished
Except for its polished exterior finish, D5 polished frying pans, saucier, and saucepans mimic the brushed ones. Get dozens of polished options, including sets and pieces online.
It's better to shop for a whole set because individual pieces are costly. With many varieties, even 5-ply stockpots, crockpot – it's you to decide.
Frequently Asked Questions
Is All-clad worth it?
So, is All-Clad worth it? 100 percent approved, All-clad cookware is worth every penny. They are great in performance, design, construction, and durability.
Their prices are level with quality. The critical thing is to balance what you need and the money you can afford.
Is All-Clad non-stick oven-safe?
Is All-Clad non-stick oven-safe? Oh, yes. Either you choose D5 or D3, both are oven safe.
Their impressive bonded construction technique makes them compatible with cooktops. You shouldn't have a problem with this. Neither model will irritate.
How should you keep your All-Clad warranty intact?
Appropriate care of your cookware will play a significant role in its lifespan. Also, it will determine how well you can enjoy the warranty. You'll need to:
Regulate the heat to avoid surface discoloration and warping. Most pans require low-medium temperature.
Follow the users' instructions.
Ensure hot pans don't get into contact with cold water.
Keep them away from metal utensils.
Which One Should You Buy – All-Clad D3 or D5 Cookware?
All-Clad manufactures excellent high-end cookware. Our info about All-Clad D3 vs D5 is an unbiased review to rely on. Honestly, both pieces are friendly options.
Setting with the best model comes down to design, price, and coking performance.
Thanks to their outstanding craftsmanship. You won't regret choosing either Tri-ply or 5-ply. D5 line had add-on improvements, but traditional D3 remains in demand. Considering all factors, the two will just work fine.
Altogether, any set will serve you for decades. In my opinion, the D5 collection is the best by far. After comparing their prices, features, and review from other users, the final decision is yours.
Sharing is caring! Kindly share this post with your friends, too.