If you have read the dozens of rave ButcherBox reviews online, you might be intrigued to try out their delivery service and see if it lives up to the hype.
ButcherBox is a subscription-based meat delivery service offering various products, including 100% grass-fed beef, wild-caught seafood, humanely-raised pork, and range-free organic chicken. ButcherBox provides:
Convenience.
Exceptional taste.
Value for money.
Ethically sourced products.
Minimal and streamlined packaging.
Their meat is always good in taste and is never too fatty or watery, making it worth the try.
In this ButcherBox review, we'll explain what it is, what kind of meat they offer, how many meals there are in a Butcherbox, and why you should choose this service. We'll also explore ButcherBox's pros and cons and explain how their delivery works.
What is ButcherBox?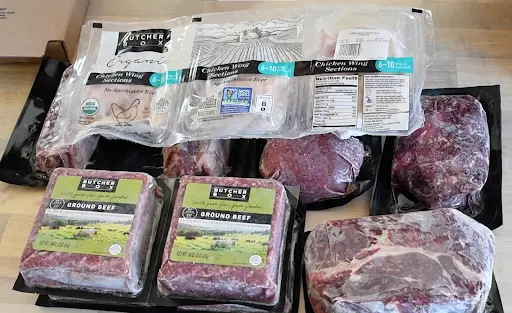 ButcherBox is a subscription-based delivery service from Boston, MA, providing premium quality and sustainably sourced meat directly to your doorstep in 48 contiguous US states. The company offers various products, including 100% grass-fed beef, range-free organic chicken, wild-caught seafood, and humanly-raised pork. 
ButcherBox aims to make it easy and convenient for consumers to access premium meat products free from antibiotics, hormones, and other harmful additives commonly found in mass-produced meats.
ButcherBox Review: Why Choose The Delivery Service?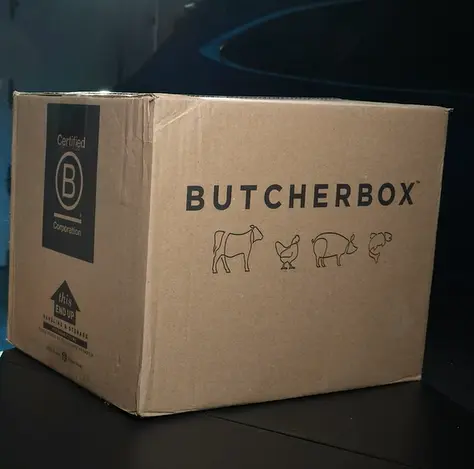 ButcherBox is an excellent choice because they prioritize ethically sourced meat and provide an easy and convenient way to get high-quality meat products to your house.
Let's explore in detail why you should choose ButcherBox for your monthly meat supply:
1. Convenience
One of the biggest benefits of choosing ButcherBox is its convenience. Their delivery service won't let you worry about buying meat from the grocery store anymore, as you can easily order it right to your house without any issues.
You'll receive a tracking number and an approximate delivery time via email to know when your order will arrive.
INFO: You might even get free packs of meat products occasionally.
2. Taste
ButcherBox's meat taste is exceptional and unparallel, boosting a restaurant-quality flavor after cooking that's hard to find elsewhere.
Their meat is never too fatty or watery, and the chicken is tender, plump, and juicy when cooked. The company maturates Heritage-breed pork slowly due to their "Old World" genes, resulting in fine marbling and excellent flavor. 
The bacon stands out, with the perfect balance of salt, fat, and leanness, while the impressively sized steak is tender and juicy, with an unforgettable flavor.
3. Value for Money
Regarding value for money, ButcherBox offers high-quality prime meat at a reasonable cost. While organic meat can be expensive, ButcherBox premium cuts come without the hefty price tag.
To determine whether ButcherBox is reasonable for your needs, compare prices with your current meat purchases. Usually, each meal in ButcherBox costs around $4.97 on average, making it worth the price for the quality of the meat.
With ButcherBox's free doorstep delivery service, you can also save time and money on gas.
4. Sourcing
ButcherBox sources its meat from trusted ranchers and farmers who prioritize raising the castles in pastures and letting them roam freely. Their 100% grass-fed & grass-finished beef comes from Australia, where the climate allows animals to graze year-round.
They source their humanely-raised pork and organic chicken from the US and Canada, and the special items, such as wild-caught Alaskan sockeye salmon, lamb, and turkey, come from the US.
5. Packaging
ButcherBox's packaging box and other materials are eco-friendly and recyclable, promoting sustainability and minimizing waste. The company also uses boxes with built-in insulation and dry ice to keep the meat cool during transit.
Their minimal and streamlined packaging also makes it easy for you to store the meat in the freezer conveniently.
6. Customer Service
ButcherBox has excellent customer service and responds quickly when customers contact them. Although some customers have reported issues in the past, the company has resolved them and now has an A+ rating with BBB.
7. Deals
The ButcherBox offers an irresistible deal for new members. When you start selecting your plan on their website, the "get them for free" stands out in red, drawing attention. After clicking, this leads you to a page filled with mouth-watering options for orders that are hard to resist.
ButcherBox Pros and Cons at a Glance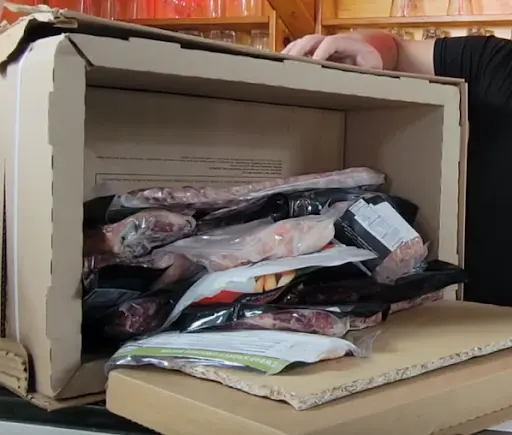 ButcherBox offers a range of benefits but with a few drawbacks. Let's review some pros and cons of this delivery service if you opt to choose it for your monthly meat supply.
Organic and high-quality meat, poultry, and fish.
Delivery right to your doorstep in 48 contiguous US states.
Custom and Curated subscription plans to choose from.
Fast shipping options are available.
Excellent customer service.
Eco-friendly packaging.
Variety of popular cuts, such as steaks, ribeyes, and ground beef.
Gift boxes for special occasions.
Exceptional taste and flavor after cooking.
Meat is sourced directly from local farmers to support them financially.
Add-ons are available only with custom boxes.
Offers only Salmon and Scallops in seafood.
No A-La-Carte option.
What kind of meat comes in ButcherBox?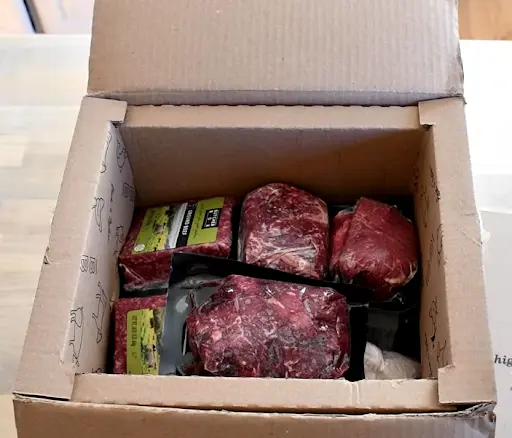 ButcherBox offers several subscription boxes, each with its selection of ground beef, strip steaks, sirloin steak, whole pork tenderloin, boneless skinless chicken breast, or boneless pork chops.
Below is the complete overview of what kind of meat comes in each subscription box of ButcherBox:
1. Mixed Box
The mixed ButcherBox contains a selection of 8-11 lbs of high-quality meat. In this box, you will receive ground beef, New York strip steaks, top sirloin steaks, whole pork tenderloin, and boneless chicken breast.
2. Curated Box Beef and Chicken Box
The company's curated Beef and Chicken box contains 2 lbs of ground beef, 4 top sirloin steaks, 2 New York strip steaks, 3 lbs of drumsticks, and 3 pounds of boneless skinless chicken breast.
3. Curated Beef & Pork Box
The Curated Beef & Pork box has an equal amount of ground pork and beef in weight per pound. It contains 2 lbs of ground beef, 2 New York strip steaks, 4 top sirloin steaks, 1 lb of whole pork tenderloin, and 4 boneless pork chops.
4. Custom Box
The Custom box is a handpick deal with 20% more meat than the curated boxes and allows you to choose your meat cuts and a few add-ons at an extra fee.
When placing the order, you can select whether you want the Classic Box with 9 to 14 lbs or the Big Box with 18 to 26 lbs of meat. You can also choose different cuts, such as:
Ground beef.
Raw Wild-Caught U.S. Gulf Shrimp.
Tri Tip, Flat Iron Steaks.
Wild Alaskan Sockeye Salmon.
Scallops.
Cold Smoked Sliced Salmon and More.
5. Gift Box
ButcherBox offers 23 different gift box deals for those who want to send a meaty present to someone special, including:
Premier Steaks Box.
Mother's Day Brunch Box.
Chicken Sampler.
Father's Day Box.
Premium Steaks For Dad.
Ultimate Grill Box.
Graduation Box.
Mom's Favorite Steaks Box, and others.
How much ButcherBox costs?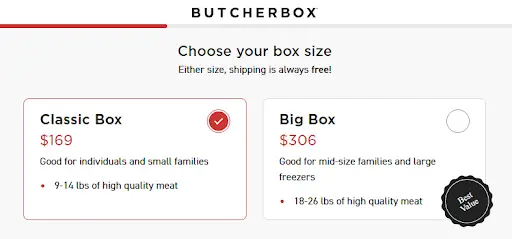 ButcherBox's custom plan classic box costs $169 and contains 9 to 14 pounds of meat, while for the big classic box, you'll pay $306 for 18 to 26 pounds of meat. Below is the overview price structure of all the ButcherBox plans:
Curated Classic Box: $146 per month ($5.71 average per meal).
Mixed Beef, Pork & Chicken Box: $146 monthly ($5.71 average per meal).
Curated Beef & Pork Box: $146 monthly ($5.71 average per meal).
Curated Beef & Chicken Box: $146 monthly ($5.71 average per meal).
Custom Small Box: $169 monthly ($6.30 average per meal).
Custom Big Box: $306 monthly ($6.10 average per meal).
Prices per cut are usually similar to local grocery stores, with a slight difference of $1 to $2 per pound.
NOTE: ButcherBox offers gift boxes with varying prices, depending on the type of meat or cuts included.
How often does ButcherBox charge?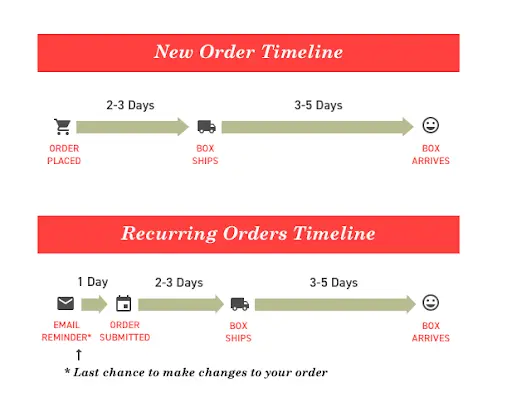 ButcherBox charges you on the date you first purchased your subscription. So, let's say you bought your ButcherBox on the 1st of the month, your billing date will be the 1st of each month, and you'll get your box 3-5 days after your billing date.
However, If your regular billing date falls on the 29th-31st of a month with only 28 days, the company will charge you on the 28th. In case your subscription renews every two months, the company will bill you on the same day as the corresponding delivery month.
ButcherBox will send you reminder emails before processing your order, so you can make any necessary changes, pause, or cancel your order. After billing, it is automatically processed, and you cannot make any further changes.
How long can ButcherBox stay in freezer?
ButcherBox packages can stay in the freezer for different amounts of time, depending on the cuts and type of meat.
Beef and lamb roasts (4-6 months).
Mince (2-3 months).
Sausages (2 months).
Beef stakes (3-4 months).
Chicken (3 months).
Lamb chops, casseroles, and pork (2-3 months).
Offal (1 month).
Note: The meat quality can deteriorate over time, affecting its taste and flavor.
How long can ButcherBox stay in the fridge?
As long as the vacuum-seal packaging remains intact, the ButcherBox meat can stay in the fridge after defrosting from 1 day to 2 weeks.
Chicken (3 to 5 days).
Steaks, roasts, and larger defrosted pork chops (2 weeks).
Ground beef (1-2 days).
Smaller meat cuts in individual packaging (3-5 days).
Wild-caught seafood (1-2 days).
Conclusion
In this ButcherBox review, we've dug deep into their meat delivery service and discussed whether it is worth a try. We've also covered the pros and cons of the service, their charges, and how long their meat can last in a fridge or freezer, along with other details.
We hope this review has guided you with the necessary information to decide whether ButcherBox is the right choice for your monthly meat needs.
FAQs
How many meals are in a ButcherBox?
ButcherBox custom classic box has an average of 30 meals, and the big box has about 60 meals, based on a 6 oz portion size.
Who owns ButcherBox?
Michael Salguero, an immigrant from Paraguay, founded ButcherBox in 2015 in Brighton, Massachusetts, with $10,000 and a Kickstarter campaign. 
Salguero aims to make high-quality meat accessible to everyone while promoting animal welfare, supporting farmers and fishermen, and preserving the environment.
Does ButcherBox go in fridge or freezer?
ButcherBox should be stored in the freezer if you want to preserve it for an extended period. Once you're ready to cook, thaw the meat in the refrigerator for best results.  Ensure to follow the storage instructions provided by ButcherBox to ensure your meat stays safe and delicious.
How does ButcherBox stay cold?
ButcherBox keeps its meat frozen during delivery using vacuum-sealed packaging and dry ice. The first delivery includes a black freezer bag and dry ice to guarantee that the items arrive at your doorstep still frozen.
Does ButcherBox have filet?
ButcherBox offers filet mignon, which is cut from the tenderloin and is a premium steak option. It is sourced from grass-fed, grass-finished cattle and is known for its mild flavor and buttery texture.
How big is ButcherBox Company?
ButcherBox had $550 million in revenue in 2021, which increased to $$600 million in 2022. The company has delivered its items to over 1.5 million US households to this date.
Can you cancel ButcherBox anytime?
You can cancel your ButcherBox subscription anytime with one click in your account without worrying about being locked in or forced to receive more shipments. The best part is the ability to pause your subscription if you're on vacation or need a break. 
However, note that you cannot reduce the size of your order, but you can always pause it until you need it again.
How often do you get ButcherBox? 
ButcherBox delivers your meat at a frequency you sign up for in your account settings. You can get the box every 4, 6, or 8 weeks according to your preferences and needs. 
Your order is delivered directly to your house in an insulated and recyclable box to ensure the contents remain fresh and safe for consumption.