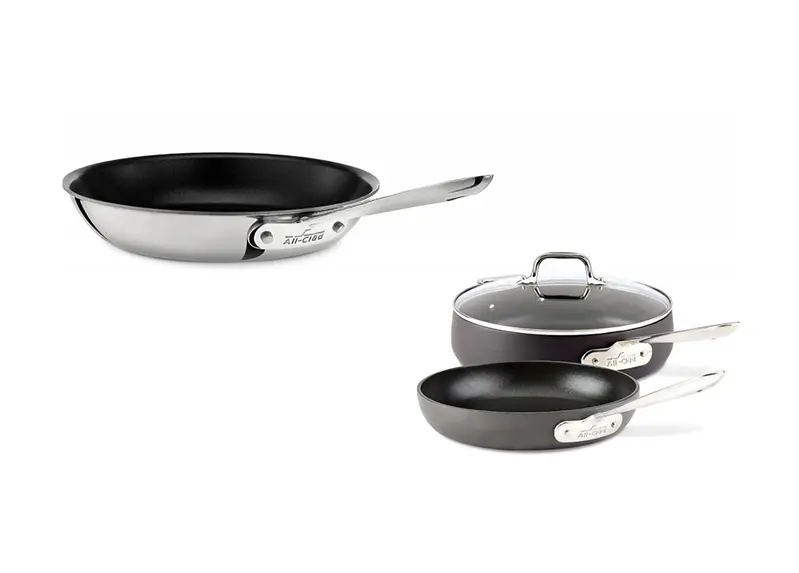 As a cook or professional chef, you've heard of All-Clad as a manufacturer of top-notch quality cookware. All-Clad makes plenty of cookware (pots, pans, saucepans, stock pots).
After 20+ hours of hands-on testing, I'll take you through each cookware line and its similarities, differences, pros, and cons. What's the difference between All-Clad Ns1 vs. Ha1?
If you're in a hurry, the HA1 pans have straight steep edges. NS1 pans come with lowered sides and rolled lips. Everything else is nearly identical.
All-Clad Ns1 Vs. Ha1 At A Glance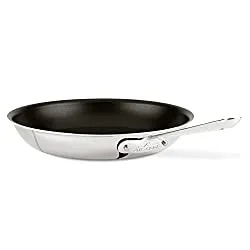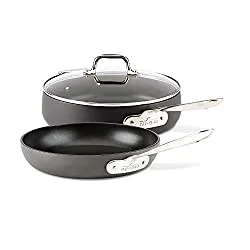 Along with cast iron and copper, All-Clad has taken the cookware industry by storm.
Avid home cooks and professional chefs are raving All-Clad cookware, including pans and pots. While picking, potential buyers confuse between All-Clad Ns1 and Ha1. 
These products are of excellent quality, have superior stainless steel cooking surfaces, and are incredibly durable.
At a glance, they're identical. To the trained eyes, you'll notice a difference in their shape.
If you take a close look at the two products side by side, both feature clad construction. Made of hard-anodized aluminum, both skillets also have a stainless steel base.
All-Clad NS1 Vs. HA1 Quick Summary
If quality and cooking performance is something to go by, both skillets are miles better than any other cookware out there.
All-Clad products may be more expensive, but they are covered with a lifetime warranty. Let's get down to All-Clad NS1 vs Ha1 review.
What Is All-Clad Ns1?
NS1 cookware set comes with various collections; the pans and pots have the same shape (straight with curved lips).
The frying pan features lowered sides and rolled lips. As a result, you can easily turn meals like pancakes, eggs, and more with a spatula.
All-Clad Ns1 is made of anodized aluminum material with a stainless steel base and a nonstick interior surface.
This makes it more than safe for induction cooktops and burners. It heats evenly, preventing the food from burning or sticking to its surface.
Also, the frying pans are stain-resistant. Starting from saucepans to pots, all the products in the sets are dishwasher safe.
What Is All-Clad Ha1?
It's premium, high-quality aluminum cookware made of rigid anodized construction and stainless steel handles.
Ha1 is reliable and can't break or get damaged easily. Like copper core lines, these pans and pots spread the heat evenly.
Ha1 possesses straight and angled handles, while the sides are steep.
Having served in many restaurants in the United States, I can attest that the cookware is durable and lightweight. Accordingly, its surface is scratch-resistant and free from a PTFE & PTFO.
Just like NS1, HA1 is oven-safe up to 500°F. The pans are suitable for tossing food, but the tall, straight sides host a challenge when you want to turn food with a spatula.
One advantage is that these taller sides prevent the evaporation of liquid.
All-Clad NS1 Vs. HA1 Comparison
Let's go further and get back to our main question. This section will narrate the shared features between the two cookware and the differences, which are minimal.
Similarities
Hard-Anodized Aluminum
In terms of construction, these products employ an oxidizing process in which the oxide layer is increased on the metal.
The end result is a sturdy and different color metal. Though the coating may wear out over time, oxidizing is stronger than Teflon.
Handle
This is a great feature that two cookware share. With a painful handle, the majority of users complain about how stubborn it is. Once it gets onto your hands, you'll get the mark of All-Clad.
Dishwasher, Oven Safe
Dishwasher safe means that you can clean them with ease using a dishwasher. Both can get in the oven without any problem because of the metal handle.
Stainless Steel Base
It's among the fascinating feature that comes with both products. Typically, stainless steel isn't preferred because it doesn't conduct heat.
Nevertheless, All-Clad has gone further to bond this material because of two things.
Induction capability.
Prevent warping
What Is The Difference Between All-Clad Ns1 And Ha1?
The cookware differs when in shape. Both the frying pan and pots come in different shapes. HA1 has straight, steep sides. On the other hand, NS1 has lowered sides.
Secondly, the two have different modes of design when it comes to the lid. On NS1, you'll get a metal lid, which is durable. HA1 uses a nice-looking glass lid.
Price is another factor that tore them apart. The all-clad ns1 set is a bit more expensive than Ha1. Personally, I would go for the slightly priced choice because it proves more functional.
3 Top Picks (Recommended)
Choosing the right cookware can be intimidating at most times. Imagine you're beginners who have just come across the All-Clad brand at a glance.
Which products would you choose? We've suggested the top-rated All-Clad NS1 vs. HA1 cookware.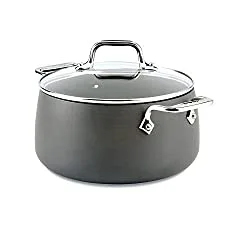 Are you a fan of pasta? This stockpot/soup pot, along with other dishes, will help you prepare pasta in the most flavorful way.
Easy to use and clean
See-through lids
Solid construction
Oven and dishwasher safe
Compatible with most cooktops
Versatile
The glass lid isn't durable
Pricey
Are you a fan of pasta? This stockpot/soup pot, along with other dishes, will help you prepare pasta in the most flavorful way.
Splashing your little money on this pot can improve your cooking style because it's versatile cookware.
Made of durable anodized aluminum, the pot can transmit maximum heat evenly within a short time.
That said, you can serve food to your family quickly. It's designed with tall sides, allowing it to increase flavor and reduce evaporation.
Because of the stainless steel layer on the base, the pot is compatible with induction cooktops and other stoves. Unlike Teflon, the cookware is PFOA-free, thus safe to use. It's both dishwasher and oven-safe.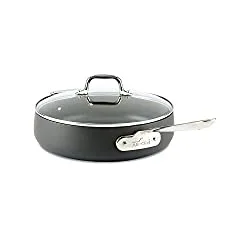 This affordable sauté pan is excellent for those who have problems with their pans and want to replace them.
Performs superbly on induction cooktops
PFOA-free and scratch-resistant
Conducts the heat excellently
Easy to clean and use
Durable construction
Some users complain that handles are short
It's a budget-friendly yet top-notch product. Made from solid-anodized aluminum, the cookware diffuses the heat quickly and evenly. Plus, your sauce won't stick on its surface.
This affordable sauté pan is excellent for those having trouble with their pans and who wants to replace them. It's a budget-friendly yet top-notch product.
Made from solid-anodized aluminum, the cookware diffuses the heat quickly and evenly. Plus, your sauce won't stick on its surface.
With a see-through glass lid, you can monitor the cooking process without disturbing the lids. Scratch-resistant and PFOA-free features make this pan durable and healthy to use.
The stainless steel base is crafted to allow it to work with almost all induction cooktops.
Featuring an oven-safe of 500F is another remarkable thing. Along with it being dishwasher safe, this kitchenware guarantees a limited lifetime warranty.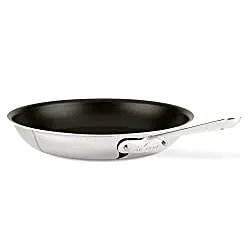 All-Clad NS1 12-inch Fry Pan is essential cookware set in the kitchen. The biggest selling asset of this fry pan is its durability feature.
Distributes heat evenly and quickly both on electric ranges and gas
No scorching foods like tomato sauce
Stain-resistant
Nonstick finish
Oven safe (up to 500°F)
Products are dishwasher safe
Riveted handles make them tedious to clean
It's the most stylish kitchenware that you should give a try. Equipped with rugged-anodized aluminum, this product can serve from generation to generation.
What's more, the collections in this set conduct heat handsomely to help you prepare food in no time. Similarly, the fry pan's base is bonded with stainless steel. This allows it to heat on induction cooktops without any damage.
Unlike HA1 sets, this all-clad ns1 set is packed with a see-through metal lid. Monitoring the cooking process is a breeze as you continue with other chores in the kitchen.
Indeed, your food will retain the aroma as you don't have to keep on picking up the lid.
Apart from that, the item is PFOA and Scratch-free. Most customers fancy how dishwasher and oven-safe the cookware is. This ensures a hassle-free cleaning.
Final Thoughts
All-Clad NS1 and HA1 are two popular items that feature numerous similarities, like durable anodized aluminum construction, stainless steel base, PFOA-free, and more.
Their primary difference is their shape, along with lids and price.
The question of which one is better between All-Clad NS1 vs. HA1 cookware has already been answered. Happy cooking!