I decided to jump into research to find out the facts about All-Clad HA1 Vs. B1 cookware collections.
In the process, I jot down their main differences, similarities, pros, and cons that I would like to share with you.
As per my findings, the key differences between All-Clad B1 and HA1 are the steepness of their sides and the angle and shape of their handles.
In terms of similarities, both feature sturdy, anodized aluminum interiors. Each product is beneficial in its own way.
Let me walk you through both cookware collections. In the end, you'll be able to choose the product line that will suit your needs.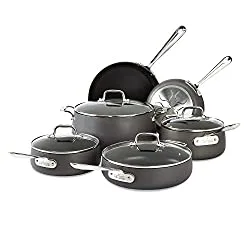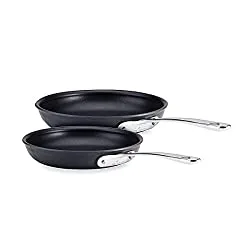 Regardless of the stiff competition, the All-Clad brand has taken up the challenge to edge other top players in the market simply by producing unmatched-quality non-stick cookware.
Make foodies with All-Clad, and two days won't pass without you craving a similar dish.
Without further ado, let's review, compare, and contrast the two items.
All-Clad HA1 Vs. B1 – Comparison
All-Clad is reputable for manufacturing the best stainless steel cookware.
Most consumers associate this premium brand name with quality. The review of each product will help you differentiate the two while you avoid guesswork.
What Is All-Clad HA1?
Maybe you've come across such a name either from cooks or online, right?
All-Clad HA1 cookware is usually made of hard, durable anodized aluminum.
In this product line, the pots and pans are designed with straight and angled high handles. In terms of shape, they take steep vertical sides.
Anodized aluminum is pricier than stainless steel, but it's light in weight and has superb heat conductivity. Once you ignite the flame, the heat will be directed to your food.
Even better, the non-stick surface is free from PTFE and PFOA, which is scratch resistant.
But in the real world, with non-stick pots and pans, you need to handle them with great care and avoid metallic utensils to get in contact with this cookware.
HA1 also comes with a glass lid that features metal handles. This isn't something to worry about because you're likely to hold the items only for a short time when cooking.
What stands out about the glass lid is the fact that it's transparent. This makes it easy to look at and monitor your dish as it cooks at any time of concern.
The all-clad ha1 non-stick cookware comes with broad applications. You can use it on the sheer volume of cooktops, including gas, ceramic, and induction.
Why Choose All-Clad HA1 Non-Stick Cookware?
There are big things to like about Ha1, which proves why the best cooks prefer their saucepan, pot, saucier, and more.
The sense that All-Clad is available as individual pieces and sets is another plus.
Nonstick Surface
One attribute that makes this product to outstand against others is its non-stick surface.
No food can stick to the surface, making it easy to retrieve your meal after cooking.
While this is exceptional, the interior is easy to clean up. Small sizes are dishwasher safe.
Durable
The anodized aluminum material used in crafting the cookware is sturdy. It neither wears quickly upon cleaning nor cooking.
Further, it allows for easy heat distribution and circulation. No Goosebumps when breaking your bank for one.
Minimum Heat Requirement
Unlike other models, cooking with All-clad non-stick requires minimum temperatures.
So you don't need a maximum heat of 500·C to get things done. Just generate less heat any time you're using it.
Transparent Glass Lids And Stainless Steel Handles
Transparent glass lids make it easy to inspect the cooking process and trap the steam while cooking.
The handles are contoured and made of stainless steel to enhance a comfortable grip. Still, the handles are well secured to the pots with rivets.
Uses minimum temperature to cook
HA1 is lightweight, durable, and rigid
Good heat conductor
The material distributes heat evenly. This prevents your food from burning and overheating.
Nonstick surface
Easy to clean
Scratch resistance nonstick surface free from PFOA and PTFE
Metals handles are uncomfortable when using an oven or at high temperatures.
What Is All-Clad B1
All-Clad B1 pots and pans are also constructed using hard-anodized aluminum.
Therefore, they are sturdy, lightweight, and durable. Moreover, the material is a good heat conductor.
One unique feature you'll notice about B1 is that they have shallower vertical sides with flared rims. The sides make it easier to slide off your fried eggs or pancakes from a frying pan onto a plate.
Like the HA1 line, the interior is non-stick and free from a PTFE or PFOA.
They also come with glass lids and stainless steel (metallic) handles. With a stainless steel bonded base, the pan is stable with almost all cooktops, such as electric, induction, and gas.
Most importantly, B1 cooking products are dishwasher-safe.
Whether you want a set or an individual piece, B1 will suit your choice. One unconvincing thing, B1 cookware is hardly found in merchants, including Amazon or Walmart.
Nonetheless, you can order B1 line products from their website.
Why Choose All-Clad B1 non-Stick Cookware?
Name them all, and just like HA1, this product line has many features to appreciate.
It's made with durable, lightweight materials to ensure it serves you for more years.
Being lighter means that you can comfortably handle it hassle-free.
Thanks to the stainless-steel base, that not only boosts stability but also ensures it works with any cooker, irrespective of its type.
The sloped sides make it easy to slide off or release your foods
Lighter and easy to use
Works with any cooker
Boiler and oven safe
Dishwasher safe
Durable construction
Stable to sit on induction cooktop too
Pricier than typical Cookware
Only found on the manufacturer's website and is hard to get from popular merchants like Amazon.
At times the handles tend to hold here; hence uncomfortable to handle
All-Clad HA1 Vs. B1 Quick Comparison
After narrowing down HA1 and B1 reviews, it's easier to tell their similarities and differences.
They have many features in common, but there are a few things that tell them apart. Let's see them in a detailed manner.
Similarities
Both product lines are made of durable anodized aluminum.
The cooking surface in both is PFOA and PTFE scratch resistant
Their handles are made of stainless steel.
Both come with glass lids that help to monitor the cooking process and keep the moisture inside.
The two cookware is dishwasher safe
HA1 and B1 are oven-safe even up to 500 degrees
Both come in sets or individual pieces
The cookware is compatible with electric, gas, and induction
Differences
All-clad B1 vs. HA1- what differentiates these product lines? The best approach I employed was to contrast their features. Here is a quick summary.
Shapes & Handles
You'll notice that the composition of the All-Clad B1 and HA1 collections is nearly the same except for some differences in terms of handles and sides.
The handles are angled differently, while the sides are steeped differently, too.
The HA1 handles are angled and straight. B1, on the other hand, has curved handles parallel to the rim.
When it comes to their shapes, HA1 has steep sides, while B1 sides are shallower but with wide rims.
No Of Sets
It's easier to get the HA1 product line in sets of around 10 to 13. In the B1 line, you'll notice that items come more in a few sets and singles.
Availability
Another notable thing is availability. It's easier to find HA1 cookware from merchants' sites, including Amazon, Walmart online, etc.
This proves why the HA1 line outsmarts B1 in popularity. The easiest way to find B1 is through the company's official website.
What's So Unique About All-Clad Non-Stick Cookware Sets?
All-Clad cookware sets are so unique in some ways. If you compare this product line with common cookware, you'll notice many unique benefits that aren't easy to beat.
Energy-efficient, ultra-durable, and versatile
For All-clad cookware sets, we've spent 20+ hours testing and listening to users' reviews to put you in the know.
Shopping for a quality set is a decent task. It feels good when you cook your meal using one set. Of this, it's significant to make a good choice.
Of course, you'll dive into many options in the market. The features to look for and the intended use will tell.
For starters, you'd like a product that will last longer. And if you mess up, it will be pathetic to throw it away just after a few months of use.
This non-stick cookware is pretty durable to invest in. Aluminum-made cooking products are fairly expensive. But they come with merits. This material is scratch-resistant and won't peel off easily.
I would bet that anodized aluminum is the best choice in the town. First, it's a good conductor of heat.
This type of material can withstand the high temperatures required to heat food. With just minimal care, the cookware is last for years.
Again, you better use it because it's more energy efficient than the burner stove.
I like its versatility. It's not the first time I've used to stew, bake, fry, roast, or even bake. Believe it or not, you'll need this cookware set in your kitchen if you want to adjust your cooking practices.
PTFE, PFOA-free
The feature makes it 100 percent free. Most of us know the dangers and reputation of Teflon pots and pans when it comes to health.
Remember, Teflon coating is typically PTFE, PFOA-based. Now figure out how these chemicals are hazardous to the human body.
Going by my opinion, anodized aluminum non-stick is the best you can buy today. It contains zero harmful chemicals.
Above all, you can think about your prep, knowing that your and your family's health is safe.
You can 'do the slide'
Sliding off food from All-Clad cookware is fantastic. You don't have to apply any formula or chemistry.
Other types of frying pans require you to add butter or oil to make sure your food doesn't stick. That's old-school cooking things. Why should you do that, anyway?
Super cast iron doesn't need that. You can enjoy the best results without adding oil to the surface. It's that simple! It's like you're cooking on air.
When it comes to serving, the food slides superbly onto the plate. Just try pancakes or fried eggs, or omelets.
Dishwasher safe
After long hours of cooking, the last task awaiting you is cleaning up the utensils and kitchen.
Most cookware is allergic to the dishwasher. If you regularly use soap and detergents on them, their surface will scratch and erode.
With B1 and HA1 lines, this is a different case; you can set them in your dishwasher and attend to other activities without worry. They will come out sparkling clean as you save time.
Benefits Of Using All-Clad B1 And HA1 Non-Stick Cookware
The healthiest option for cooking
First and foremost, we live in a century where everybody is more concerned with safe and healthy cooking.
This is something that we see daily in magazines, ads, and on TV. With many diseases, you can't write off these two things.
For most non-stick surfaces, we require to put oils when cooking to avoid coating. Well, no more worry.
These cookware sets don't need butter or oils. Your food won't stick, and that's become a significant health benefit to our body.
But this doesn't limit you from using avocado or olive oil. After all, we need a little bit of oil to help our skin and add some flavor. It's not a must, rather, it's a choice.
Finest All-purpose cookware
If we were to start a list of the best cookware, All-clad cookware sets would be the best choice.
Putting everything on board, strength, durability, and versatility, the models will perform. One vital advantage of using this brand is that it comes with a quick-heating metal.
Withstands high-temperature levels
These particular sets are distinguished for their ability to withstand high-temperature levels up to 400 degrees. They keep you prepared any day when cooking the recipe calls.
No more work of putting or transferring the ingredients into an oven. Since the cookware suits even high heat levels, you can use it as an oven.
There will be no harm to either the cookware set or the dish. These are common things that a cook cares about saving the dish and preserving the cookware's life.
Easy clean-up saves time
Unlike other product lines, you can use pans, pots, and saucers from All-Clad for a long period. But this requires you to take proper care.
One approach to ensure this is to keep your items clean after use. It will not only keep the pans safe but also retain excellent quality performance.
Leaving leftover food is not good at all. At times it can prove hard to remove them later on. For the better side, make sure you clean, wash, or wipe your cookware fully every time.
Finally, store the items in the cabinet or drawer where you store other important cookware.
Don't ever think to store it inside other metallic cookware to avoid scratching. If you treat it well and with great care, it's an assurance that it will take care of your food.
Frequently Asked Questions
Where is All-Clad ha1 made?
All-clad is an American cookware line that produces and delivers durable, versatile, and top-notch quality performing pans and pots.
These cooking products are non-stick cookware sets. The brand isn't that cheap, but fry pans are lower-end offerings.
Is All-Clad ha1 safe?
All-Clad is designed to hold heat. Therefore, the manufacturer recommends low-medium heat for sautéing, braising, simmering, and frying.
Made of anodized aluminum that is PFTE-free, you can use the cookware for recipes. The material contains no harmful chemicals that can affect our bodies.
Also, HA1 is sturdy and solid enough; hence it can't break easily. Furthermore, the collection is dishwasher safe and allows even heat distribution.
Buy it for everyday cooking and enjoy healthier meals.
Is All-Clad cookware worth the money?
Absolutely "YES". I believe you won't regret having purchased high-quality cookware.
More than that, All-clad products are durable to serve you for many years to come. How it's priced fits the benefits it comes with. You get it and forget the cookware shops for years.
Is All-Clad the best cookware?
If not the best, probably it's one of the best. Food cooked in these pots tastes better. Its outstanding performance in the kitchen is something to appreciate.
Given its durability and construction, be sure that it will offer you a longer lifespan.
Besides, All-clad provides a lifetime warranty. This means that they are not there just to sell but also to give the best cooking experience.
Final Words
To wrap up things, the All-Clad HA1 Vs. B1 hot debate is now in our own hands. HA1 and B1 collections allow better cooking and tasty food in the kitchen.
Thankfully, anything about their differences is now known. Differences are not as many as similarities, so asking questions when buying will be limited.
The difference between their handles and shape should guide you from the word go. With so many benefits of cookware, you have nothing to complain about.
My great advice: know your regular and favorite food before splashing your cash. Don't hesitate to buy any or both of them as you prepare for your day-to-day cooking journey.