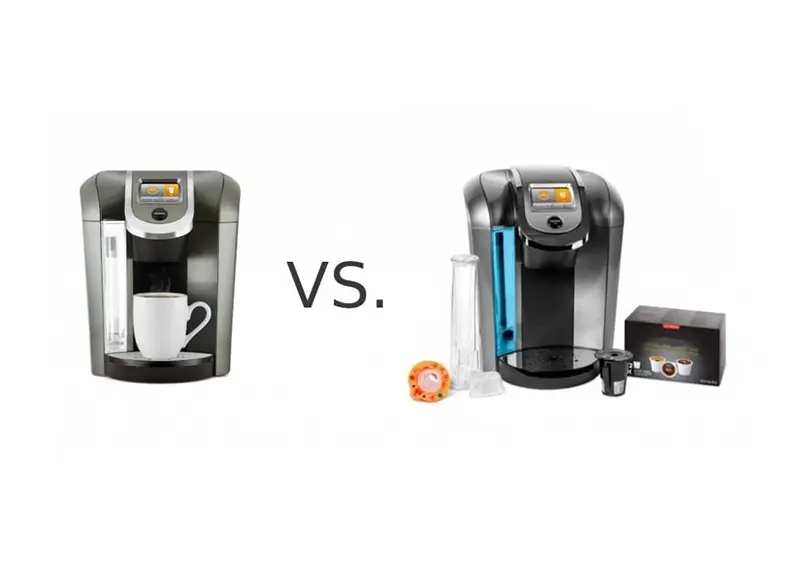 Keurig K575 Vs. K525c coffee makers – which one brews better?
More and more persons are torn between choosing the two Keurig machines. Both models are nearly identical in all aspects.
After 25+ hours of digging deep into K575 and K525, testing, and shedding some light on their differences and similarities, we share the results with you.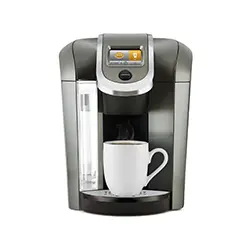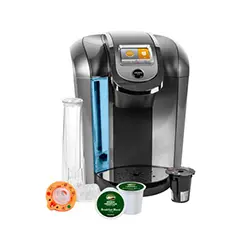 Best Alternative: Keurig K-classic coffee maker single serve
It's not easy to tell them apart. Owning a machine is worth it for coffee fans who love to start a day with a tasty sip of coffee.
But deciding which coffee device to invest your money in is always a big dilemma.
Keurig is a reputable brand that makes the best coffee makers. Nonetheless, Keurig's approach of releasing too many models seems somehow confusing.
So, it isn't a surprise to find most consumers confused. Usually, but not always.
Keurig K575 and Keurig K525 are two products that you can hardly differentiate.
Both machines employ great features like an 80-ounce water reservoir, carafe compatibility, and touchscreens.
Notwithstanding the sheer volume of similarities, both coffee makers have several key differences. These are mainly seen in filters, accessories, price, and brew size capabilities.
Before we get an in-depth review and comparison, assuming you're in a hurry, I recommend Keurig K525c as my number one choice.
Keurig K575 Vs K525c – Comparison
After getting familiar with Keurig K575 vs. K525c comparison, you should be able to figure out which of the two is ideal for your kitchen.
Keurig K525C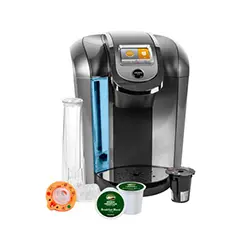 Keurig has made exceptional coffee machines for the last three decades, and Keurig K525C is no exception. Its new innovative features make it a winner.
Unlike other coffee brewers, this model's bonus features are only compatible with K-cups. It's compatible with K-carafe and K-mug pods, too.
If you love brewing in batches, offload other models, and go for K525. It will serve you fine.
Also, it sports a large 80-ounce water reservoir, meaning you can make ten or more cups of hot coffee for your friends. It allows you to control not only brewing strength but also temperature.
While you'd like to make coffee differently daily, Keurig K525 should make you smile. Further, the control makes it easy for you to choose your best morning ritual.
Besides, the one-button press operation makes it easy to use.
What is more, this brewing machine features a more prominent color touchscreen. Therefore, you'll quickly see the different options the 525C coffee maker comes with.
The display will help you choose the favorite taste you enjoy.
Along, the device comes with an Auto-Off feature plus a nightlight.
80-ounce water tank Programmable auto shut-off
Features a water filtration system
Easy to control both brewing strength and temperature
Comes with a reusable K-carafe and K-cup Has a 'Hot Water on Demand' option
Can brew in batches in under a few seconds
It comes with a removable drip tray
Exorbitant (Not easily affordable)
Often not available to purchase
Keurig K575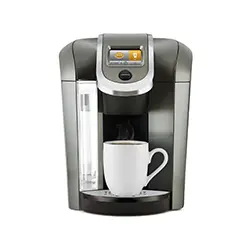 The K575 coffee maker has many features in common with the K525. First, it can also brew a mug of coffee in just a few seconds.
It also comes with an 80 ounces tank reservoir that saves the effort of refilling and time.
Both temperature settings and strength control make it easier to use and operate. Be guaranteed to get a 'Hot Water on Demand' option, night light, and auto-off option.
Just like K525 machines, this model has a color touch display. This helps you track the entire coffee-making process and pick the best beverage.
However, the 575 unit lacks some vital things that the former has—notably the water filtration system and removable drip tray.
This model seems discontinued, though they are generally more available than K525.
It has an 80-ounce water tank.
Can brew 11 K-cups sizes compared to 10 for K525
Strength and temperature control options
Programmable Auto-off option
Can make a cup of coffee in less than 60 seconds
Large color touchscreen display
No removable drip tray or reusable K-cup
Keurig K575 Vs K525c Comparison
The Differences
How do they marry?
As noticed, both coffee makers are almost identical.
Despite this, some things set these brewer machines apart. Let's take a look, shall we?
K525C comes with 12 K-cup pods, while K575 comes with 6 K-cup pods
While K525c features a reusable, My K-Cup, K575 lacks one.
Keurig 575 comes with a complete water filter, while 525c doesn't
K525c is packed with a brewer needle maintenance accessory but isn't included in K575.
The K575 unit is relatively cheaper than K525c.
The similarities
What sets them apart?
The two models themselves are identical. Check beneath and understand what the two have in common.
Both Keurig models are easy to operate and use
The units feature an extra-large color screen display with a menu and various features.
Both machines can brew tasty coffee in around 60 seconds
The two brewers have an 80-ounce water tank (reservoir)
Both units take the same contemporary design and sleek look to enhance any countertop.
K525c and K575 have a programmable digital clock
Nigh light and Auto on and off are features of both devices.
Temperature and strength controls are available and helpful in each model
A Closer Look At Their Key Features
This section will thoroughly examine both Keurig models, particularly their significant features.
Design
Both brewers come with a contemporary design. So, you may not be the first to find it challenging when picking between.
Moreover, they look amazing with the same sleek finish. Their look is further backed with an engraved Keurig logo on top.
Both coffee makers are compact and neat. This boosts most countertops when it comes to décor. The units won't take up much space.
Size-wise, these units have no difference. Without anyone mentioning it, and at first glance, nobody can prove you wrong that they're the same. You'd think you're right.
Again, their lightweight feature makes them easily transportable and portable, should the need arise.
Verdict: In terms of design, the round is absolutely a tie. Both Keurig models feature the same sleek-look design.
Display
You'll notice that both Keurig 575 and 525 have a 2.8-inch color touchscreen display. This allows you to easily navigate strength controls, brewing sizes, and temperature controls.
The display is also pretty convenient since they're vibrant and significant. You can monitor the brewing process and choose the best option.
As Keurig continues to improve, the night light is now available in the latest models. You still make your coffee even in dim light kitchens.
The LCD screen uses full color. The display has all the settings that allow you to make the exact amount depending on the pod size and the cup used.
With a programmable digital clock, you can auto-start or auto-off a brewing session when in need.
You won't guess when the reservoir/tank is ready to brew. It will tell you when the brew is fully complete.
You can choose whether you want to brew iced beverages, including tea and hot cocoa.
Verdict: Both machines feature the same display panel. This seems to be a tie.
Brewing Quality, Taste, And Flavor
Keurig coffee machines are known to brew quality coffee in no time. By innovating the perfect range of coffee pods, their units are compatible with K-carafe and K-mug pods.
Most coffeeholic do love Keurig's coffee. Why? The brew that these pods offer is fantastic. What comes next is the top-notch quality taste and flavor.
Verdict: Both units are exceptional. Both coffee makers are to beat if you fancy quality and flavor change.
Package Content
You'll find a slight difference when you unbox the two coffee makers. Keurig packs its models with some components. Let's see the different items in each unit.
Unboxing Keurig K525c
So, what will you grab from the box? All our eyes there:
K525 coffee machine
2 removable drip tray
My K-Cup reusable filter
An 80-ounce water tank
12-pack trial K-cups pods
Cup holder and brewer needle maintenance assembly
Unboxing Keurig K575
On the other hand, what is that packed with this distinguished model? What is included in the box? Let's take a look:
K575 brewing machine
80-ounce water tank
No removable drip tray
Cup holder
6-pack trial K-cup pods
Verdict: The K525c carries the day. The two removable drip trays and needle maintenance are bonus features on top of those found in K575.
Are There Some Good Alternatives?
Choosing between the two machines is now hassle-free. Not many coffee makers are crafted to provide excellent quality and versatility. But with Keurig, you'll enjoy the brewing process.
Nevertheless, if you want to change your line-up menu, there are still a few alternatives from Keurig. We recommend the following:
Keurig K525 plus – It looks just like a basic K525. Plus, you can have hot water upon request. This allows you to make different types of hot beverages. Vitally important, it features a much more wide display screen. It's much more visible.
Keurig K-Elite – There's only a slight difference compared with K575 or K525c. But it lacks some features like brewing quality.
Keurig K-Café – The model is superb for brewing espresso and Keurig-style coffees. The model is much pricier than K525 and 575.
Conclusion
The Keurig K575 vs. K525c brewing battle is won at the features, components, and price. After all, you'd want a mighty brewer in your kitchen.
Keurig reigns as the king in the coffee-making space. All their products represent a marriage of functionality and convenience that coffee enthusiasts have come to appreciate.
The K575 and K525c are pretty identical. Making decisions will be tricky unless you skim through our comprehensive review and comparison.
After deliberations, we're convinced that K525c is the winner.
Yes, the K575 does feature additional components and quality, but a two-removable drip tray and needle maintenance are two attributes of a high-end coffee maker.