An air fryer is an unbeatable appliance in any kitchen space. This year alone, more than 28 best air fryers without racks have entered the competitive market.
We took many hours to test and review nearly all brands to determine which one performs well.
Notably, air fryers come in different sizes, shapes, designs, and colors.
Some come with multiple racks, where you can cook a bunch of different food once, while others contain one rack. The GoWISE USA 8-in-1 GWAC22005 5.8QT air fryer oven is the best we tested.
Our Top Picks For Best Air Fryer With Racks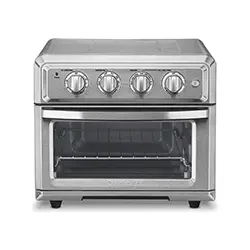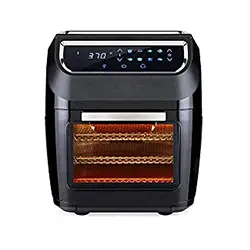 Just like a fridge with multiple racks, an air fryer's racks are of utmost importance. You can fry chicken wings on one rack and, at the same time, make pizza on the other shelf.
Not even a microwave with a pizza drawer or toaster oven can outclass this appliance. That's sumptuous!
Simply, you can cook different foodies faster and at the same time. Without further ado, let's dive into the best air fryers with multiple racks. Can we?
Why You Need An Air Fryer With Multiple Racks?
An Air fryer uses superheated (hot) air to cook crispy wings, veggies, fries, chicken breasts, and other air-fried recipes with little to no oil.
This makes it a healthier alternative to deep-frying. Enjoy a fraction of the fats and calories!
Air fryer racks are handy tools to have. These dividers can help you whip up multiple foods simultaneously without any cross-contamination or crossover. So you have more room to make more food.
These racks feature different sizes, needing you to use common sense. Roughly take the measurements in length, width, and diameter of your air fryer.
Make sure that the rack or divider you purchase is slightly smaller to fit hassle-free.
The main benefit of racks in an air fryer is that you easily cook, load, and unload different foods at once, especially for dehydrating and toasting. It feels good when you make French fries for your kids and chicken wings for your guests simultaneously.
As we may intuit, multiple shelves expand the functionality of your hot air machine. It's time to cook meals in different portions as you successfully enjoy air frying with your small and large family.
Best Air Fryers With Multiple Racks Reviewed
Looking for the best air fryer with racks for your kitchen? We've rounded up 5 top-rated brands and compared their features and benefits to help you search.
1. Chefman Air Fryer Toaster Oven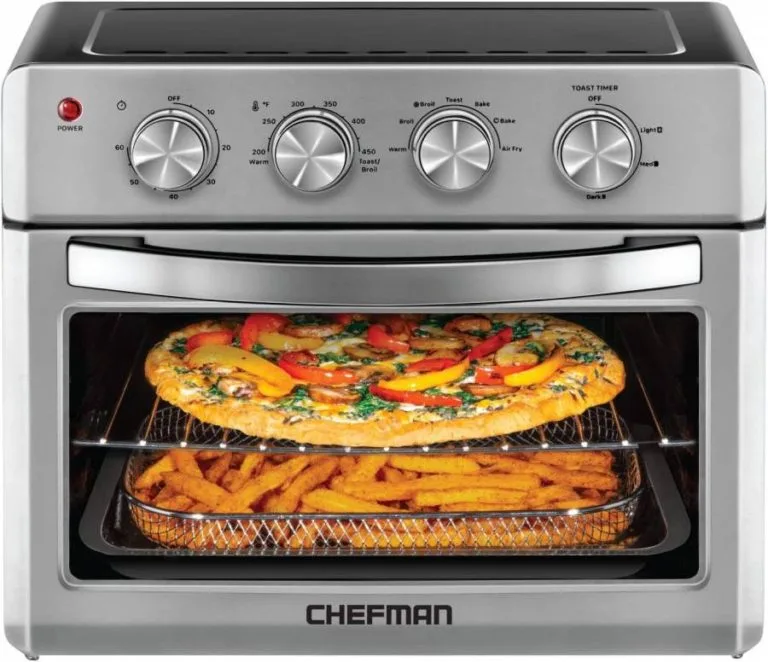 Chefman Air Fryer will be an exceptional addition to your cookware collections. Its ability to produce crispy and even results are the reason for the name 'best-seller".
This appliance features 2 racks. This design makes it a versatile unit for cooking food for extra guests or your large family.
An avid air fryer user, Chefman exceeded my expectations. Today I can roast a 6lb chicken on one rack and place 5 slices of toast or more on the other.
Even more, this toaster oven holds up a capacity of 26 liters. That way, it is an ideal unit for baking, frying, roasting, and even grilling. It's stocked with essential accessories, including a removable broiling pan, flat wire rack, and air fryer basket.
At that affordable price range, getting such a unit that is miles better than a microwave is a blessing. Gifting it to your mother or grandmother is just a blessing.
2. GoWISE USA 8-in-1 Digital XL GWAC22005 5.8-Quart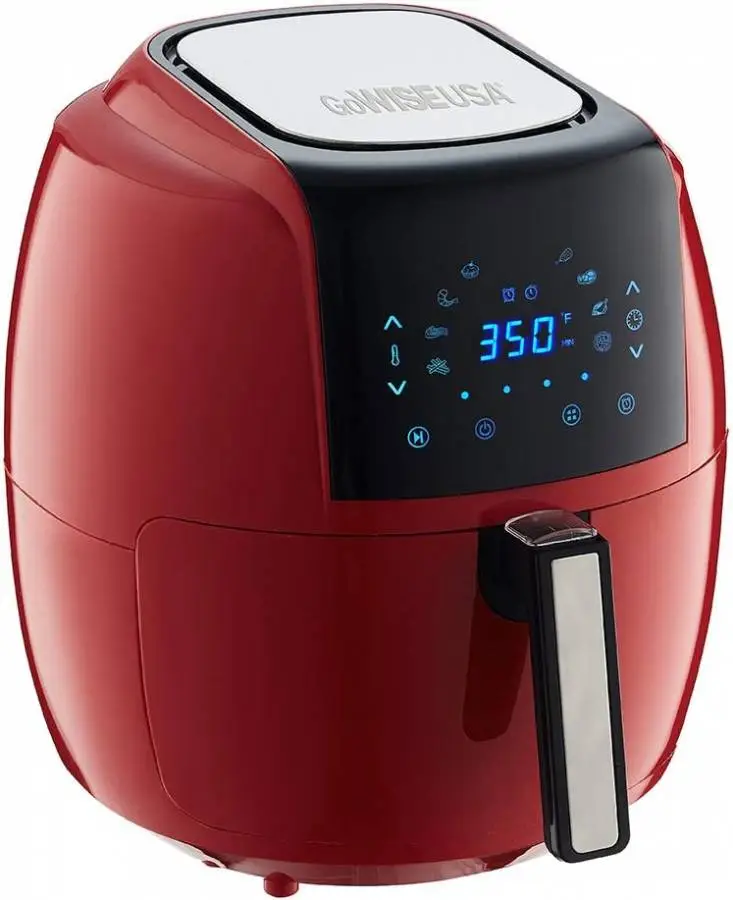 Enjoy guilt-free food today with GoWISE USA GWAC22005 5.8-Quart. Its portable design makes most people satisfied that it can't hold much food. The unit allows you to air fry your chicken pieces with up to 80 percent less fat than old-school frying methods.
However, its unbuilt racks give you an easy way to section your food while you prepare a lot each time.
From vegetables and desserts to chicken, cookies, and pizzas – all in one. Notably, the 8 digital presets the air fryer has for you are easy to read and use.
Users claimed they were happy to prepare cheesy tater tots, French fries, sticks, wings, and sandwiches at ease. Whether you want to roast, fry, dehydrate, or toast, this unit is equal to the task. And with your budget, you can't go wrong.
3. Best Choice Products 11.6QT 1700W 8-in-1 Electric XL Air Fryer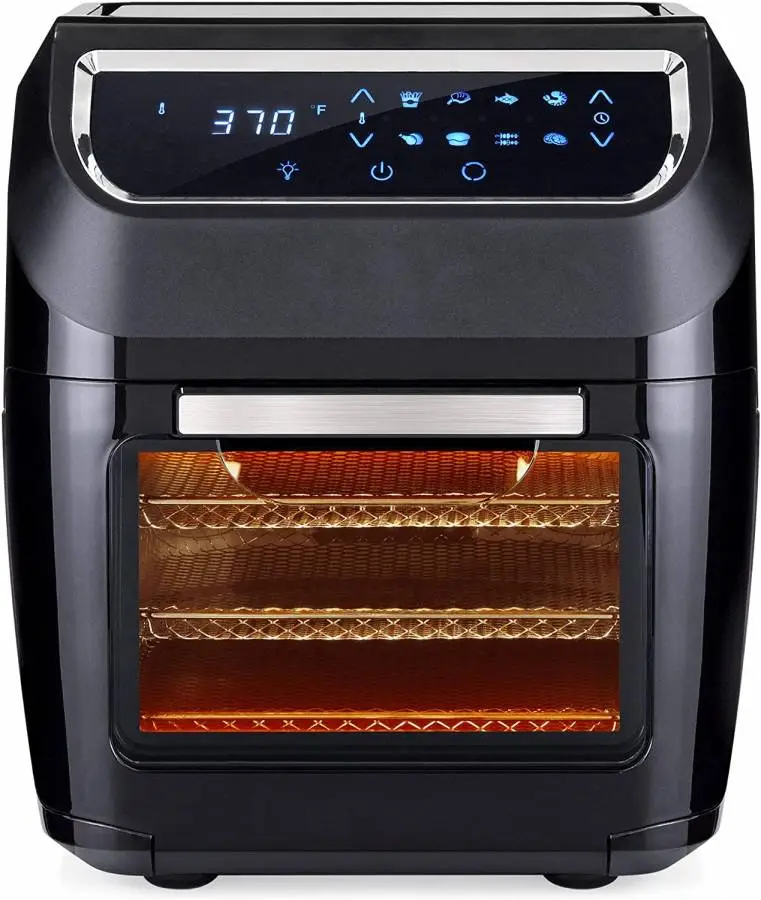 Another absolute steal is here for cooking enthusiasts. Apart from three roasting racks, the decent unit is packed with useful accessories like skewer racks, rotisserie, rotating baskets, and more.
You can quickly dehydrate veggies, fruit, and beef jerky – all in different racks.
Along with that, Best Choice has 8 built-in functions to boost its versatility. You can prepare different types of food in your comfort.
Thanks to the 11.6QRT capacity that supports food for large families. It's a model air fryer with racks and a rotisserie.
Crafted with the newest rapid air technology, this appliance cooks your favorite foods hard with oils.
Having other functions like a 360-degree rotating system and defrost is another win. In line with that, preparing tasty rotisserie-style food is easy and fast.
Most reviewers said they like its solid construction. At least, it will offer long lifelog services in any kitchen. Others appreciated its easy cleanup. Again, its operation is governed by 1700W.
4. NUWAVE BRIO 14-Quart Large Capacity Air Fryer Oven
The idea behind 3 cooking racks in NUWAVE BRIO 14-Quart is to make multiple portions of food quickly, fast, and in a single basket without mixing them.
Since several situations can force you to want this, you'd have no choice but to employ such an appliance.
A rotisserie kit, integrated temperature probe, and drip tray are other quality signals in this air fryer. It supports cooking functions like roasting, grilling, reheating, dehydrating, baking, broiling, and searing.
Plus, with its large size, your family's dinner is always covered. All accessories go into a dishwasher, making cleanup fast and easy.
Those 100 pre-programmed presets are too much to miss out on. The unit doesn't come alone since there's a 1-year warranty cover for you.
5. Cuisinart TOA-60 Convection Toaster Air Fryer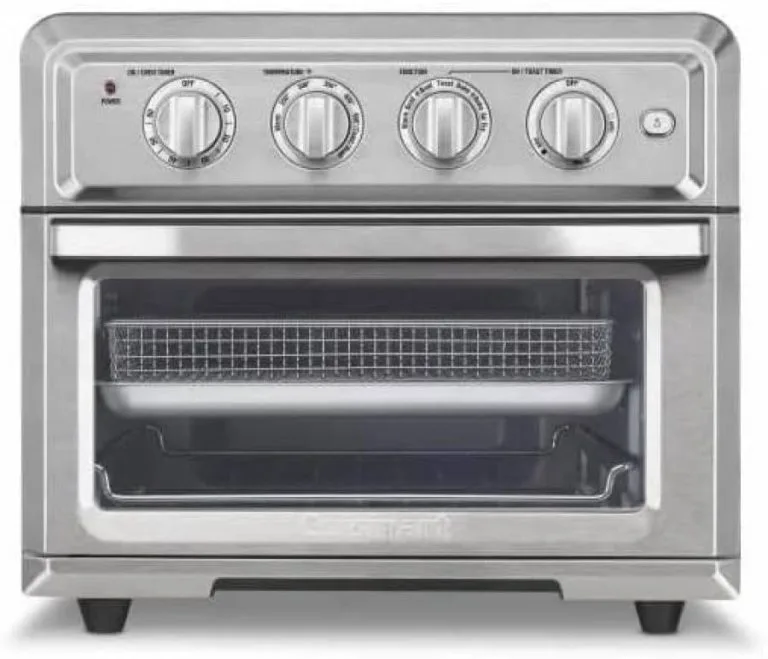 Finally, Cuisinart TOA-60 is another next big thing to consider in 2021. It's built with stylish dividers that help you cook multiple types of food – all in one. The air fryer double-layer rack is a unique feature not seen in others.
Cuisinart TOA60 is one of the best-selling products as of now. It allows you to air fry, toast, and bake superbly.
As a digitized version, this unit makes the crispiest air-fried food and evenly-colored toast in the shortest time possible.
Unlike the competitors, this rectangular air fryer provides a good cooking surface to handle any things. It stably sits on the countertop for easy cleanup.
Recently, Cuisinart has introduced portable and compact versions with the same quality performance and features.
Wrap Up
Your best air fryers with racks simplify your cooking process. You can opt to make different portions of foods in different racks but in the same unit.
These appliances are the best buy for large families.