After relocating, I found it normal to re-arrange my new kitchen and give it a unique look. I decided to research and price out different cookware.
Since a complete kitchen set was what I needed for my large family, I tested All-Clad mc2 vs. d5 since the two lines were the most popular.
The key difference between All-Clad MC2 vs. D5 is their mode of construction. Mc2 cookware is bonded with three (3) alternating layers, while D5 has five layers.
Which pick will suit your kitchen? Having used both sets, I'll give an honest review that All-Clad D5 is an absolute steal.
In this post, we will look at each set before wrapping up our final thoughts.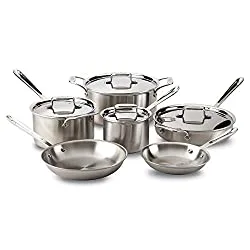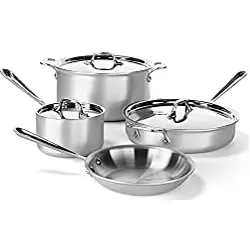 Choosing the right cookware isn't an easy task. You may want something useful yet durable.
A premium cookware set made of high-quality materials and robust construction will serve you pretty well in your kitchen and dining.
Sometimes you've to shop for a higher-priced product once and relax without thinking about buying another saucepan, frying pan, skillet, pan, or stockpot over time.
There's no need to shop for a cheap set, only to replace it after a couple of months. Mathematically, you'll be losing.
Is it All-Clad mc2 or d5? Which one is better? What are the difference, similarities, cons, and pros?
Ready? Without further ado, let's begin!
All-Clad Mc2 Vs. D5 Cookware Quick Summary
All-Clad D5 and MC2 (MC= Master Chef) are two distinguished names in the cookware industry.
The brand uses cladding/bonding technology to manufacture pride-worth cookware items. They focus on innovativeness and providing high-end products which perform superbly.
All-Clad MC2 Review
All-Clad mc2 is made of bonding layers of aluminum and stainless steel. The gorgeous piece performs admirably.
Being one of the All-Clad's most extensive and exquisite cookware lines, these pans and pots are updates of the original Master Chef Line.
With a brushed aluminum exterior and 18/10 stainless steel cooking surface, mc2 features 3-ply construction, at which aluminum is bonded in the middle.
It can therefore resemble All-Clad D3 when it comes to construction.
The handles are slightly flared for a comfortable grip. Also, they're riveted to the pan's body. Similar to D5, the line has numerous variations, including premium nonstick options.
What's Special About All-Clad Mc2?
The pans, skillets, and pots not only heat evenly but also retain their heat. Thanks to their first-class construction and design.
Thus, searing meat will be a breeze as it results in excellent browning. It releases the meal nicely from a frying pan.
Again, you'll use a little coil oil when using mc2, and it will still yield perfect results. From tender risotto to canned soup, the pot will cook everything without burning food.
Even a stockpot or sauté pan that seems large is manageable to lift because of its large handles.
Featuring lids that fit snugly, the pot's handle maintains a calm nature, even on the stove. The line's brushed aluminum finish looks modern and attractive.
However, the matte finish may scorch, stain, or scratch if great care is ignored.
For a smaller pan or skillet, you can get it cheaply, as the MC2 line is less expensive compared to D5.
The price starts at around $80, making this line the acceptable option for home cooks and chefs. It can be a great addition to your existing high-quality cookware collection.
Main Features
Tri-ply construction, including aluminum layer, brushed aluminum exterior, and 18/10 stainless steel interior.
Riveted and stay-cool handle ensures a secure grip. Some pieces come with helper handles.
Comes in different sizes and shapes, plus sets in numerous configurations. Like an all-clad mc2 sauté pan, all-clad mc2 12 nonstick fry pan, and all-clad mc2 7-piece set.
Lightweight pans for easy lifting
Lifetime warranty from the manufacturer
Durable construction and design
Oven-safe Distributes heat evenly and retains it
Stick-resistant cooking surface
Sturdy construction
Relatively expensive than Ceramic, Teflon cookware sets
Matte finish may scratch over time
All-Clad D5 Review
Serious home cooks do love this cookware set. So, what is All-Clad d5? It's a typically brushed stainless steel cookware made from 3 layers of magnetic stainless steel and 2 layers of aluminum alloy for even heat distribution.
Magnetic steel is essential because it is compatible with cooktops such as induction, broiler, and oven.
One favorite product in this category is the D5 nonstick fry pan. It's a favorite amongst customers because it never reacts with food.
Its beautiful, functional design is built to last. A brushed finish is one feature that every avid cook would love.
At first glance, the set is lovely and appealing. Each item's bottom and exterior are bonded with brushed stainless steel that is water spots and fingerprints resistant.
Beyond that, All-Clad d5 promises excellent heat retention. It's also dishwasher safe, though washing by hand is recommended.
Why Choose All-Clad Brushed D5?
The 5-ply set is a promising addition to our kitchen. While it's aesthetically pleasing, its craftsmanship and performance are worth its price tag. You cook up most foods, even if it means seared salmon or spaghetti.
Additionally, the interior takes a starburst finish to prevent meal sticking. The mirror and brushed finish combination are contemporary, eye-catching, and bright.
The sizes and assortment of the products in this line should satisfy most of your kitchen and cooking needs.
Honestly, the package feels impressive. You'll love how sturdy and stable each piece is. The weight is light-medium on most pieces. It's something not to worry about compared to cast or anodized iron pieces.
One important feature is the long, riveted handles that offer a secure hand grip. You can steer any recipe while holding your cookware as you monitor the cooking. Along with that, the lids fit well to keep the moisture intact.
For instance, the stockpot is perfectly sized for preparing large batches of chili, pasta, and soup.
On the other hand, the sauté pan is generously versatile enough to simmer stovetop sauces and roast chicken breast in an oven. Lastly, you'll enjoy a lifetime warranty.
Eye-catching brushed design
Dishwasher safe
Compatible with the majority of cooktops
Durable construction
Lifetime warranty
Oven safe
Brushed exterior that's fingerprint-resistant
Some pieces, like stockpots, are heavy
Long pot handles disturb when storing
Somewhat expensive
All-Clad Mc2 Vs. D5 – True Comparison
Both lines look so much identical. They share some features. A lot of customers usually ask which cookware is best.
Which cookware is versatile? In this section, we'll get down to the similarities as well as their differences.
Similarities
Handles
One feature that marries the two cookware sets is their well-crafted handles. The handles are made of stainless steel and contoured to match the handgrip of cooks and chefs.
The angled design of the handles guarantees balance and leverage. Apart from comfort, the pans will feel lighter.
Pots pans, frying pans, and sauciers all come with long handles, except for stockpots. Uniquely, they are riveted with stainless steel to ensure professional cooking.
Non-Stick
All-Clad master chef vs. d5 pans features a stainless-steel cooking surface. You don't need to add coating because they are purely nonstick.
Even when they contact metal utensils, expect no damage to your mc2 or d5 set. Plus, you can throw them in the dishwasher.
Compatibility
It's only with this cookware that you can choose various cooking methods. They are highly compatible with almost all cooktops, including ovens, induction, and boiler.
The fact that they are oven-safe means at 600ºF temperature means that both pieces are ideal for boiling.
Ease Of Use And Clean
All pans from these cookware sets come with flared edges. As such, you can pour your meal by sliding without leaving drips.
Cleaning is another task that everyone dislikes after cooking. But with brushed D5 and Mc2, washing either by hand or dishwasher is simple. Their nonstick interior is a plus.
The Lids
The stainless steel lids with hooked handles lessen the cooking time. They are flat to fit well and lock in moisture inside the cookware, resulting in a nice flavor of your food.
Warranty
They are made in the USA, and it is evident that both cookware sets are of excellent quality. Backed with a limited lifetime warranty, any fault after purchase, the manufacturer will be accountable.
Differences
Construction
Obviously, the key difference between All-Clad MC2 vs. D5 is their construction mode. Mc2 cookware is bonded with three (3) alternating layers, while D5 has five layers.
In that way, D5 is more durable and valuable than Mc2. The two additional layers are warp-resistant, making it a workhorse in the kitchen.
For searing and browning, D5 brushed is the winner. This time, the amount of heat is concentrated on the base, hence better results. And that makes it perfect for preparing any recipe.
Heat Response And Retention
Extra layers mean an increase in heat retention. However, the heat response won't be promising. In this situation, D5 has more layers.
It retains heat even after you finish cooking. You can relax as you wait for your guest's arrival since you don't have to warm the meal once more.
Even so, Mc2 Master Chef is number one when it comes to heat response. It adapts to heat change quicker than the latter.
But it can be susceptible to burning your food as you attend to other chores. This should not worry you much as it will only happen under high temperatures.
Heat Distribution
D5 may tend to transfer heat slowly, but it's reputable for even heat distribution. The five layers take more time to absorb heat than the three layers found in All-Clad Mc2.
Price
All-clad cookware has become successful because of the cladding technique on all their products. If you want something durable, you must go over overall performance, construction, and design.
That's what d5 and Mc2 are made of. 5-ply is more expensive than Master Chef. It's made to perfection, and you'll invest your money knowing that it will serve you for decades.
All-Clad Mc2 Vs. D3 Vs. D5 Vs. D7 Cookware
All cookware features alternating layers of aluminum alloy and stainless steel that are well-bonded together to ensure solid and even heat distribution.
Together with that, they have flared edges for tastier food pouring.
D3, Mc2, D5, and D7 are made in the USA – come with stainless steel handles and lids for a comfortable grip. I expect D7, followed by D5, to perform better compared to other 3-ply cookware in terms of performance.
In terms of heating, Master Chef Cookware will outperform the others because there's no extra layer that impedes heat transfer. Anyway, every step you make is dependent on you.
All-Clad Mc2 Vs. D5 Final Thoughts
Overall, you can get the best pan, skillet, or pot for browning meat. All-clad's cookware is a standout, and Mc2 and D5 aren't an exception.
It's by no luck that they'll impress you. With the All-Clad mc2 vs. d5 battle over, you can now pick your choice. Remember to put some factors into consideration.
The D5 brushed is a top choice if you're interested in performance. But if you want to create your meals quickly, Mc2 is an indispensable alternative.
I hope the article will help you. Kindly share it with your friends. Thanks for reading!