I've used All-Clad cookware in many kitchens for the last ten years, and one question that often pops up from people is which is better between All-Clad D3 vs. D5 vs. D7.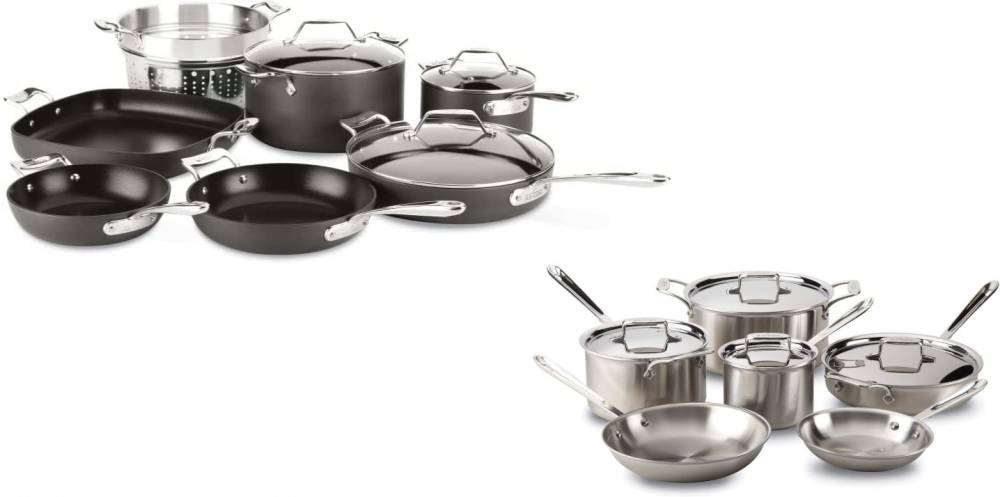 All-Clad has improved in the construction of its pans and pots.
From Tramontina to Calphalon to Crock-Pot and even T-Fal cookware, all these cookware feature varying layers. All-Clad is no exception.
In a hurry, the biggest difference between these All-Clad products is the number of bonded layers. All-Clad D3 has three bonded layers, while All-Clad D5 comes with 5 bonded layers, and eventually, D7 features seven alternating layers.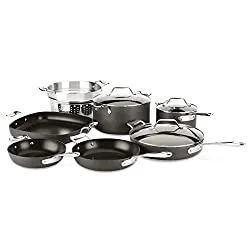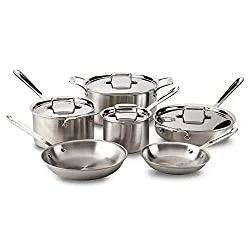 In this post, I will share what I've learned during that time of my cooking career. Any product I recommend or review is based on the fact that I've tested or used it.
All-Clad D3 Vs. D5 Vs. D7: Quick Summary
Happy cooking starts with top-notch quality cookware – that's a brainer! In the quest to own the right kitchen and dining utensils, most people have tried many brands.
Today, manufacturers are experimenting with innovative techniques when it comes to cookware construction.
They want to make items with better heat retention, conduction, and distribution.
The review for D3 and D5 is extensively discussed in our All-Clad D3 vs. D5 Review. Let's dive deeper and discover their similarities and their differences.
I hope by the end of this comparison, you'll be able to settle for one of the three collections as per your needs.
Their Similarities
Composition
All D3, D5, and D7 skillets feature alternating layers of aluminum and stainless steel.
The brand uses 18/10 stainless steel to construct the surface of all three collections. This nickel-to-chromium ratio guarantees superior rust resistance.
While the material is sturdier, the pan or pot can hold up regardless of the frequency and period of use. The entire kitchenware is dishwasher-safe, easy to maintain, and stain-resistant.
The exterior is also made up of 18/0 stainless steel alloy in all collections, allowing compatibility with induction cooktops. Between stainless steel layers, there's a solid aluminum core.
Bonded Design
The brand (All-Clad) is reputable for its famous fully-clad metal technology. It's the technique they have implemented over the years.
And their dedication has been seen to yield results. All their cookware is fully clad.
The aluminum core covers or extends throughout the pan and pot. We are used to having cookware with a strong material only at the base.
Flared Edges
The All-Clad D7, D5, and D3 are designed to have flared edges. Unlike other cookware, these options allow drip-free pouring. Serving or transferring the food is a breeze.
Significantly, this is a feature that makes sure you have a few spills and easy cleanup.
Compatible With Most Induction Cooktops
The aluminum core is vital in ensuring that these items support direct induction cooking.
Also, the construction makes sure the cookware distributes heat evenly without hot spots. The skillets are best for glass-top stoves.
Made In USA & Warranty
The materials used in making D3, D5, and D7 are USA-based. Craftsmanship in the USA accredits only quality manufacturing. So, the products are accepted as safe and healthier to use.
Significantly, All-Clad believes in quality products, which is their most significant selling asset. They have come out strong to positively invest in great pans and pots that deliver impressive results.
The company is so confident about what they offer to its clients. For that reason, you'll enjoy a lifetime warranty on any purchase you make.
Their Differences
Number Of Layers
The number of bonded layers is the main difference between these three product lines. In simple words, the model names refer to layers of a ply of alternating aluminum and stainless steel.
For instance, All D3 has 3 metal layers of 2 stainless steel and aluminum separating them (S-A-S).
On the other hand, All-Clad D5 comes with 5 metal layers, 3 stainless steel, and 2 aluminum layers (S-A-S-A-S). Finally, D7 embodies 7 metal layers, 4 stainless steel, and 3 aluminum layers (S-A-S-A-S-A-S).
Heat Distribution And Retention
The more metal layers, the more stable the cookware is. All-Clad 7 possesses 7 layers, delivering heat evenness that's ultimate to searing and browning.
At the same, it can retain more heat even after the cooking process is complete.
It's understood that the D7 pan can offer up to two times more even heat distribution compared to an enameled cast iron pan.
Still, more layers of stainless steel assist in retaining heat. D7 beats both d3 and d5 cookware when it comes to energy efficiency.
External Finish And Aesthetics
These pans and pots feature no nonstick coating. D7 has a starburst finish that makes the cookware more resistant.
So, no food sticks to the cooking surface. It's ideal for slow roasting, searing, or braising on the stovetop.
All-Clad D5, on the other hand, possesses a brushed and polished finish. This high-polish finish is a shiny appearance and is attractive.
D5 ensures tender, wonderful results for your cooking needs.
All-Clad D3 skillet has a polished finish exterior. It's ideal for braising, frying, simmering, and sautéing, but on low to medium heat.
Handles And Lids
The lids look different for these cookware sets. D3 has thin stainless steel lids. The D5 comes with snug-fitting flat lids. Finally, D7 is crafted with stainless steel domed lids. This adds capacity.
Although all cookware collections are equipped with stainless steel handles, the All-Clad D7 embodies flatter handles – this boasts comfort when carrying the skillet.
All-Clad D7 Review
A versatile and useful array of everyday cooking, D7 is advertised to balance heat distribution and heat retention – even better than Calphalon, Analon, Cuisinart, crockpot, and enameled cast iron.
Basically, you'll pay more for something perfect for stovetop cooking.
All-Clad launched D7 pots in 2014, and in 2015, they expanded D7 to skillets, saucepans, and saute pans.
Reason To Buy All-Clad D7
Features patented 7-play (layers) construction. 7-play skillets are very few in the market. If you want to get quality results, this cookware is fine.
USA made. All cookware in the USA is made of high-quality materials. D7, in this case, is sturdy.
Uniform heat. Thanks to its heat evenness, hence superior to most cheaper cookware.
Retains and tolerates heat. Many layers mean more heat retention. The thicker construction resembles that of a Lodge Dutch oven and cast iron cookware.
Reasons Not To Buy
Heavy. The cookware than D5, D3, and MC2. With 7 alternating layers, the product line becomes heavier. It weighs about 4 lbs.
Limited pieces. You'll find a few pieces in stock.
Pricey. The D7 is high-end cookware that will cost a bunch of dollars. The pans and pot's price is almost double that of Tramontina 3-ply.
All-Clad D3 Vs. D5 Vs. D7 Cooking Performance
We buy any cookware hoping to get promising results. Ideally, it depends on what you want to cook. Consider that 'the more the layers, the pricey it is.'
D3 Cookware – The well-rounded pan is the best balance for searing and speedy cooking. The skillet heats up quickly to favor those with limited time in their kitchen. It's lighter to boost searing or any other cooking task. For any rounder cook, try D3.
D5 cookware – If your main task is to sear thick cuts of meat such as pork and steak, this item is magnificent. It has additional layers than D3.
D7 cookware – D7 may not be as popular as D5, but I would put my money there. It ensures even heating, retains heat, and is durable to tackle any cooking style. Anything to do with seat steak – think about this pan.
Final Verdict
Whether it's All-Clad D3 or D5 or D7, or copper core, any choice will depend on your intention. D3 is budget-friendly; D5 is cheaper than D7, a workhorse in the kitchen and restaurant.
I hope you've understood the difference between All-Clad d3 vs. d5 vs. d7. Consider the one that will suit your needs.
Now the decision is yours!