Do you want to make sushi at home and make it look more appetizing by slicing raw fish and other recipe ingredients with skill and grace? If so, a sushi knife is a perfect utensil. But with so many options available, you might wonder how to choose the right one.
The Masahiro Stainless Yanagiba is the best sushi knife for the three stages of making sushi, including cutting fish, vegetables, and rolls. You can also use the Dalstrong Quantum 1 series Deba or Shun Premier Nakiri sushi knives to get those precise cut rolls like an expert chef.
In this article, we'll also cover what sushi knife is, the different types available, what makes them unique, and whether you really need one. We'll also review the five best sushi knives to help you make the right purchasing decision.
What is a sushi knife called?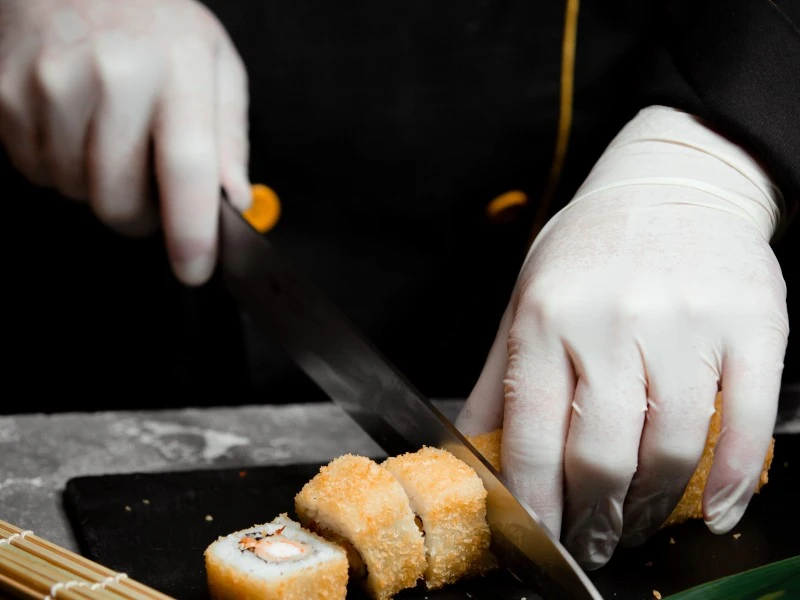 A sushi knife is a traditional Japanese blade called "Wa-bocho" which is incredibly sharp because of the high-carbon steel used in manufacturing. However, specific handling and maintenance are required to prevent corrosion and keep it in good condition.
How many types of sushi knives are there?
You'll come across traditional Japanese and Western styles when looking for different types of sushi knives. Traditional Japanese knives, such as Yanagiba and Nakiri, provide clean cuts during sushi preparation due to a single bevel edge.
The Western-style wa-bocho knives, like the Yo-Deba, have an asymmetrical shape with a double bevel edge and different sharpening angles on each side, making them more versatile.
Do I need a special knife for sushi?
If you love sushi and want to make it at your home, it's an art requiring great skill and precision. To create beautiful and delicious sushi rolls, you need a wa-bocho knife, which can make uniform slices to improve the appearance and flavor of your sushi.
A regular kitchen knife might also do the job, but it won't give you the same results as it could tear the fish, bruise the vegetables, and ruin the presentation.
INFO: Carbon steel knives are the preferable choice for cutting and slicing raw fish in sushi rolls.
5 Best Sushi Knife For Preparing Sushi
Here are five top sushi knives to enhance your sushi preparation skills and make you feel like a master chef in your home kitchen.
1. Masahiro Stainless Yanagiba Sushi Knife
Masahiro Stainless Yanagiba Sushi Knife boasts a long, 240mm blade with plain edges, perfect for pulling towards you for a clean cut every time. The MBS-26 stainless steel material ensures durability and longevity for years.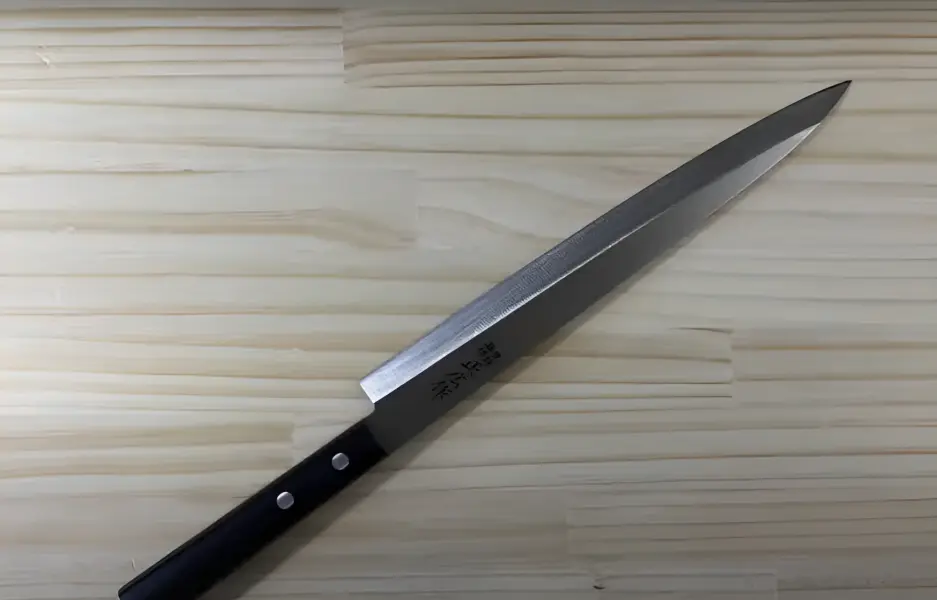 MBS-26 stainless steel blade
Suitable for smooth cuts
Lightweight and well-balanced
Good edge retention
Comfortable grip
The blade is thinner than required and can bend easily
Resharpening can be difficult due to the micro-bevel
Not ideal for heavy-duty cutting tasks
2. Shun Premier Nakiri 5.5-Inch Sushi Knife
The Shun Premier Nakiri 5.5-Inch Sushi Knife features a proprietary VG-Max cutting core with 68 layers of stainless Damascus, ensuring superior sharpness and durability. The blade's 5.5-inch length and blunt tip make it a safer option in the kitchen without sacrificing its slicing and dicing power.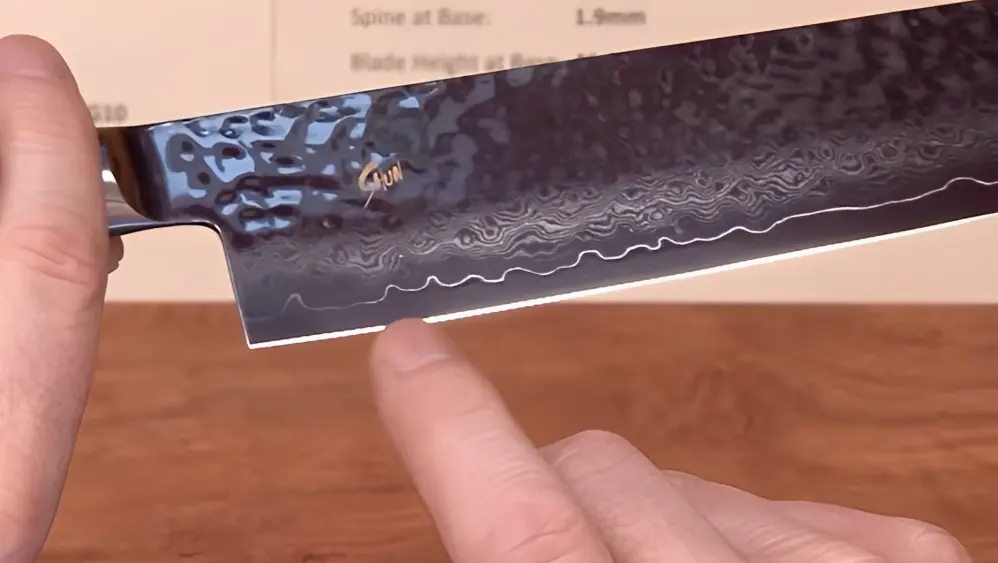 Well-balanced with a center of mass toward the blade for better control
Razor sharp right out of the box
Comfortable to hold
32 layers of VG-Max super steel cladding
Rockwell hardness of 60-61
PakkaWood handle with 'tsuchime' finish
Expensive
Blade requires delicate care to maintain
3. Tojiro Fujiro 6.7-Inch Santoku Knife
Tojiro Fujiro 6.7-Inch Santoku Knife is another best sushi blade with cobalt alloy and 13 chrome stainless steel construction. The knife also features a full tang, 3-ply clad construction with a VG-10 super steel core encased between two layers of rust-resistant chrome steel.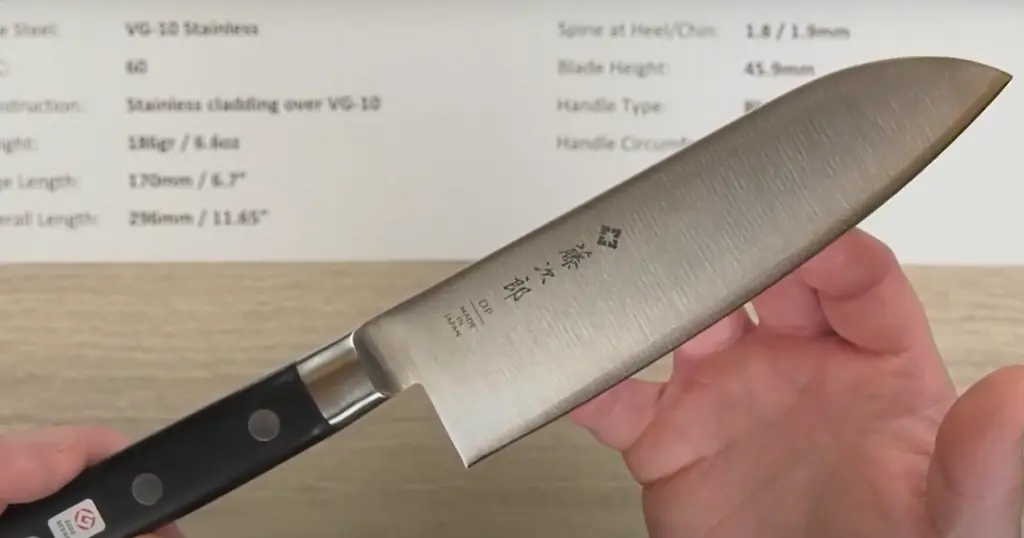 Stain resistant and easy to clean
Black laminated reinforced wood handle
9-12° double bevel edge angle on each side
13 chrome stainless steel blade
60 Rockwell hardness
Suitable for both right and left-handed people
Slightly heavy and bulky in the hand
Not very refined in terms of fit and finish
4. Shun Pro 6-1/2-Inch Usuba Knife
The Shun Pro 6-1/2-Inch Usuba Knife has a full-tang construction, giving it strength and balance while slicing sushi. The blade is razor-sharp, lightweight featuring high-carbon VG10 steel, a squared-off tip, and a unique graffiti-etched design.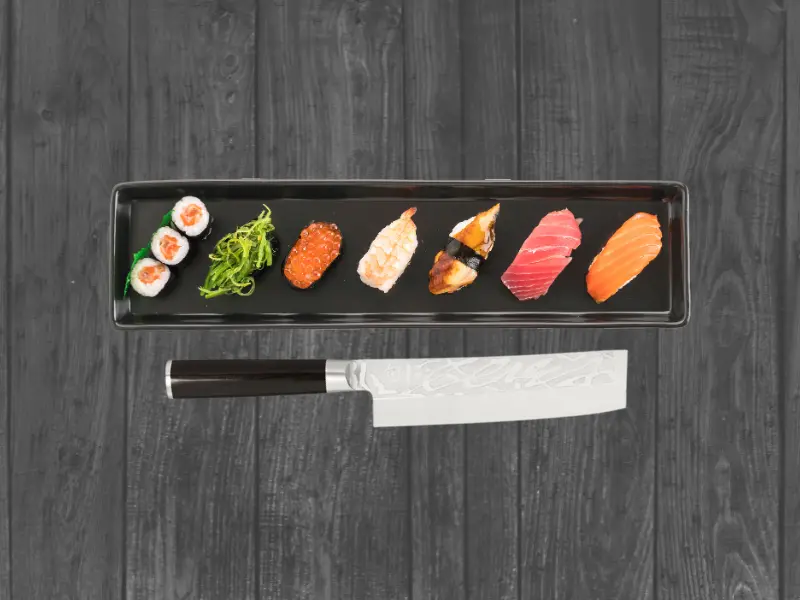 Easy to clean and durable
Forged bolster offering comfort and balance
D-shaped PakkaWood handle
High-carbon stainless steel blade
Limited lifetime warranty
Heavier than some other usuba knives
5. Dalstrong Quantum 1 Series Deba 8.5 Inch Knife
The Dalstrong Quantum 1 Series Deba 8.5 Inch Knife is a cutting-edge kitchen tool designed for exceptional performance. The American Forged BD1N-VX Hyper Steel makes this sushi knife rugged, flexible, and rigid, while the Dragon Skin G10-carbon fiber hybrid handle offers exceptional grip, heat resistance, and durability.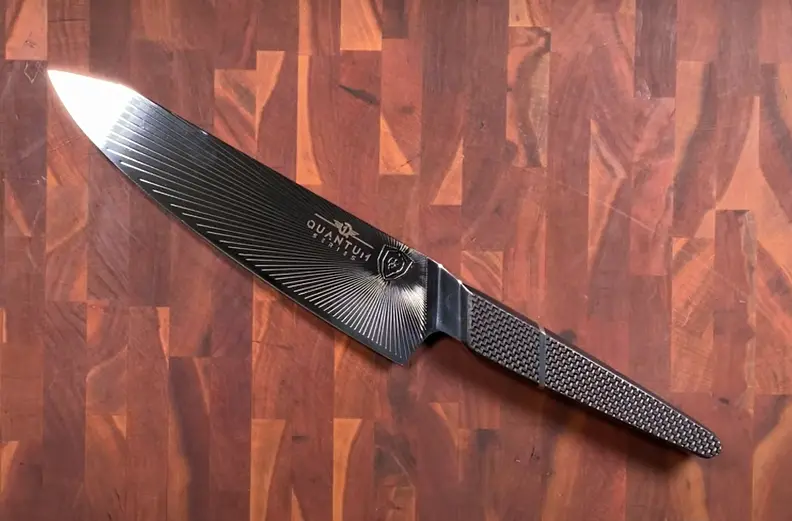 Carbon fiber G10 hybrid handle
American BD1N-VX steel –  63+ HRC
Razor-sharp and stain-resistant blade
Hand-polished satin finish
Honed 8-12° for effortless cuts
INFO: Many chefs also prefer the Kamikoto Knives due to their thin blades and quality material construction.
How to choose a sushi knife?
Choosing the right sushi knife is crucial to take your sushi preparation skills to the next level. So, start by opting for a blade made from high-quality carbon steel. Get a narrow blade knife with a single bevel edge for clean strokes to cut the sushi rolls precisely. 
As the knife handle is also important, ensure it has an ergonomic construction with high-grade materials, such as wood or composites.
How do you use a sushi knife?
To use a sushi knife like a pro, grab the blade's bolster and heel with your index finger and thumb, and wrap your other three fingers around the handle. This technique may feel unusual at first, but it's highly effective in enhancing the accuracy and consistency of your cuts. 
Conclusion
In this article, we've reviewed five of the best sushi knives on the market based on their quality, performance, durability, and value. We've also explained what a sushi knife is called, the different types of blades, and what is different about them.
We hope that with the above insights, you can now buy the right knife to achieve perfect cuts and handle sushi with finesse.