There's no denying that a well-crafted kitchen knife can make meal preparation feel like a breeze. Japanese knives, particularly Kamikoto knives, have long been coveted for their precision and efficiency in the kitchen, and we'll review why.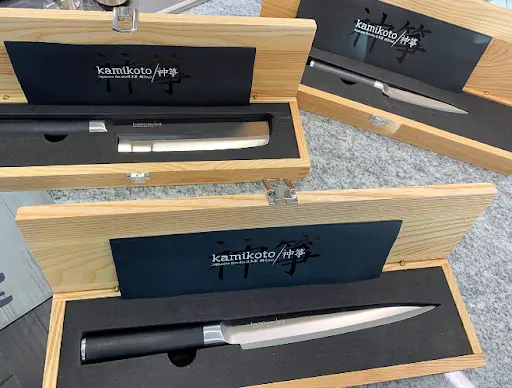 Kamikoto knives are Japanese knives made from high-grade Ibaraki Steel and handcrafted by skilled artisans using traditional forging methods. These knives are renowned for their single-bevel blades and high quality, due to which they cut through food precisely and efficiently.
Below, we've written an in-depth Kamikoto knives review. We'll look closer at their materials, craftsmanship, and overall performance to help you determine whether they're worth the investment.
What are Kamikoto knives?
Kamikoto knives are a brand of high-end Japanese knives famous for their exceptional quality and beauty. They are primarily known for their craftsmanship, attention to detail, and versatility to suit different cooking needs.
Kamikoto knives are made from high-quality steel specially handcrafted by skilled artisans who use traditional forging methods to create them.
One of the distinguishing features of Kamikoto knives is their single-bevel blades, also known as "chisel" style blades. These blades cut through food precisely and efficiently, making them ideal for slicing sashimi or preparing vegetables for sushi.
In addition to their knives, Kamikoto sells a range of knife blocks, magnetic stands, and sharpening stones to help you care for and store your blades. Their goal is to provide a complete solution for anyone investing in high-quality cutlery.
Is Kamikoto made in China?
Kamikoto is a registered trademark owned by Kamikoto® Limited, a company based in Tokyo, Japan. However, the manufacturing of their knives takes place in Yangjiang, China.
Chinese Yangjiang town has a rich history of knife and sword-making spanning over a millennium. Here the artisans use traditional blade-making techniques to produce Kamikoto's exquisite knives.
The artisans here preserve the legacy of their ancient craft and are known for their expertise in producing Japanese-style knives, including the precise art of shaping, forging, sharpening, polishing, and balancing.
In addition to their Chinese-made knives, Kamikoto's Ganjo Series knives are crafted by hand in Niigata, Japan. This region has a long history of blacksmithing dating back to the Edo period and is renowned for producing top-quality knives.
Who is the parent company of Kamikoto Knife?
Galton Voysey, based in Hong Kong, is the parent company of Kamikoto Knives, which specializes in developing and partnering with direct-to-consumer eCommerce brands.
Kamikoto does not provide much information about its company's history. But it has still gained a reputation for producing high-quality Japanese-style knives.
What kind of steel are Kamikoto knives?
In the past, Kamikoto sourced its steel from carefully chosen steel mills around Honshu Island, Japan's mainland.
However, Kamikoto now exclusively uses Ibaraki Steel, handcrafted from SUS420J2 steel, with an HRC (Rockwell hardness scale) of 53 +/-2 to produce highly corrosion-resistant blades with extremely sharp edges.
Besides that, Kamikato also offers Damascus Steel knives made from 67-layer AUS-10 steel with an HRC of 58, and the SLD Steel knives (Ganjo Series) from a type of steel with a significantly higher HRC of 62 +/- 2.
Kamikoto Knives Review
Kamikoto knives are well-known for their high-quality construction and excellent performance in the kitchen. These knives are handcrafted using centuries-old techniques, meaning each blade is carefully forged and sharpened to perfection.
Moreover, these blades are incredibly sharp right out of the box, which makes them ideal for various kitchen tasks, like slicing vegetables, chopping herbs, or filleting fish. With these things in mind, let's review 9 of Kamikoto's most popular knife sets.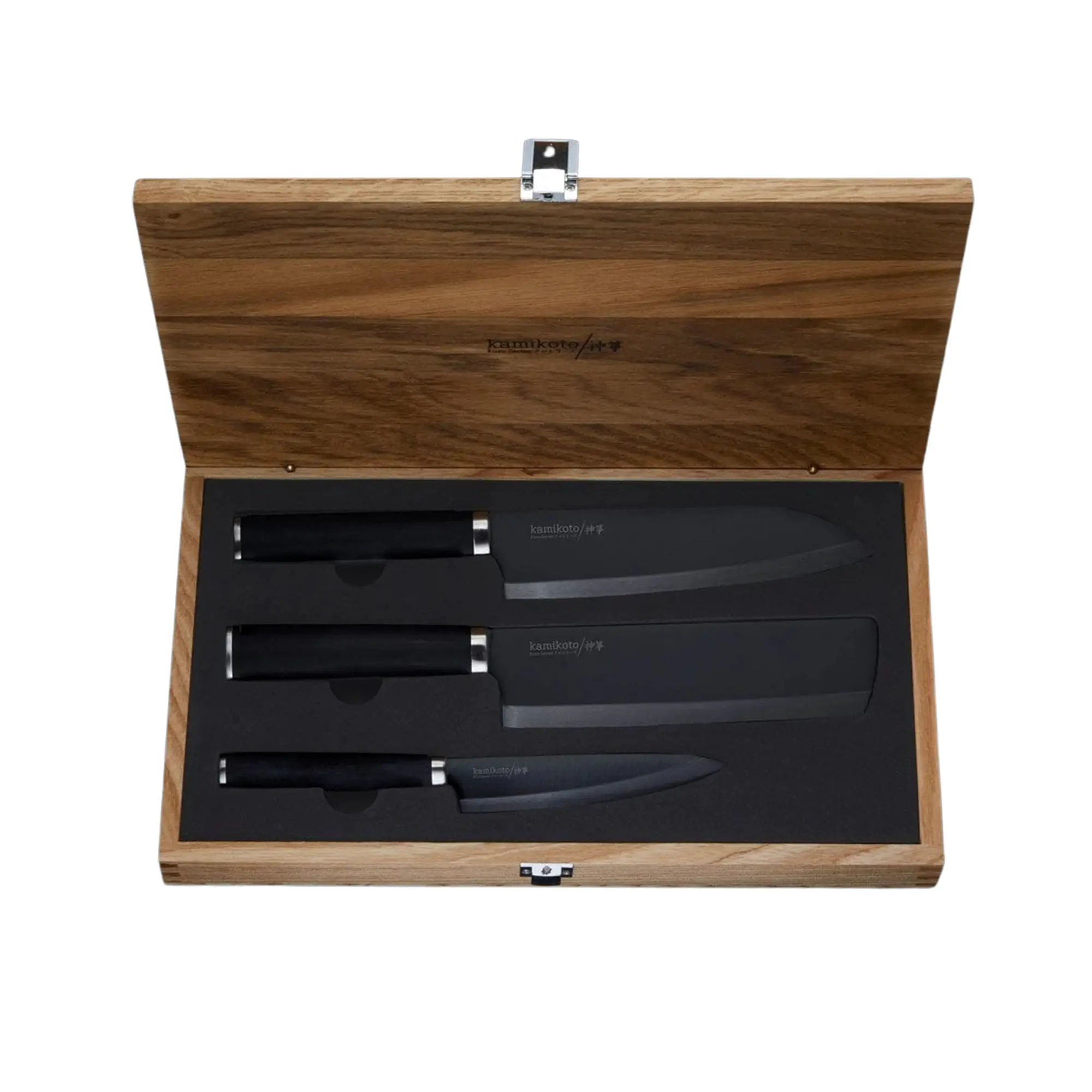 The Kamikoto Kuro Series Knives Set includes three knives: a 7-inch Kuro series Santoku, a 6.5-inch Kuro series Nakiri, and a 5-inch Utility knife. The set is named Kuro because of the elegant black color of the blade and handle.

The knife has an eye-catching look and is suitable for right and left-handed people. Also, it comes with a limited lifetime guarantee and a certificate of authenticity.
2. Kamikoto 13-inch Yanagiba
The Kamikoto 13-inch Yanagiba Genten series is a top choice for new chefs who want to prepare sushi and sashimi like a pro. With a long single-bevel blade, this knife requires some practice to master, but it's worth the effort.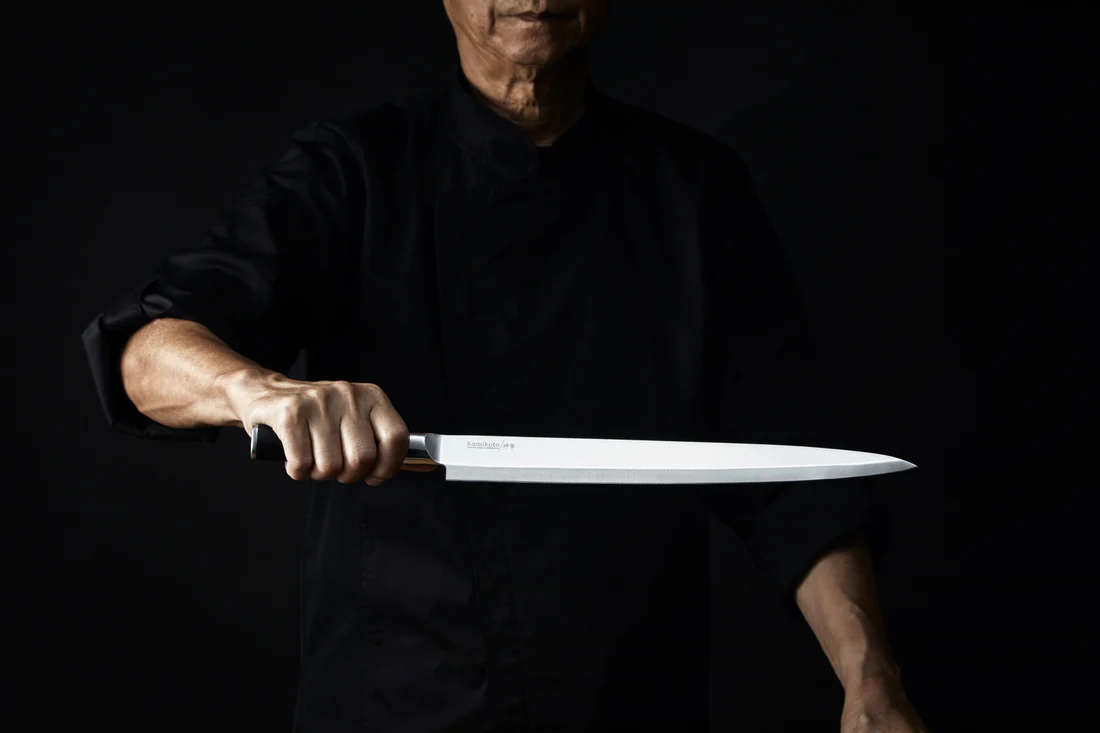 Yanagiba knife is handcrafted from high-quality steel from Honshu, Japan, making it durable, sharp, and corrosion-resistant. Furthermore, it comes with a certificate of authenticity, a lifetime guarantee, and a beautiful ash wood box for better storage.
However, the blades are expensive and not dishwasher safe, so it needs careful hand washing.
Although weighty, the knife set's single bevel blade provides an exceptional cutting experience for any kitchen purist. The HRC (hardness rating) of these knives is 53, with the core made up of 420J2 stainless steel.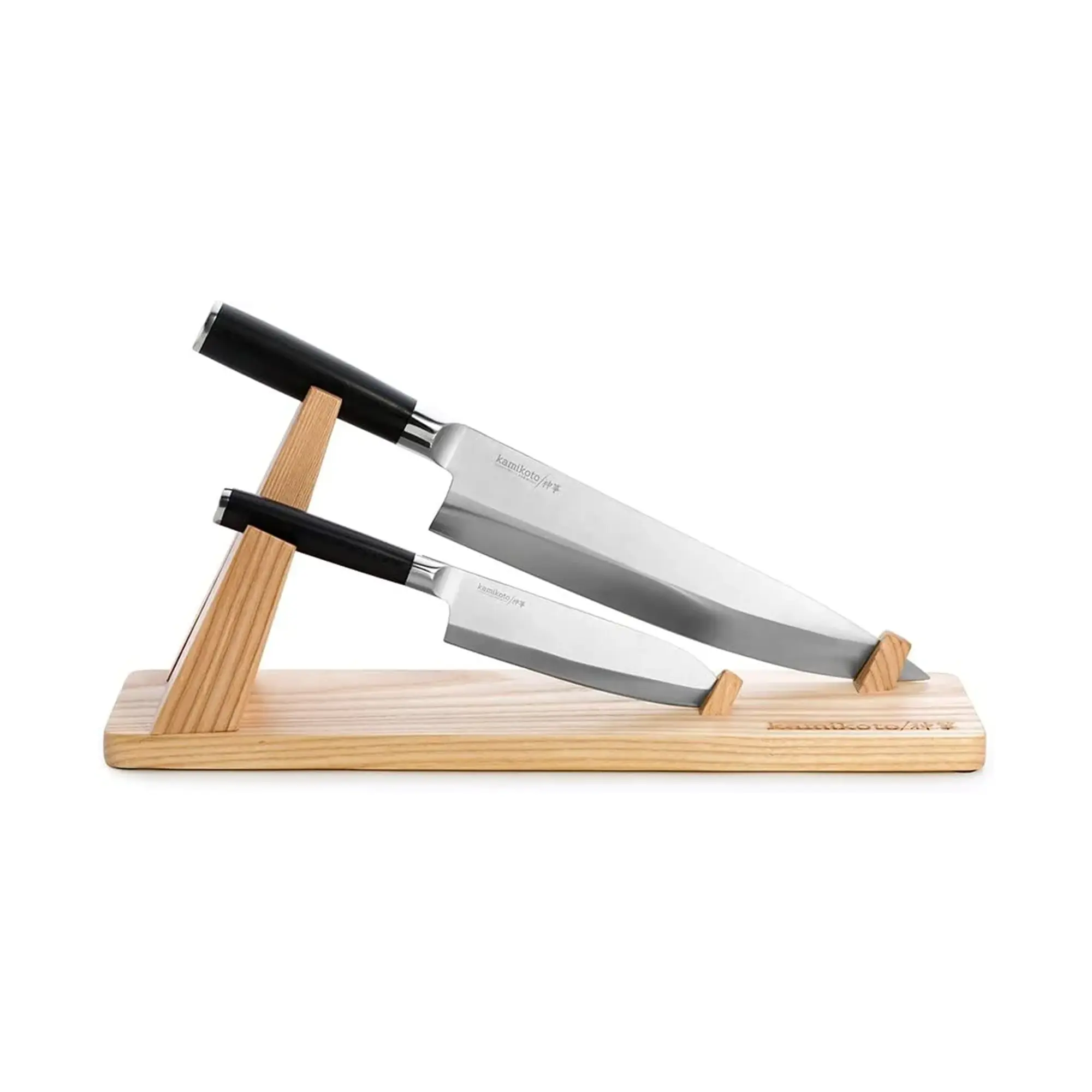 The Kamikoto Senshi dual Genten series knives feature a 10-inch chef's knife and a 5.5-inch utility knife made from alloy steel. 

Although weighty, the knife set's single bevel blade provides an exceptional cutting experience for any kitchen purist. The HRC (hardness rating) of these knives is 53, with the core made up of 420J2 stainless steel.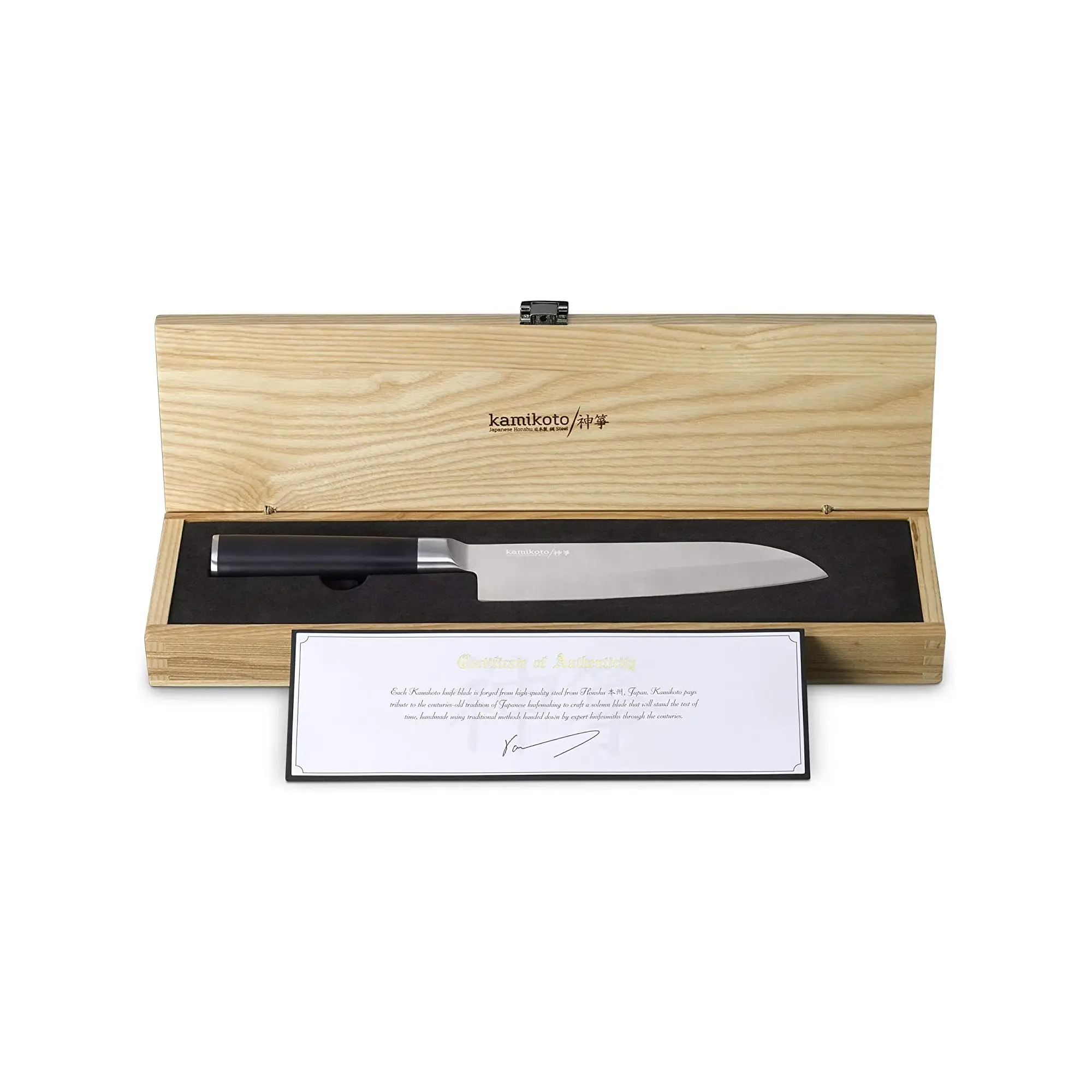 The Kamikoto 7-inch Santoku Ganjo knife is a high-quality Japanese knife made from 420J2 stainless steel. With high corrosion resistance and a satin finish on the handle and blade, the knife is versatile and suitable for mincing, slicing, and dicing meat, fish, and vegetables.

Moreover, it comes with a natural-colored ash wood box for storage and a limited lifetime guarantee.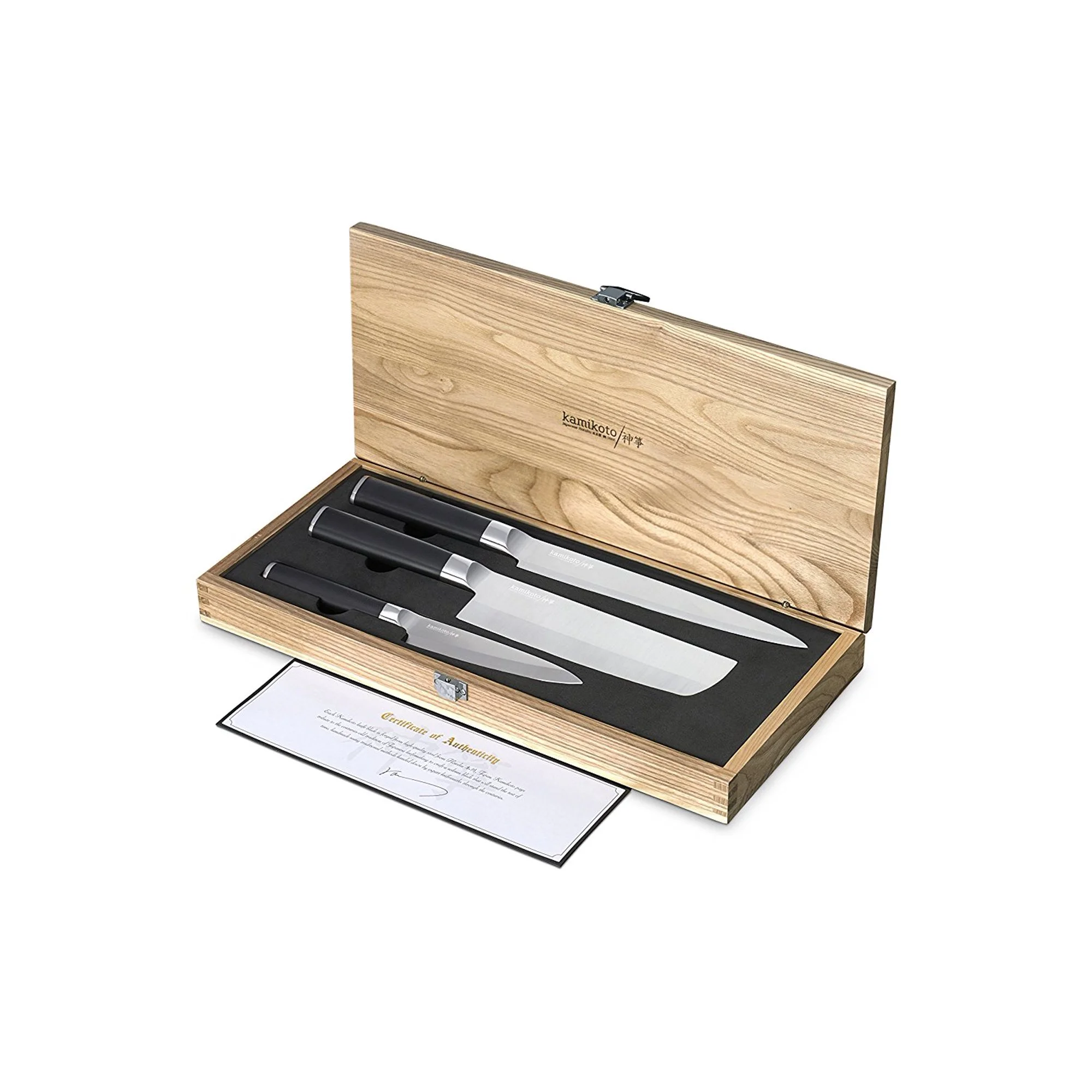 The Kanpeki knife set is from the Kamikoto Genten series made with 420J2 stainless steel, which offers good corrosion resistance but is soft and requires frequent sharpening.

This set of three knives includes an 8.5-inch Slicing knife, a 7-inch Nakiri Vegetable knife, and a 5-inch Utility knife, and you'll get a beautiful Ash wood box with it.
Info
The downside is that many Kanpeki knife set reviews reveal it has a limited lifetime guarantee, is a bit pricy, and is unsuitable for left-handed users.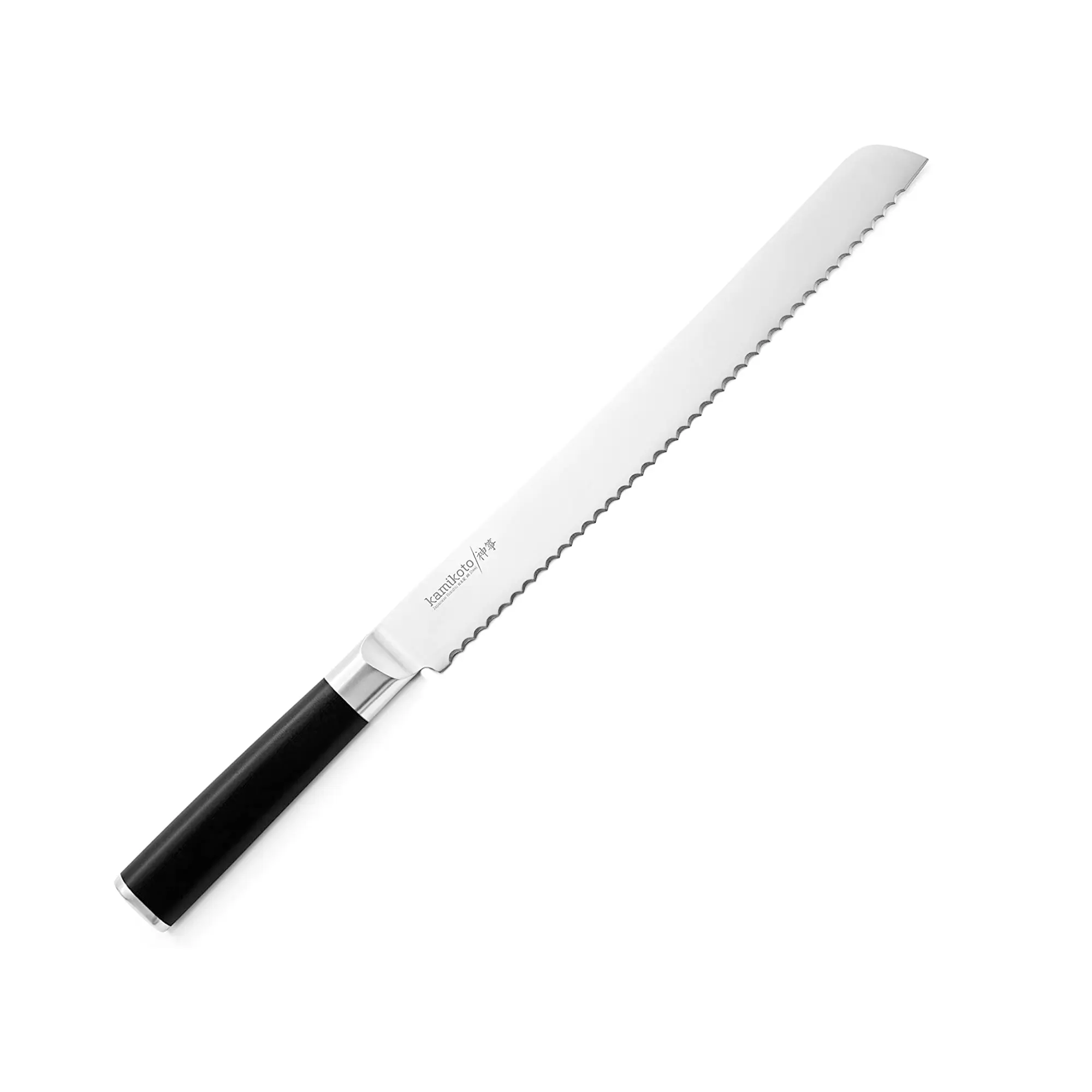 The Kamikoto Nokogiriha bread Genten series knife is crafted from high-quality Japanese Honshu steel with a 10-inch double-bevel Ryoba blade. 

The best part is that the manufacturers inspect each before leaving the workshop to ensure the highest level of craftsmanship for cutting bread.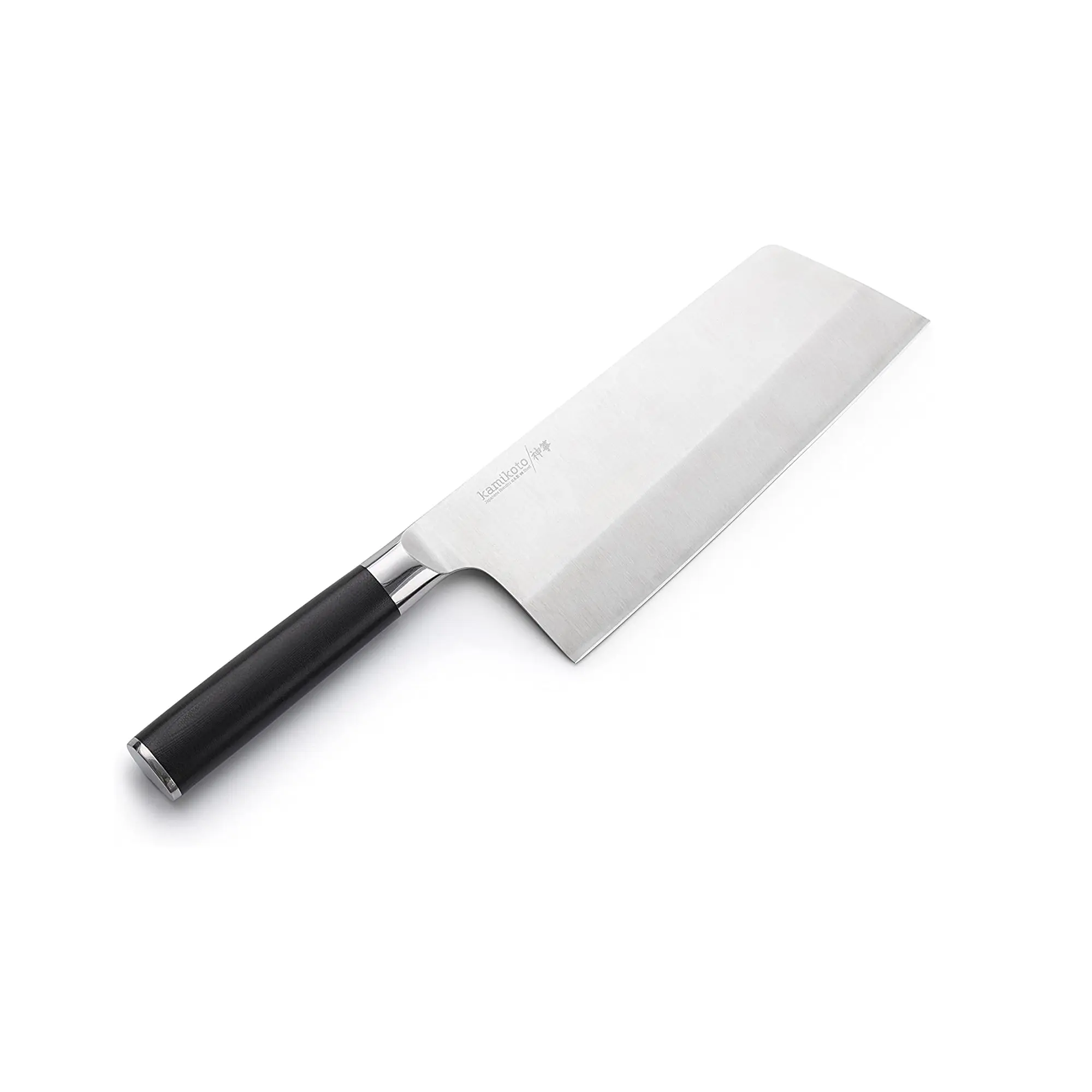 The Kamikoto Chuka Bocho Cleaver is a heavy-duty 7.5-inch Genten series cleaver knife made of alloy with a 420J2 stainless-steel core. The blade is a single bevel and has an HRC of 53. 

This knife is best for chopping, crushing, and mincing hard ingredients and is the heaviest blade by Kamikoto.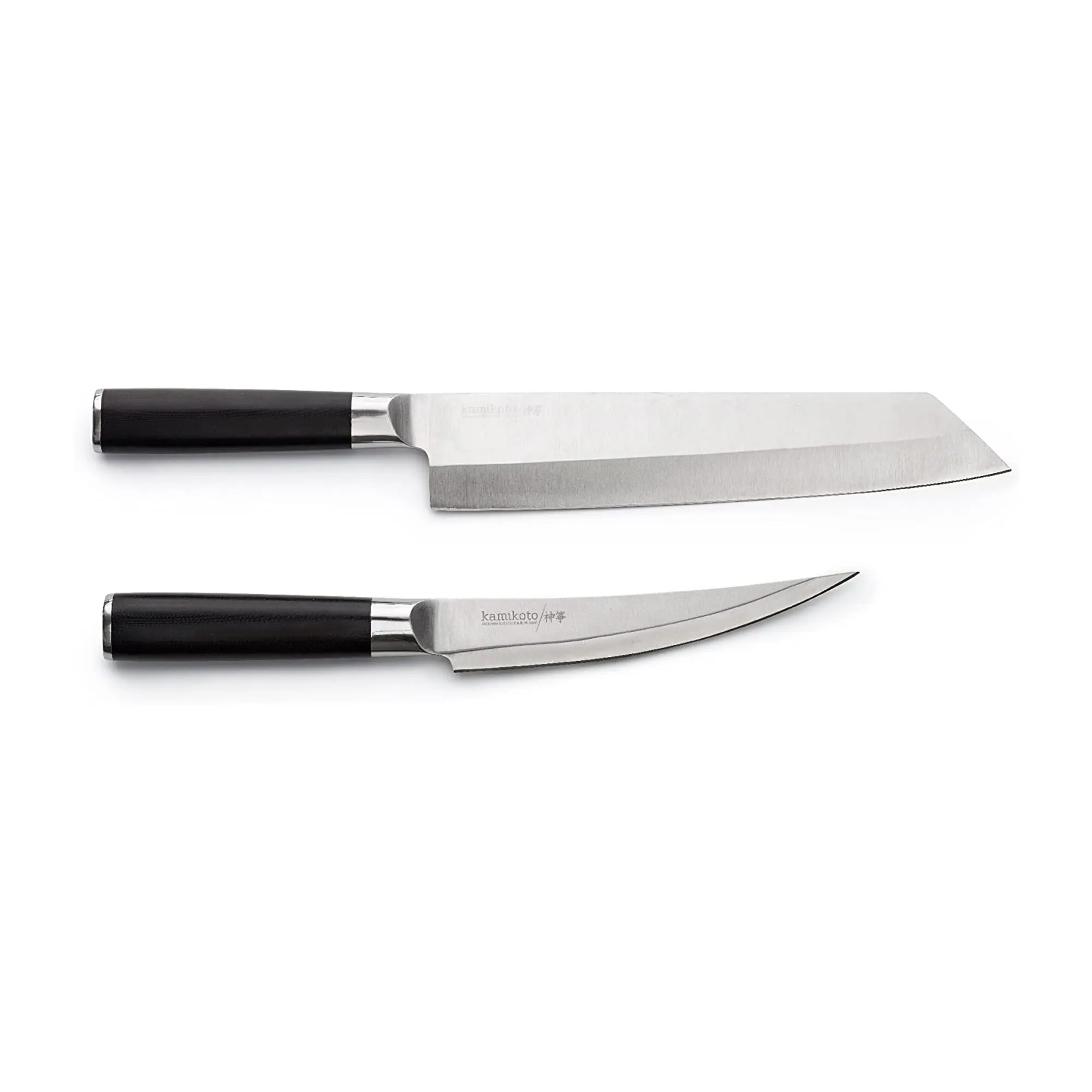 The Kamikoto Kensei Genten series knife set includes a supreme quality 6.5-inch Honesuki and a 9.5-inch Kiritsuke blade, available in silver or black. 

The knives feature a single bevel "Kata-ha" blade, which is exceptionally sharp and precise.

The Kiritsuke knife, in particular, is best for working with vegetables and fish, while the Honesuki Boning knife is a great option for deboning poultry.
Info
The Kamikoto Kensei knife set handles are made of wood or steel. 
9. Kamikoto Ryoshi Knife Set
The Kamikoto Genten series Ryoshi knife comes with a 7.5-inch Deba and the 10-inch Yanagiba, best for cutting fish, sushi, and sashimi.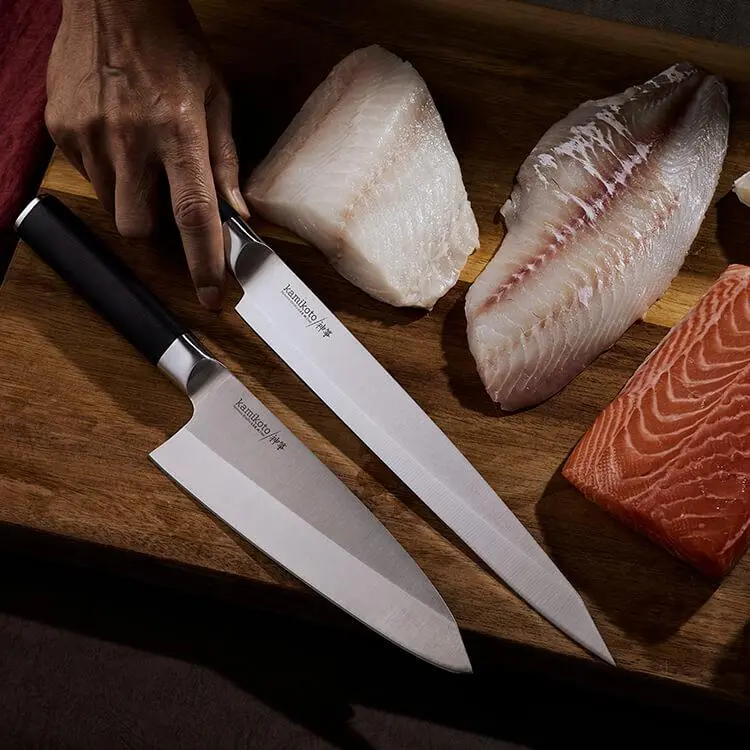 These knives are forged using high-grade 420J2 steel from Ibaraki, Japan, and feature G10 fiberglass handles, perfect for various kitchen tasks.
Do chefs use Kamikoto knives?
Kamikoto knives are a popular choice for many professional chefs around the world.
Chefs like Josh Hershkovitz, Rupert Blease, and Slade Rushing have all praised Komikoto knives' balance, weight, and sharpness, and they recommend them for both professional and home use.
For instance, Josh Hershkovitz, chef-owner of Hersh's, was initially skeptical about adding them to his collection of knives, but he became convinced after trying the Kamikoto Nakiri.
In his Kamikoto chef knife review, he described its weight and balance as perfect and stated that cutting with it felt like slicing through soft butter.
What to look for in Komikoto knives?
Let's discuss the design, price, performance, and construction of the Kamikoto knives to take a closer look at why you should buy or avoid them.
1. Design
Kamikoto knives have a simple yet elegant design, focusing on minimalism and functionality, and come in a beautiful ash wood box perfect for gifting or displaying.
The blades are typically made with single bevel edges, a hallmark of Japanese knife-making. They have a steel luster or matte black finish with an engraved Kamikoto logo.
The handles of a few Kamikoto chef knives are made from G10 fiberglass, known for their durability, and can endure the wear and tear of everyday use.
2. Price
Kamikoto knives are expensive, similar to high-end brands like Shun and Miyabi. Although Kamikoto claims to sell its knives at lower prices due to its direct-to-consumer model, the original prices on its website can be on the upside.

Therefore, research prices on the Komokoto website and other online stores to get the best possible deal before buying cluelessly.
3. Construction
Kamikoto knives are crafted using affordable and intricate techniques, resulting in high-quality blades.
The artisan uses zirconium dioxide in Kuro series blades, a rigid material that provides superior edge retention and sharp performance. Meanwhile, the Ganjo series has SLD steel, which retains sharp edges longer but is prone to rust and chipping.
G10 fiberglass is used for the handles in both the Ganjo and Genten series, providing a non-slip and easy-to-clean grip. Although Kamikoto knives look forged and have a half bolster, some models, like the Kuro series, resemble stamped knives with no seamless bolster.
Nevertheless, Kamikoto knives perform exceptionally and last long in the kitchen, thanks to their excellent materials and construction.
4. Performance
As per the Kamikoto website, these knives are skillfully forged by experienced artisans and carry a lifetime guarantee. However, in reality, the brand has received mixed reviews regarding performance.
These knives are made from Ibaraki steel and boast a unique design that sets them apart from others in the market. Moreover, they are incredibly effective at slicing through fruits, vegetables, and meats with minimal effort.
In terms of durability, Kamikoto knives are also highly reliable. However, they require frequent sharpening because of the relatively soft 420J2 steel. So, you might want to choose a more sturdy option like Vintage Carbon Steel knives.
How do I sharpen my Kamikoto knives?
To sharpen your Kamikoto knives, you should only use a Japanese whetstone, as instructed on their website. Avoid using honing rods/steels or any other sharpening devices. Here's how to do it:
Place the whetstone in water for at least 10 minutes until no more bubbles appear.
Put the whetstone on a non-slip surface, coarse 1000-grit side up, and keep it wet as you sharpen.
Now, hold your Kamikoto knife against the Whetstone and find the proper angle between the blade and the stone.
Maintain the angle as you slide the knife on the Whetstone and apply pressure with your fingers.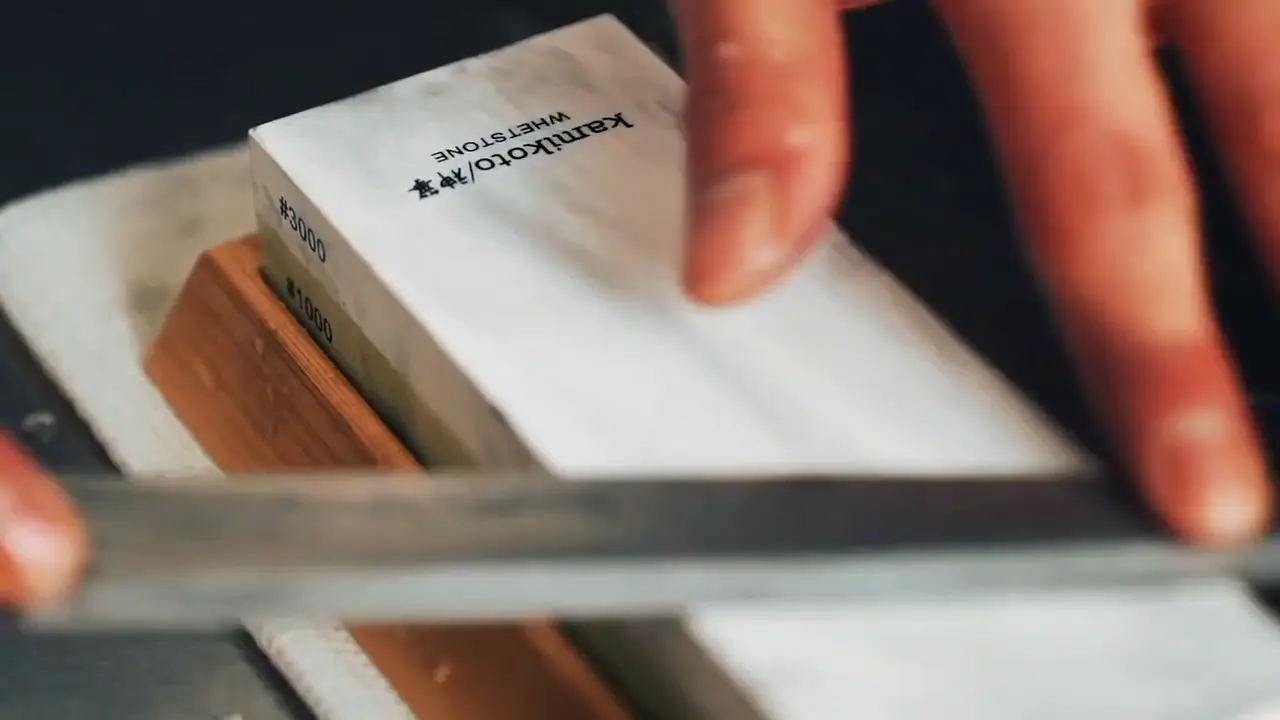 To sharpen the blade evenly, slide the knife over the stone at least ten times, then turn the blade over and repeat the process on the other side.
Next, turn over the stone and repeat on the finer 3000-grit side, honing both sides of the knife.
Rinse and dry your knife, and it's ready to use.
INFO: You can also use the Kamitoko whetstone for sharpening your Miyabi knives.
Are Kamikoto knives good? Verdict
In this Kamikoto knives review, we explored that these blades are well-balanced, sharp with sturdy handles, and are praised by Michelin-star chefs, which is a testament to their quality.
What's more? Kamikoto knives undergo a 19-step process and are repeatedly inspected by three master knife makers, ensuring they meet high standards. With proper care and maintenance, they'll stay razor-sharp and ready to tackle any task in the kitchen.
However, many Kamikoto knives reviews on various forums and websites lack product description detail, which can be confusing for many consumers. The frequent cautions for sharpening when using the blades on tough tasks suggests that they are not best for heavy-duty use.
The high price on Kamikoto's website and their use of FOMO marketing suggest a questionable strategy that may not accurately reflect the true value for money. Most knife brands would not resort to such tactics.
Hopefully, with this Kamikoto knife review guide, you can now make an informed decision while buying any of them for personal and professional use.