If you're a steak lover, chances are you've heard of the Fort Worth ribeye – a delectable meat cut cooked uniquely to produce the finest culinary delight, making it a popular choice among those who appreciate a fine and reddish steak.
The Fort Worth ribeye is a high-quality steak cut known for its tenderness, juiciness, and exceptional flavors. This steak is prepared from a boneless piece of cow's rib meat well-marbled with fat and cooked in an oven at a high temperature. In contrast, the bone in ribeye steak contains a short rib bone baked at low heat.
Below, we will closely examine the ingredients, preparation techniques, and overall taste of Ft Worth ribeye steak and compare it with bone in ribeye to assist you in deciding whether they are a worthy addition to your comestible experience.
What Is the Difference Between a Fort Worth Ribeye and Bone in Ribeye?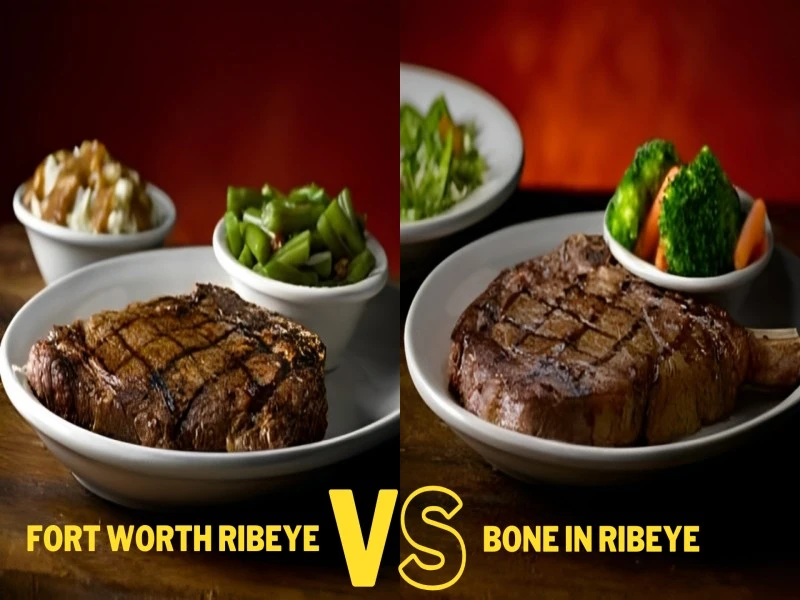 The Fort Worth ribeye is a highly sought-after steak cut widely regarded as one of the best meat cuisines available in town. With its high-fat content, this steak is often baked at high temperatures to make the outer layer crispy while retaining the succulent and juicer interior.
Additionally, being a boneless cut, the Ft Worth ribeye steak is easy to cook evenly without any concerns about the meat around the bone remaining uncooked. However, the absence of bone means this steak misses an added flavor that bones can contribute.
On the other hand, the bone in ribeye steak offers a diverse comestible experience with its unique flavor profile. Since this meat cut contains a bone, it requires low-medium heat and longer baking time to ensure the meat cooks perfectly around the bone.
Furthermore, the bone in ribeye steak may have slightly lesser meat than Ft Worth ribeye due to the counted bone weight, but the bone adds depth to the taste and contributes a nutty and robust flavor.
Where Can You Get the Best Fort Worth Ribeye?
When considering steaks, it's hard to forget Texas Roadhouse due to its famous Ft Worth ribeye served with various side options. These steak sides may include mashed or baked potato, seasoned rice, fresh veggies, buttered corn, and sauteed mushrooms or onions.
This steakhouse offers the Fort Worth ribeye in 10, 12, and 16-ounce portions. So if you're looking for a hearty meal, the 12-ounce serving is an excellent choice, costing around $17.99. However, you can also order large portions, particularly if you're hungry.
Whether you visit the restaurant or have the Ft Worth ribeye steak delivered home, you can experience the Roadhouse's signature flavorful juiciness while eating this meat cut.
How Do You Cook Fort Worth Ribeye Steak at Home?
If you don't have a good steakhouse nearby offering Fort Worth ribeye or don't want to spend much money dining out, you can quickly prepare this delicious steak at home with a few simple steps.
But before starting the cooking process, gathering all the ingredients required for the recipe is essential to ensure a smooth cooking experience. In the case of preparing Ft Worth ribeye steak at home, you will be needing:
Boneless ribeye meat cut.
One cup of mayonnaise.
One teaspoon of coarse black pepper.
½ teaspoon mustard, paprika, and garlic powder.
¼ teaspoon ancho chili and cornstarch.
¼ teaspoon onion, turmeric, and cumin powder.
Grated cloves, fresh thyme, and salted butter.
Two teaspoons of treacle brown sugar and kosher salt.
Once you have collected all the necessary ingredients mentioned above, you can proceed to cook Fort Worth ribeye steak by following the steps below.
1. Prepare the Seasoning
Combine all the dry ingredients with one cup of plain mayonnaise in a bowl to create a seasoning for your Ft Worth ribeye steak. Next, mix everything thoroughly to achieve a thick, smooth consistency. You can pour a little water if the paste is too dense.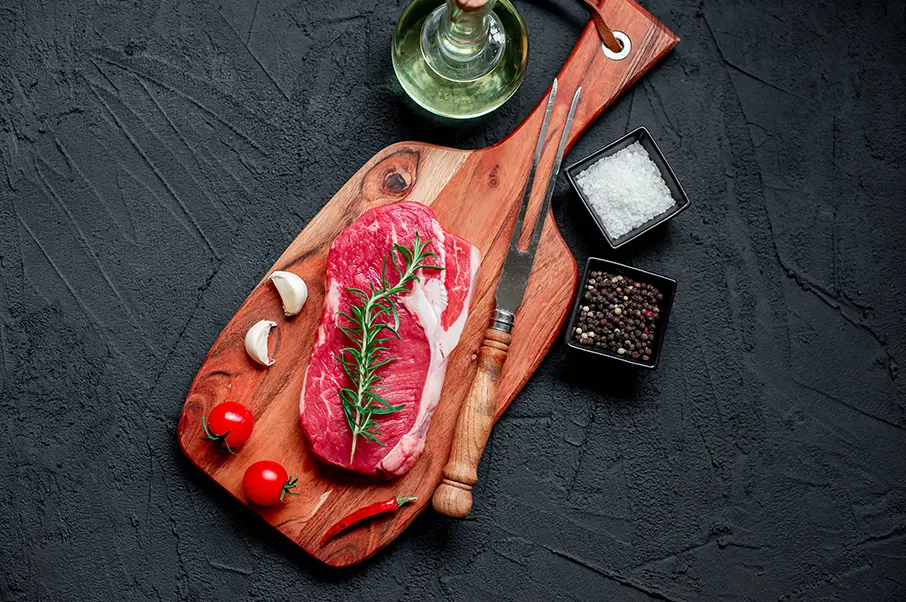 2. Marinate the Meat
Stab the meat piece with the fork to make tiny pores for the seasoning to penetrate the middle, making the steak juicer and tender. Now, apply the paste and treacle sugar on both sides of the meat cut and ensure that not even an inch of the ribeye remains uncovered.
Let the steak rest for at least 40 minutes or overnight in the refrigerator, depending on the time available. Meanwhile, preheat your oven to 400℉.
3. Sear the Steak
After giving adequate time for the steak to rest and the seasoning to penetrate, heat a cast-iron skillet and add butter. Next, sprinkle the grated cloves and garlic over the steak and place them onto the skillet.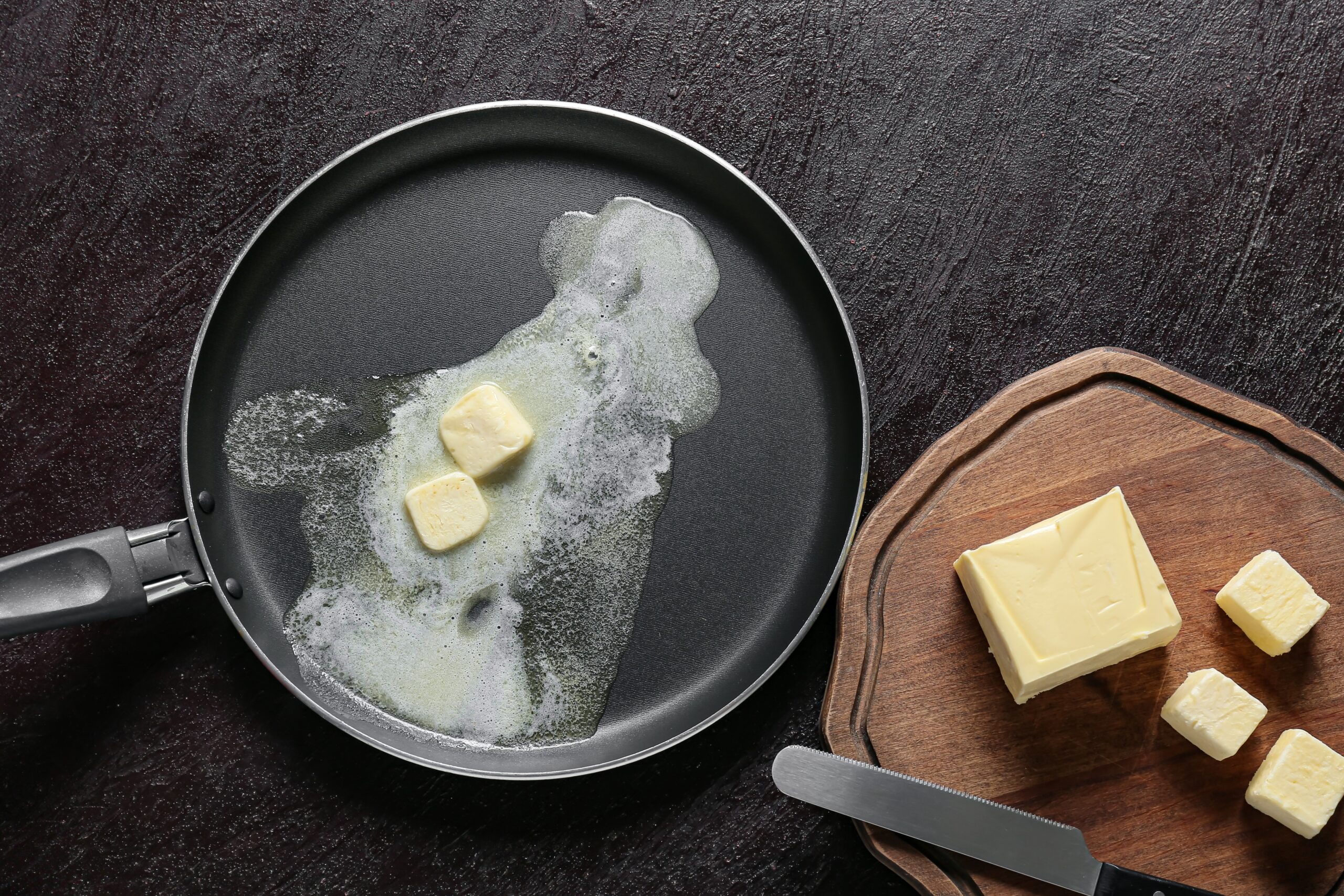 Sear the meat for approximately 5 minutes until a crust forms, then add fresh thyme to the skillet. Flip the steak, baste the other with butter, and transfer the iron skillet to the preheated oven.
Now, bake the steak for about 7 minutes until it cooks appropriately to your desired level of doneness.
4. Let the Temperature and Spices Settle
Get the steak out of the oven and transfer it to a wooden cutting board. Pour the remaining butter and juices from the skillet over the steak and allow it to rest for at least 10 minutes.
Note: This resting time is essential as it will enable the juices to redistribute throughout the steak, resulting in a more delicate and flavorful final product.
Afterward, slice the steak as desired, serve it with your favorite sides, and enjoy your deliciously cooked Fort Worth style ribeye steak!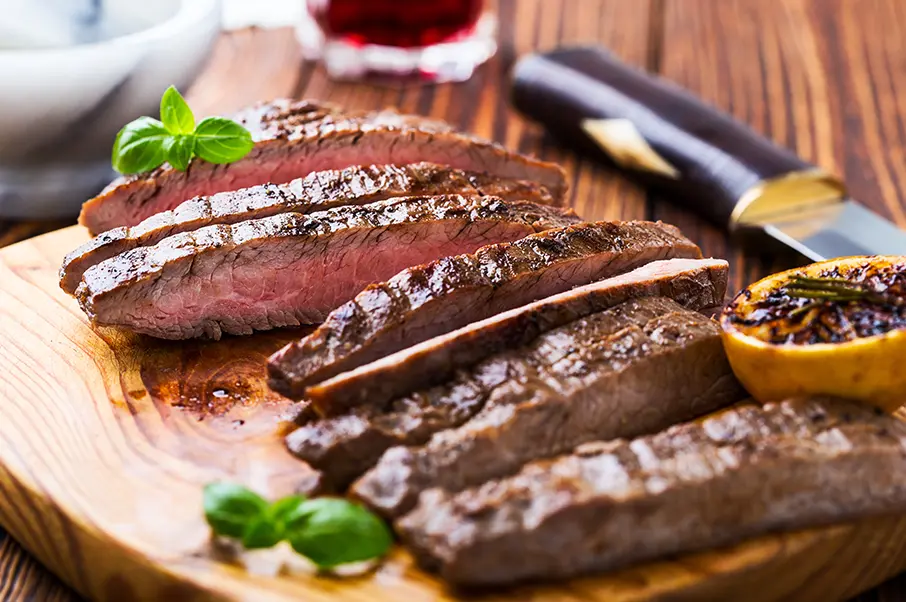 What Side to Serve with Fort Worth Ribeye Steak?
If you like to have a variety of flavors and textures on your plate, you might find it unsatisfying just to eat an Ft Worth ribeye on its own. That's why it's a good idea to pair it with other slide foods that complement its rich, meaty flavor.
One option is to saute some fresh vegetables. Alternatively, eat it with mashed potatoes seasoned with garlic, pepper, and salt. The potatoes' creaminess will help balance the steak's spiciness and provide a comforting texture.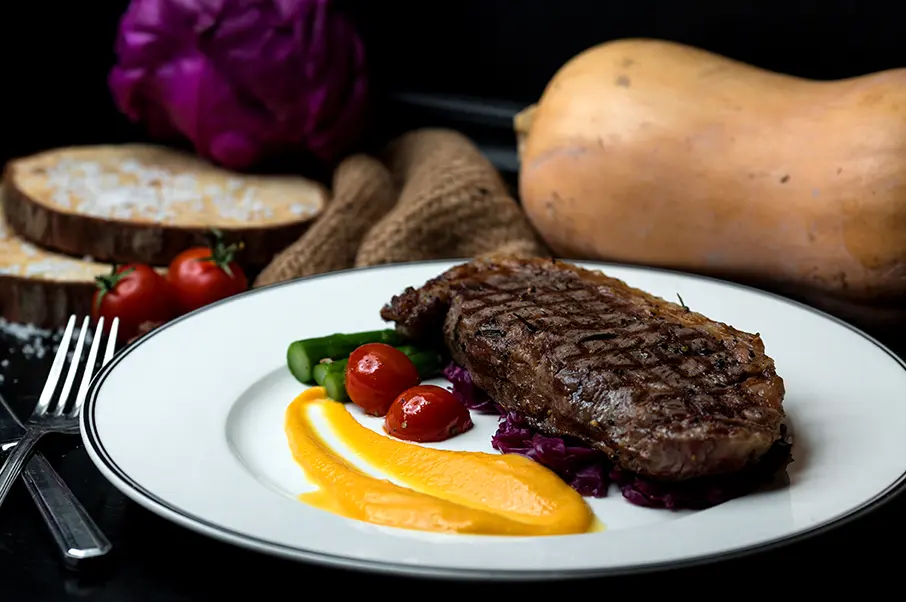 Conclusion
This article discussed what a Fort Worth ribeye steak is, including its ingredients, the method for cooking it at home, and some suggested side food pairings. We have also discussed the resemblances and contrasts between the Ft Worth ribeye and bone in ribeye.
Hopefully, after exploring all the information about these two steaks, you can choose and cook the one that can satisfy your meaty tastebuds.