Are you looking for the best microwave with a long cord? We purchased 10 modern microwaves and spent 50 hours testing them.
I have also included tips on how to extend your microwave's power oven.
Top 3 Picks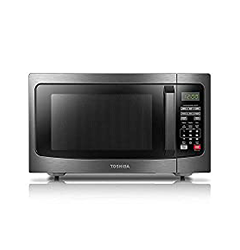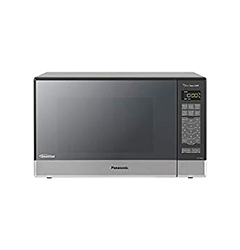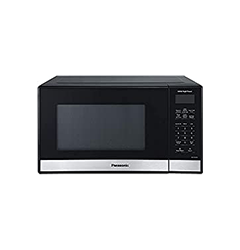 I have detailed each microwave to help you choose what fits you best. You'll also clearly understand the product's features, the best and unfavorable ones.
Best Microwaves with Long Cords Reviewed
I researched the length of a microwave's power cord, and not a few but dozens. Upon testing, I noticed that microwave power cords in small brands are shorter than in big brands.
So, if you are looking for a microwave with a longer power cord, big brands should be your first option.
Another thing I have found is that in my research, in dozens of power cords, most of them measure three feet.
That should not worry you! I have included how to extend the power cord of your microwave oven to that extent, so read on.
Here are the four top picks for microwaves with long cords: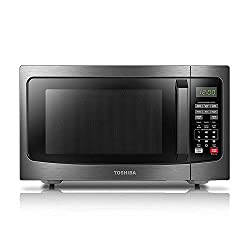 Dimensions: 17.14 × 20.51 × 12.83 inches
Item weight: 34.6 pounds
Capacity: 1.2 cubic feet
Energy consumption: 1100 watts
Material: stainless steel
With 1100 watts, cooking is fast and even
It is 1.2 cubic feet to fit large plates
It's made up of steel for easy cleaning and maintenance
The automatic power level and time change allow ideal cooking
It has a power-saving mode to cut costs on your power usage
There is a door handle for easy opening and closing
There is no convection mode
No grill installed
The power cord of a Toshiba EM131A5C-BS Microwave Oven measures three feet. You rarely find such a top-rated model and high-quality appliance with a long power cord.
Its wattage goes up to 1100 watts. With a limited space of 1.2 cubic feet and a turntable of 12.4″, you can place large plates.
You will be fascinated with its exterior design of dark steel. Besides being an attractive sight for your living space, you will find it easy to maintain.
Machine control is not for everyone. That's why Toshiba has made this microwave easy to control. And as a result, you will always look forward to cooking with it.
This Toshiba EM131A5C-BS with a long cable has six auto buttons in the sensor. That said, expect automatic power level and time change. Plus, you will result in the ideal cooing you desire.
There is an additional auto mode to soften/mellow and defrost conveniently. The microwave's upkeep is simple and easy since it's safe from stains and scratches.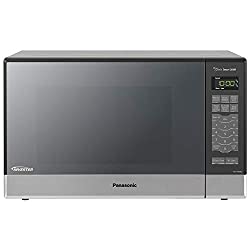 Dimensions: 15.81 × 20.69 × 12.25 inches
Item weight: 25.5 pounds
Capacity: 1.2 cubic feet
Energy consumption: 900 watts
Material: stainless steel
For fast cooking, it is designed to be powerful and easy to use
The stainless steel finish makes it easy to clean and maintain
It's durable and sturdy, making it good in shape for years
With 1.2 cubic feet, it's capable of serving large families
It has 14 auto-cooking modes to allow you to cook all types of meals
Sometimes the interior light fails
Panasonic NN-SN686S Microwave Oven doesn't disappoint for a powerful and easy-to-use microwave oven. Its power cord is as long as Toshiba EM131A5C-BS.
Another good thing about this Panasonic microwave with a long cord is its stainless steel design. So, maintaining and cleaning it is an easy task.
For its durability and sturdiness, you can't compare this Panasonic NN-SN686S with other plastic models. Expect it to maintain a good shape for years.
With a 1.2 cubic feet capacity, it will serve you wholly no matter how large your family is. Its 900 watts of cooking power will only give you the best results in a fraction of a minute.
One thing that fascinated me was the inverter technologies that constantly produce cooking power. That results in fast cooking with still good results.
Another thing I liked was the 14 auto-cooking modes. Included are oatmeal, pizza, soup, vegetables, and frozen entrees.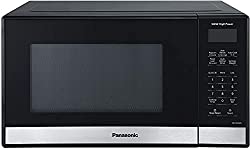 Dimensions: 19.1 × 14.8 × 11.5 inches
Item weight: 30.4 pounds
Capacity: 0.9 cubic feet
Energy consumption: 900 watts
Material: stainless steel
Its 900 watts of cooking power are convenient for singles and families
The stainless design and 0.9 cubic feet offer maximum interior and fewer footprints
With touchpads and high-quality features, your cooking will be but just a simple pleasure
With 0.9 cubic feet, it doesn't fit to cook meals for large families.
If you seek a budget microwave with desirable features adding to a long cord, then Panasonic NN-SB458S Microwave Oven is for you.
The power cord of a Panasonic NN-SB458S Microwave Oven goes for three feet. That power code is enough for flexibility.
Its turntable measures 0.9 cubic feet, which fits to cook evenly. You will like its 900 watts power output. Plus, its design makes its interior size big and compact.
The pre-programmed pre-set options, seven in total, allow cooking seven world's favorite dishes. For that, you are just one press away.
I liked the popcorn auto-cook menu. It allows changing power levels to cook your popcorn to your desires. But that depends on how big your popcorn bag is.
Its features are meant to take care of your cooking experience. Food is fast, safe, and accessible, given the keep warm, delay start button, and child safety lock.
Lastly, Panasonic NN-SB458S Microwave Oven is the best choice if you are on a budget and want a microwave with a small counter footprint and a long power cord. The considerate features and build case quality will please you.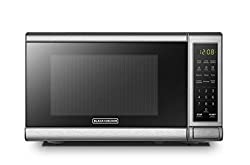 Dimensions: 17.3 × 13.97 × 10.17 inches
Item weight: 23.1 pounds
Capacity: 0.7 cubic feet
Energy consumption: 700 watts
Material: stainless steel
The interior is spacious, and the turntable is removable for easy cleaning
The LED display and control panel are large enough for easy reading
Its stainless steel design is space-saving
With 0.7 cubic feet, the microwave is not suitable for large families
BLACK+DECKER 0.7 Cubic Feet Microwave Oven has a long power cable measuring three feet. It is a microwave with full features, low wattage, and an affordable price.
A turntable measuring 0.7 cubic feet and 700 watts power level has powerful features, including a spacious interior, removable turntable, and ten power levels.
I found the pre-programmed menu inside the microwave oven as an excellent feature. That's so for the automatic cooking of popular foods of your choice.
The pre-programmed buttons are great for dinner plates, beverages, potatoes, pizza, frozen vegetables, and popcorn.
If you seek a microwave oven with low wattage and a long power cord, BLACK+DECKER is your perfect choice.
How to Expand Microwave Power Cord?
So, you have a microwave, but you need to broaden its power cord. Or are you eyeing a particular model it comes with a short power cord?
As you read on, these steps will help you extend your power cord's length.
Check on the Material
A hardcore AC is the best extension material for a microwave cable for an extension cord. It will increase the power cord length without affecting the power distribution.
For perfect results, opt for an extension material with a suitable connector. I also don't recommend a power cable longer than usual.
At least the length should add up to three feet. A too-long power line requires too much power.
Steps to Expanding Your Microwave
Connect your power line to the extension cord
Ensure the cords are securely connected and test to see if it's running as normal.
With the above steps, you don't have to worry about running your microwave with an extension cord.
Frequently Asked Questions
Do manufacturers make microwaves with long cords?
A microwave power cord typically measures three to five feet. Applying an extension cord must be the grounding type and three-wired.
How long is a countertop microwave power cord?
A countertop microwave should have a power cord measuring about 3 feet 4 inches.
Related Post: Best Microwave With Sensor for 2023
Conclusion
I hope this guide on the best microwaves with a long cord will finally get you your desired microwave.
Besides being big brands of microwaves, I realized all the microwaves I have shared with you have power cords whose lengths are at least three feet.