For someone visually impaired, blind, or with low vision, it can be a real challenge to access buttons on the microwave.
Considering this tool's importance in any kitchen, there's a need for an easy-to-use machine for people with disabilities.
Luckily, we've tested over 15 models to determine which ones are made with visually impaired needs in mind. When choosing, we considered reliability, affordability, and functionality.
Top 3 Picks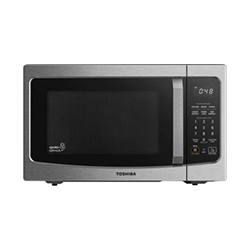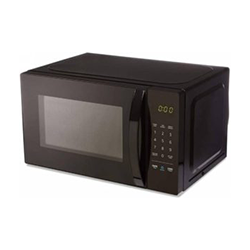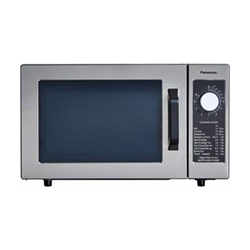 The Toshiba ML-EM34P(SS) is the best microwave for a blind person.
What Makes A Microwave Great For The Visually Impaired?
Not all microwave ovens are the same. After all, we're also not created the same.
However, voice control, smart sensors, and big knobs are the features that make a microwave great for the visually impaired. In this section, we'll explain each of these features.
Voice Control
It becomes challenging for a visually impaired person to press the correct buttons.
Therefore, you should purchase a microwave with a Google Assistant or even one having an Amazon Echo. This enables visually impaired persons to use their voices instead of their hands and fingers.
You can give commands to a Google assistant and directly communicate what you want it to do to your microwave.
This helps visually impaired people to be independently satisfied without depending on help from others.
Buying a microwave with Wi-Fi-enabled voice control is more beneficial because more demands are made.
Smart Sensor
Cooking has a lot of complexities when using a microwave. The smart microwave sensor makes it easier to cook using a microwave for visually impaired people.
An excellent smart sensor is sensitive to temperature and humidity.
Consequently, the microwave will rule on whether to continue cooking or stop depending on the smart sensor.
Since it is not convenient for a blind person to press many buttons simultaneously, this feature is very favorable for visually impaired people.
That's because all they need is to relax and wait for the food to be prepared.
Big Knobs
Microwaves with big knobs are the best units for any visually impaired person. This makes it easy for them not to struggle to figure out the position of the buttons when they want to use a microwave.
Using big knobs, a visually impaired person rotates the knob to regulate the temperature and time of their desire.
Furthermore, microwaves with big knobs are more affordable than smart microwaves. Therefore, a microwave with big knobs is the best choice for any visually impaired person.
Besides these features, it is essential to look for the following things when choosing the best microwave for the blind.
Large display (if possible)
Easy and simple to read dials. Rotary dials may be an excellent choice for the elderly.
Large handles that are easy to grasp and pull.
Non-rotating turntable for easy cleaning.
A louder ding sound for those who find it hard to hear
5 Top Microwaves For Blind Persons Reviewed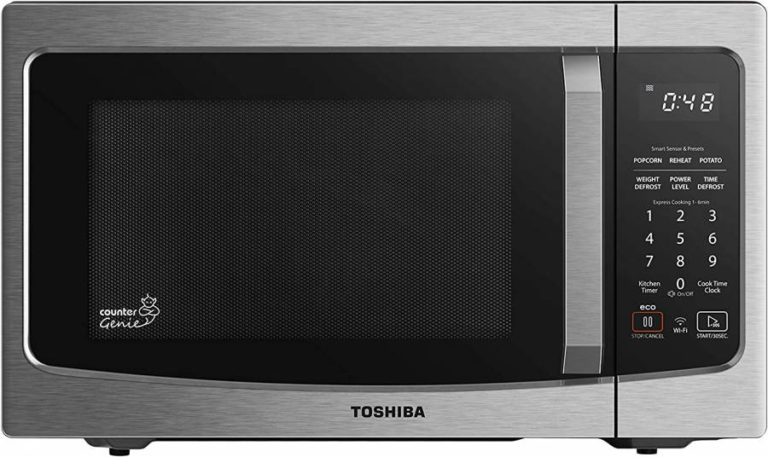 Toshiba is one of the brands that offer electric appliances that guarantee exceptional quality. ML-EM34P(SS) comes to prove that.
Supports both Alexa and Google Assistant for a full-hands-free operation
An intelligent humidity sensor works instantly to ensure that even cooking
A large capacity unit makes it best for large families
It runs on a 1300-watt motor, hence powerful enough to cook various foods
It cooks quietly, making it challenging to use a blind person
This countertop microwave for the blind has captured many people's interest with excellent performance. No wonder it appears on this list.
This unit features a voice control that works with both Alexa and Google Assistant, making it unique.
You'll enjoy a hands-free operation, giving you the ultimate necessary convenience. With up to 23 preset menus, you can be sure to cook various common foods such as vegetables, popcorn, pizza, and more with ease.
Besides, this 1.3 cubic feet large family microwave can perfectly fit on your kitchen's countertop. It is sturdy and highly reliable to use, thanks to its great weight of 35 pounds.
The built-in humidity sensor regulates the unit's cooking power automatically for excellent heating.
This microwave for the blind also comes with a sound on/off button. You can be sure not to wake or interfere with other people with the microwave's annoying beep sounds.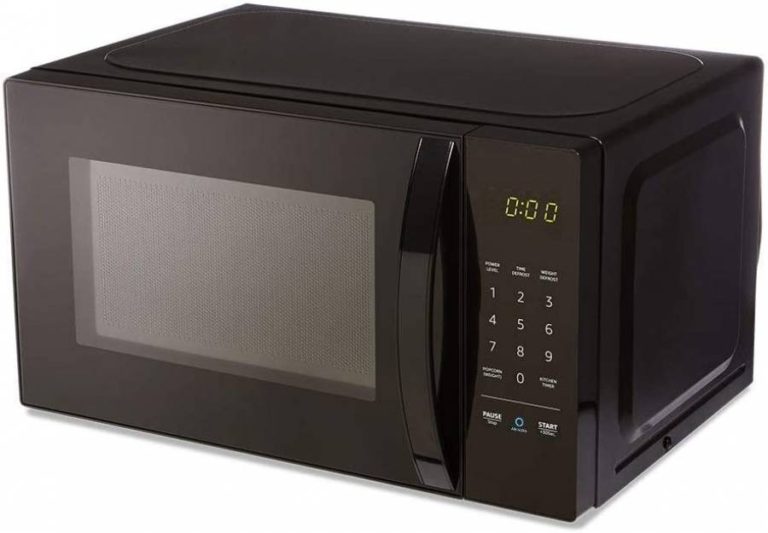 Are you looking for the best microwave for the utmost simplicity? If yes, Amazon Basics could be an excellent option.
Very affordable, making it an ideal option for those with fixed budgets
It boasts a remarkable voice control feature that's compatible with Alexa for easy usage
Designed for safe operation thanks to the door handle and safety lock
The compact size makes this microwave perfect for use in tight countertop spaces
Some users complained that it quickly overheats
Operating this unit is now easier than ever. It is compatible with Alexa, and when you pair it with an Echo device, you'll enjoy a hands-free operation.
You can defrost vegetables, cook potatoes, reheat rice, or make popcorn without a fuss. This means that setting the cooking power for different meals will be easy for even the blind and visually impaired.
With the simplified keypad, you can easily ask Alexa to microwave your favorite food. This microwave for the blind boasts a compact size, hence saving counter space.
Its 10 power level settings make it incredibly versatile and convenient to use. The door handle includes a push-button for easy usage. You will find Amazon Basics Microwave with a safety lock.
This prevents accidents during operation or access by children. While it comes as a simple microwave for the visually impaired, this unit delivers what it promises.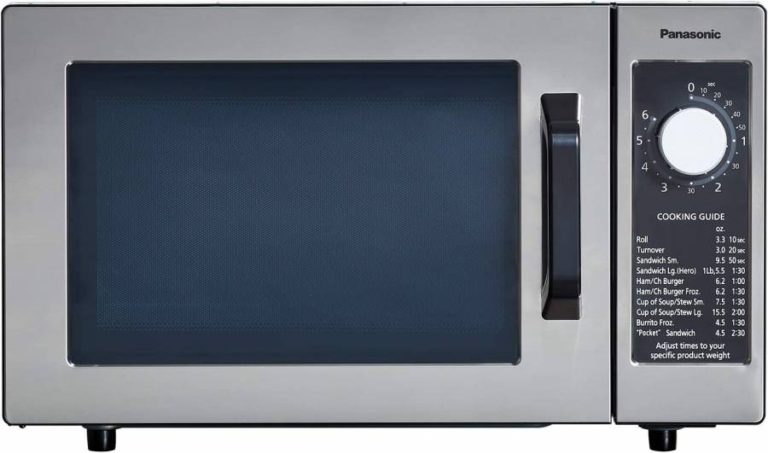 Most commercial microwaves have unique designs for high-volume operations. If you're not buying on a fixed budget, the Panasonic NE-1054F could be an excellent add-on appliance to your kitchenware.
An intelligent heating system guarantees an efficient cooking process
Heavy-duty microwave designed to handle high-power tasks
The Braille keypad makes it easier to control
Memory pads save regular setups for faster access
Even though it is compact with an internal capacity of 0.8 cubic feet, this unit has a powerful performance. This heavy-duty commercial-grade microwave is strong, and you can get the most out of the 1000 watts of power.
It has an impressive bottom energy-fed system that ensures your food heats evenly while rotating inside the microwave.
In addition, the strategic position of this system makes cooking very fast and efficient as heat travels a lesser distance to reach your food.
This microwave features a braille keypad, making it easier for the blind to control the unit's panel. However, the keypad may be less effective than talking or a voice-controlled microwave.
Thankfully, it comes with 10 programmable memory pads for easy access to regular setups.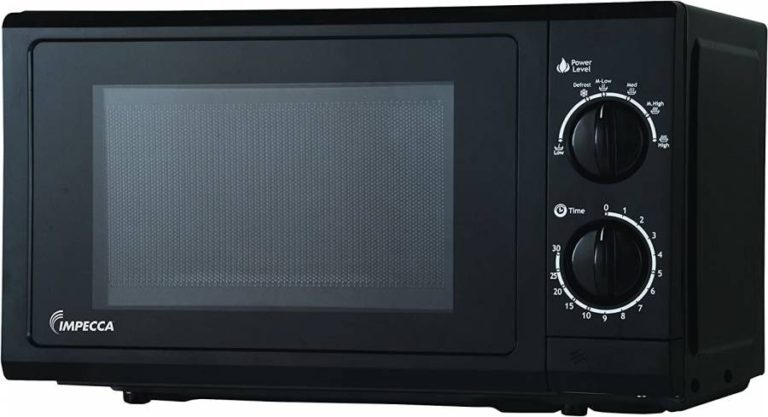 This countertop microwave boasts a perfect design and features that offer a seamless and essential operation for the visually impaired.
The compact and lightweight design makes it space-saving
Mechanical dial controls make it effortless to adjust the cooking settings
The six cooking levels of cooking allow for multiple cooking operations
A low-power microwave helps save energy
Some users complain that it gives a stinking smell
It has a small internal capacity of 0.6 cubic feet, making it compact for small families. You'll find this unit with a 9.5-inch turntable for efficient cooking.
This unit has six different power levels, making it versatile for various cooking operations.
Its 30-minute timer serves as a safety feature. You'll like the microwave's simple mechanical dial controls, which makes it an excellent microwave for the blind.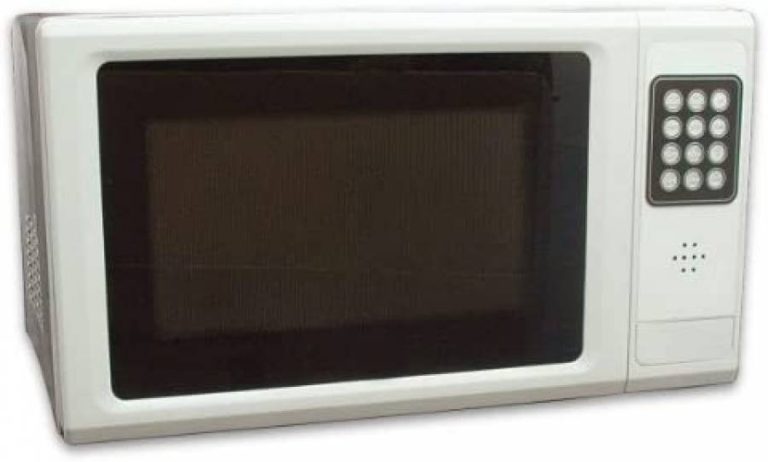 This talking microwave from MaxiAids isn't like any other average microwave.

It has extra features that come in handy for the blind and visually impaired. You'll efficiently operate it and enjoy a wonderful cooking life.
Unique design that qualifies it to be an excellent microwave for the blind
Spoken announcements for every function make it easy to operate
It gives reminders throughout the cooking process to ensure your food cooks effectively
Compact and lightweight makes it space-saving
Quite costly
The buttons are tricky to find without looking, hence inconvenient for blind people.
Just speak aloud the cooking function you want and let this powerful machine do the cooking.
You'll hear it make confirmation announcements about the power level and cooking time whenever you set up this unit. So, expect nothing to go wrong.
This microwave will also make regular cooking announcements to ensure the food cooks effectively. With a 1.1 cubic feet interior capacity, this microwave can be an excellent family microwave option.
Moreover, the raised control buttons are easy to touch, making the unit excellent for the blind.
There's no chance of making mistakes while using this unit, as you can adjust the speaker volume to suit your needs.
Conclusion
Finding the best microwave for the blind or visually impaired person should never be a big hassle.

Before considering any unit, ask yourself this: does it have voice control, a smart sensor, and big knobs?

If yes, that's the right microwave oven to buy for your blind or visually impaired person.
All of the above units guarantee the same features. Plus, they will perform extraordinarily to make your food preparation easy and fun. 

Use our reviews above to select any of the best microwaves for the blind. I hope you'll find it useful.