Top 3 Picks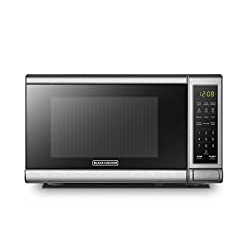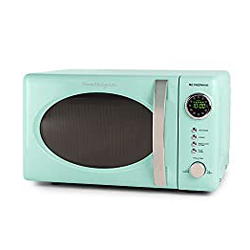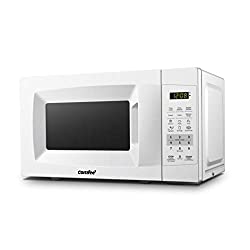 In the last six months alone, more than 45 cabinet-depth microwaves have entered the market, and we tested and reviewed them to find out how well they perform.
In this guide, we'll break down our results and recommend the best options for you.
Among those I tested, BLACK+DECKER EM720CB7 was manufactured while keeping space saving in mind. COMFEE' EM720CPL-PM is another affordable 12-inch deep microwave with auto-cook functions.
So what's the best cabinet depth microwave made of? A sizable but not big microwave, especially a 12-inch one, is the way to go. It can be a regular microwave or a microwave without a turntable.
In A Hurry? Here Are Our Top 5 Picks For Cabinet Depth Microwaves:
1. Best Overall: BLACK+DECKER EM720CB7 (Buy on Amazon)
"The space-saving and sleek-looking microwave maintains a high aesthetic profile in your kitchen"
2. Best Affordable: Nostalgia RMO7AQ Retro 0.7 CU FT (Buy on Amazon)
"It has a handful of elegant features and surprising functionalities."
3. Best Budget: COMFEE' EM720CPL-PM (Buy on Amazon)
"One-touch cooking, a removable turntable, and a compact footprint make it a standout"
4. Most stylish: Farberware Classic FMO07AHTBKJ (Buy on Amazon)
"Warm a lot of food at once and very fast as long as the plate fits and rotates freely in the oven"
5. Best Multipurpose: Commercial Chef Counter Top Rotary (Buy on Amazon)
"You can carry anywhere from studios to vans to countertops where space is limited"
Best 12-Inch Microwaves (Our Honest Reviews)
Looking for a shallow-depth microwave? Here are our top picks for you. Stay with us and grab your best cabinet microwaves that match your cooking needs.
I remember my parents coming home with a huge microwave every time they renovated our kitchen. It was exciting to see how those big machines warmed food without any heat source.
Three decades later, I'm here looking for the best microwave for my limited-space kitchen. Unfortunately, I'm not alone; many of us are facing the same dilemma.
But landing on a perfect choice requires you to sift through hundreds of microwave stores, which is a tiresome and tedious process.
Luckily, we've simplified your job by letting you know the best 12-inch microwaves.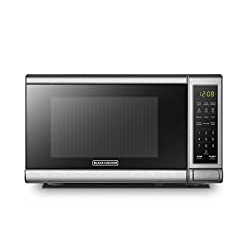 Decker countertop is a 12-inch microwave that equates your money's value to perfect functionalities. This appliance is high quality, sleek looking, and above all, space-saving.
A high-quality oven will last for years, thus saving on your budget. On the flip side, space-saving and sleek-looking microwaves maintain a high aesthetic profile in your kitchen.
At a glance, this microwave forms a small frame of 17.3X13.X10 inches, but the space inside is enough for a family's needs.
As a small compact microwave, the Decker is not only apt for shallow cabinet depths, but it also fits very well in corners. This is ideal for equipping your kitchen with modern appliances that consume less space.
It features several pre-programmed or auto-preset buttons for popcorn, potato, pizza, frozen vegetables, beverages, and dinner plates. There is no doubt that these pre-programmed buttons come with remarkable convenience.
The auto-defrosting characteristics also accelerate your cooking process, thus boosting the kitchen's rapport. Auto defrost function has two options based on the food's weight and time.
Standing at 700 watts power output, we can boldly say BLACK DECKER saves energy bills while maintaining high operating standards.
Furthermore, this countertop depth microwave has an array of control features, ten power settings, a timer, 30-sec express cooking, and more.
You'll love the 10 power setting levels as they're great for flexible cooking. In contrast, the 30-sec express cooking options are for lazy folks like me.
The large LED display, interior light, child safety lock, and push-button for door release entice users to buy this 12″ deep microwave. I was particularly impressed by the LED display and interior lighting features since I could easily warm food at night.
But, the child safety lock protected my disastrous little ones from being boiled in the microwave. So you, too, can get this powerful kitchen appliance and live a happy life hereafter.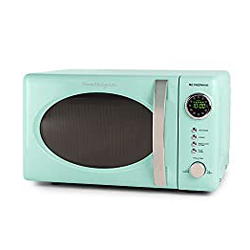 This is another 12-inches depth microwave on our list today with its elegant features and surprising functionalities.
This oven is a rare case of a kitchen appliance that adds some vintage accent to your ultra-modern kitchen. Sleek aqua color and the retro style design flair your kitchen with pure splendor and fun.
Furthermore, if you are not a "blue person," I believe red's love will amaze you. Don't drop your jaws seeing how glamorous a red oven is; go for it and spark your kitchen's beauty into a flame.
If you're looking for convenience and efficiency in this shallow-depth microwave, you don't have to work hard!
It has 12 pre-programmed cooking settings, a delayed timer, and express cooking settings for easy usage and excellent functionality.
These heating options are for popular dishes such as pizza, potatoes, popcorn, etc. Just shove whatever fast food you have in the oven and press the respective pre-programmed button to heat your food.
The 700-watt power rating drives enough energy to make this cabinet depth an indomitable appliance for handling needed cooking. The power can also be adjusted to 5 different levels.
Depending on the amount of food you are heating, set the power output and let the oven convert ingredients into tasty dishes. Similarly, you can reheat cold food as long you tune the power output correctly.
Thoughtful features like the digital clock, well-illuminated interior, and simple dial program for navigating your cooking settings are great for senior citizens.
The well-illuminated interior clearly shows how the food is cooking, and you can tune the setting promptly for faster cooking. Elders find great pleasure in using these microwaves since the control panel is simple to navigate.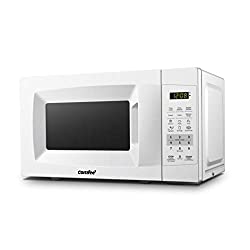 COMFEE' is among the most bought 12-inch cabinet depth microwaves. Its multi-functional features allow you to enjoy ultimate kitchen versatility.

The one-touch cooking, a removable turntable, and a compact footprint are among the few characteristics making COMFEE comfortable.
The removable turntable has many advantages, especially when cleaning – the oven when the turntable is removable.
Having this shelf-depth microwave means you have a complete kitchen tool for defrosting, cooking, and reheating food. The one-touch express cooking program ranging from 1 to 6 minutes, is helpful when you are hurrying or multitasking.
Setting the time is a matter of pressing the button severally and quickly. Moreover, the easy auto-cook functions for popcorn, pizza, potatoes, etc., are reliable for cooking simple meals.
Unlike other ovens, COMFEE' EM720CPL-PMB is an eco-friendly appliance that saves on energy. If you switch to an energy-saving eco mode, the microwaves run on 50% standby power.
This option is handy to cool down the escalating global conflicts over sustainability and energy usage by home appliances.
With a COMFEE oven, you can effortlessly elevate your environment protection endeavors to reality.
The stylish black stainless steel finish forms the external aesthetic and sturdy framework for these over-the-range microwaves. The first time I used this oven, I was stunned by its features and the glamorous finish.
You don't need a third eye to find out how this oven stands out. Buy yours now and let your kitchen be filled with colorful appliances.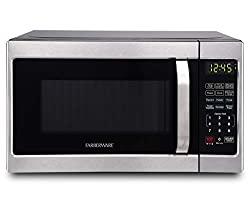 With an internal volume of over 0.7 cubic feet, Farberware is a regular-sized microwave capable of handling a standard dinner plate.

It can warm a lot of food at once and very fast as long as the plate fits and rotates freely in the oven.
This is perfect for not only small families but also party food can be prepared in it. If you plan to host a large party, don't worry about microwaves; Farberware got you covered.
Farberware Classic's 700-watt power output clearly advertises how effective and efficient this countertop microwave is. This power rating packs enough energy to prepare snacks within a snap.
Furthermore, the rotating turntable ensures efficient heat distribution; hence your food is evenly cooked. As a dedicated person, this Classic oven is what you need to warm your morning coffee before launching your busy day.
The versatility of this cabinet depth microwaves roots in 10 different power rating options capable of handling different food types. You can also defrost food based on time or weight.
Additionally, the automatic LED display with a kitchen timer lets you see how your food is heating even in darkness. This LED display, combined with interior lighting, is a perfect monitoring tool for your cooking process.
If you are searching for a microwave 12-inch depth, Farberware will be among your top options. Don't underestimate its small size, thinking it can't deliver! You try the 12 auto cook programs and see how excellent the results are.
When using mine, I could cook different foods using auto-cook settings without further investments in terms of monitoring. Right now, I want to try several recipes and find out which auto-cook function can multitask.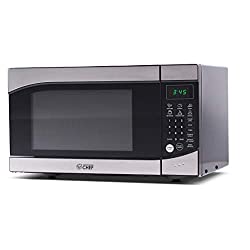 As the name suggests, a commercial chef microwave is a unique and multipurpose kitchen appliance.

Likewise, it is a shallow-depth microwave; you can carry it anywhere from studios to vans to countertops where space is limited.
The compact body fits very well in corners too. The countertop's portability and flexibility earn it a prime spot as a kitchen appliance shopper.
Although this wallet microwave is small, it lives to approve why it was branded commercial! Just to disapprove skeptics, Chef Counter is an able and all-purpose kitchen machine.
Thanks to the 600-watt power rating, you can cook anything. From frozen foods to easy-to-grab meals, Chef Microwave prepares them all within a short time.
The durability of this microwave can never go unnoticed. My oven's body is still intact, even after using it for the past two years!
The white front display and the cabinet compatibility don't show signs of aging!
And that is wonderful since I'm always voting for high-quality and durable products.
Why The Depth Of Your Microwave Is Important?
Traditionally, the price was one of the highly criticized factors when buying appliances.
Nowadays, though, the price is still playing its role but space is highly prized, especially when shopping for your kitchen.
A microwave's depth is one of the many factors you should look for in this outstanding kitchen appliance. Other than space-saving, does the depth of a microwave serve any other function? Let us get down to the matter.
It Elevates your kitchen's safety standards
A cabinet-depth microwave is designed to always fit on the kitchen's shelves. But when it pops out, probably on an active "highway," it is most likely to cause harm.
Other than you or your kids hitting the microwave and harming the contact area- stomach, head, or chest, it can severely injure your feet.
Understand the relationship between your microwave and shelf depth before purchasing one. This will help you prevent accidents.
Additionally, a deeper microwave tends to destabilize the shelves. When you open its door, the whole thing may come down right onto your feet.
If there is hot food inside, it will be a double tragedy! But if you understand how a microwave's depth works, your kitchen's safety odds will increase.
Aesthetically appealing
Your kitchen should be as beautiful as the food you bring to the table. To ensure your kitchen is always appealing, get a microwave whose depth is shallower than your cabinet's.
Everything will be geometrically arranged here, and your cooking area will be more attractive than ever. And as folks say, "a beautiful kitchen is a sign of good health, and love" Yours has lots of love!
However, a tiny oven is not enticing at all; it disappears onto the shelf, leaving a large unaccounted space. In other words, this shelf's dent caused by a small microwave on a large shelf makes your kitchen ugly.
That is why it is essential you know the depth of your oven before you buy it. Just go for a sizable microwave that fits perfectly on your shelf or kitchen corner.
It aligns your costs
In most cases, price is synonymous with size. And since we use a microwave's depth to determine its size, you must know this factor before allocating a budget.
Also, the size of the microwave will determine how large your shelves should be made.
This will affect the amount of money you will spend on assembling kitchen furniture. Avoid shelling your money on large ovens, yet a 12-inch depth microwave requires less space and is cheap.
Frequently Asked Questions
How far should your microwave stick out from cabinets?
1 to 2 inches. Anything more than 2 inches will destabilize your oven and increase the risk of kitchen accidents. 0.5-1 inch clearance on the sidewalls is ideal for your oven.
How deep should a microwave cabinet be?
The standard measurement of a microwave cabinet is 15 to 18 inches, but this criterion is only applicable if your cabinet is 60 inches above the ground.
If your cabinet is above the fridge, make it at least 24 inches deep. Also, the depth of your cabinet is determined by the size of your microwave since their relationship is usually direct. 
Can you hang the microwave under a cabinet?
Well, with your DIY skills, everything is possible! Yes, you can mount or hang your microwave under the cabinet, but you need to be careful because the oven might be unstable or unbalanced on both sides. Get a technician to help you with the process if you cannot do it by yourself.