Are you looking for the perfect carne asada seasoning recipe to take this dish to the next level and achieve the mouth-watering authentic Mexican flavor?
The key to authentic carne asada taste lies in its seasoning, which includes a blend of spices and herbs, such as:
Mexican chili powder.
Garlic and onion powder.
Tajin.
Ground cumin.
Mexican oregano.
Cayenne pepper.
Chipotle pepper.
Ground coriander.
You can experiment with the seasoning to suit your preference regarding taste.
In this article, we'll discuss carne asada seasoning and how you can make it from the comfort of your home.
What is carne asada meat?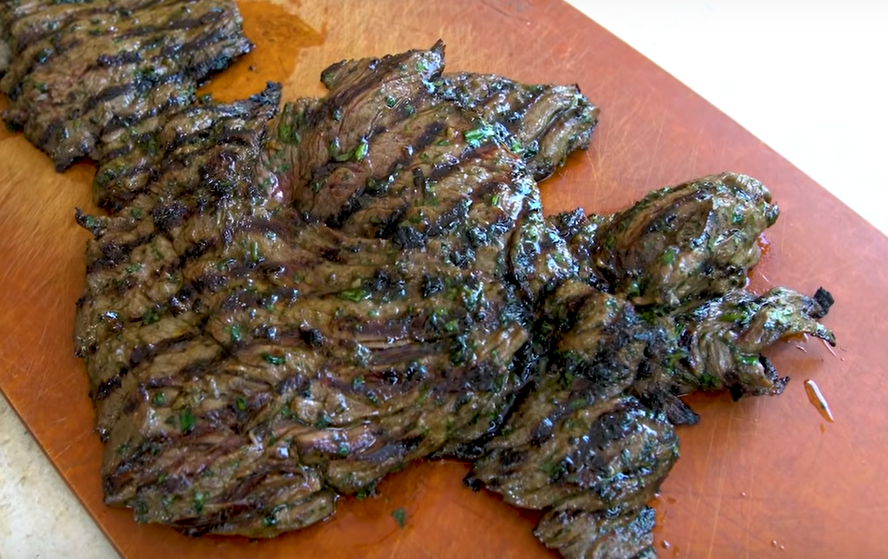 Carne asada is a grilled beef dish traditional to Mexico and made from flank or skirt steak marinated in different spices and herbs before grilling or searing.
The marinade gives the steak a tangy and slightly acidic flavor, while the grilling or searing adds a charred and smoky taste. However, you need authentic carne asada seasoning for the best taste.
The meat is sliced thinly after grilling and served on its own or with a rice and beans plate, tacos, burritos, or quesadillas. People usually confuse carne asada with Carnitas, which is made from pork shoulder.
What is carne asada seasoning Recipe made of?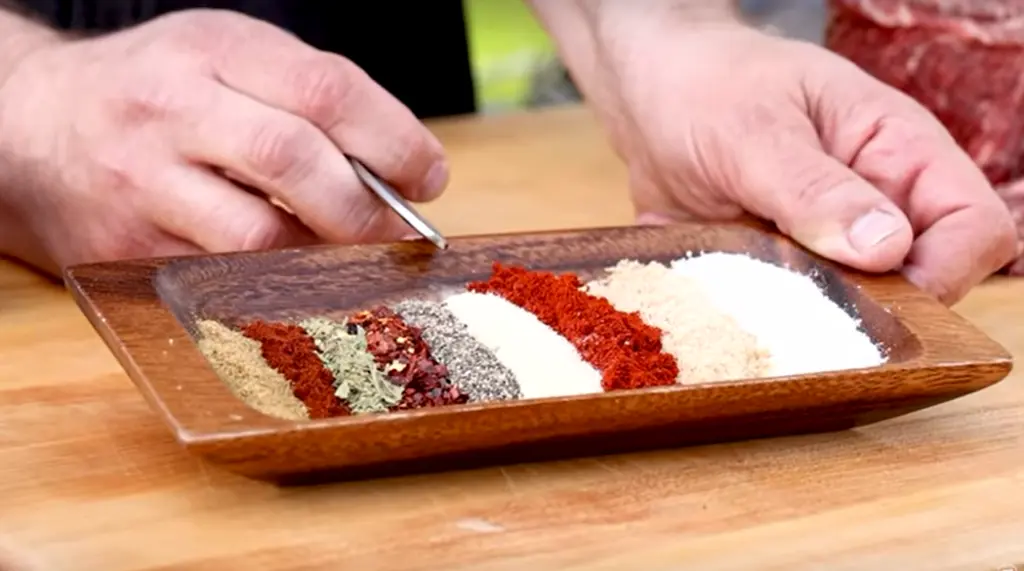 Carne asada seasoning recipe includes traditional Mexican herbs with some blends of spices and lemon, orange, or lime juice for marinade. This specific blend of spices can vary depending on personal preferences and recipes.
Below are ingredients of the carne asada seasonings that you can use to make the dry rub dub:
Sea Salt: A natural and unrefined form of salt produced from evaporated seawater or saltwater lakes. Its subtle brininess and texture offer a unique flavor profile to carne asada.
Mexican Chili powder: A blend of dehydrated selected chili peppers, preferably ancho, guajillo, pasilla, and arbol.
Garlic and Onion powders: Popular seasonings made from dried or dehydrated garlic and onion.
Tajin Classico: A unique spice mix with a blend of 100% natural chili peppers, lime, and sea salt commonly used in Mexican cuisines.
Ground cumin: A versatile spice made from whole cumin seeds and adds a rich earthy, warm flavor with a hint of citrus to any dish.
Mexican oregano or Lippia graveolens: A unique spice with a slightly earthy flavor, citrus undertones, and a hint of anise. It differs from the common Mediterranean oregano and is native to Mexico and Central America.
Cayenne pepper: A moderately hot chili in the Capsicum family with a glossy, cherry-red hue.
Chipotle pepper: A smoke-dried ripe jalapeño chili pepper with bitter and smoky notes and underlying sweetness.
Ground coriander: A common spice made from dried whole coriander seeds, which provides an earthy, citrusy, nutty, and warm note to your carne asada.
INFO: You can experiment with the seasoning and make it according to your liking.
Are There Different Types Of Carne Asada Seasoning?
Although there is only one authentic Mexican carne asada seasoning recipe, you can also experiment with it to make other variations and add more flavors to your dish.
Here are some of the variations of carne asada seasoning you can try at home:
Italian Mexican Carne Asada Seasoning
This variation of dry rub carne asada seasoning recipe adds a touch of Italian flavor to the mix. To make this seasoning, simply add Italian herbs like basil, rosemary, parsley, and thyme to your traditional recipe.
You can also increase the spice level by adding more Cayenne pepper to your recipe.
Texas-Style Carne Asada Seasoning
Texas-style carne asada seasoning is a bit spicer than the traditional one and uses Texas Chilli Powder and black pepper instead of Mexican chili powder.
Sweet Carne Asada Seasoning
If you are not a fan of spicy food, you can give a sweet touch to your classic carne asada recipe. For this, add brown sugar and ground cinnamon, and avoid adding any chili powder to the mix. This seasoning goes well with Chicken marinades and grilled meat.
Note: You can also add other spices and herbs to your homemade mix, such as paprika powder, smoked paprika, white pepper, and Celery salt.
You will have a delicious and flavorful steak no matter what carne asada seasoning you choose.
Is Carne Asada Seasoning Gluten-Free and Vegan?
The carne asada seasoning recipe is gluten-free and vegan because it uses no wheat or animal products like flour, cheese, milk, etc. So, if you are on a vegan, gluten-free, or kosher diet, you can use this seasoning without any worry about your dietary preferences.
Note: If you purchase a ready-made carne asada seasoning recipe product, check the label on its packaging to ensure it is gluten-free and vegan.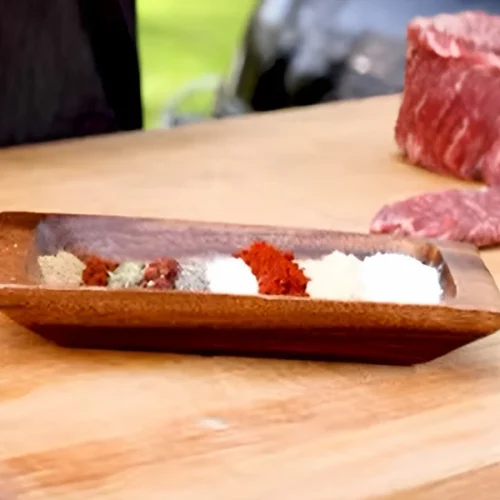 How To Make Carne Asada Dry Rub Dub Seasoning?
Read on to try our authentic carne asada seasoning recipe to spice up your steak and enjoy the bold flavors of Mexico in every bite!
Print
Pin
Rate
Ingredients
2

tablespoons

Mexican chili powder

1

tablespoon

Tajin Classico

(a seasoning blend that includes salt, lime, and chili)

1

tablespoon

Ground cumin

1

tablespoon

Mexican oregano or Lippia graveolens

1

tablespoon

Sea salt

1

tablespoon

Garlic powder

1

tablespoon

Onion powder

1

teaspoon

Cayenne pepper

(adjust to your preferred level of spiciness)

1

teaspoon

Chipotle pepper

(optional, for smoky flavor)

1

teaspoon

Ground coriander
Instructions
In a small bowl, combine all the dry ingredients: Mexican chili powder, Tajin Classico, ground cumin, Mexican oregano or Lippia graveolens, sea salt, garlic powder, onion powder, cayenne pepper, chipotle pepper (if using), and ground coriander.

Mix well until all the ingredients are evenly incorporated.

Taste the seasoning and adjust the spices according to your preference. You can add more cayenne pepper or chipotle pepper for extra heat or adjust the salt and other spices to suit your taste.

Pour the seasoning into an airtight spice jar, seal it, and store it in a cool and dry place. You can now store it for up to 6 months to make carne asada.
Notes
In this article, we've explored the ingredients used in carne asada seasoning and how to make it quickly at your home. 
We hope this article has covered everything you need to know about carne asada seasoning and its recipe so you can enjoy this flavorful dish anytime without going to a Mexican restaurant.