Are you tired of using makeshift methods to press bean curd and want to get the best tofu press to achieve the desired texture and taste?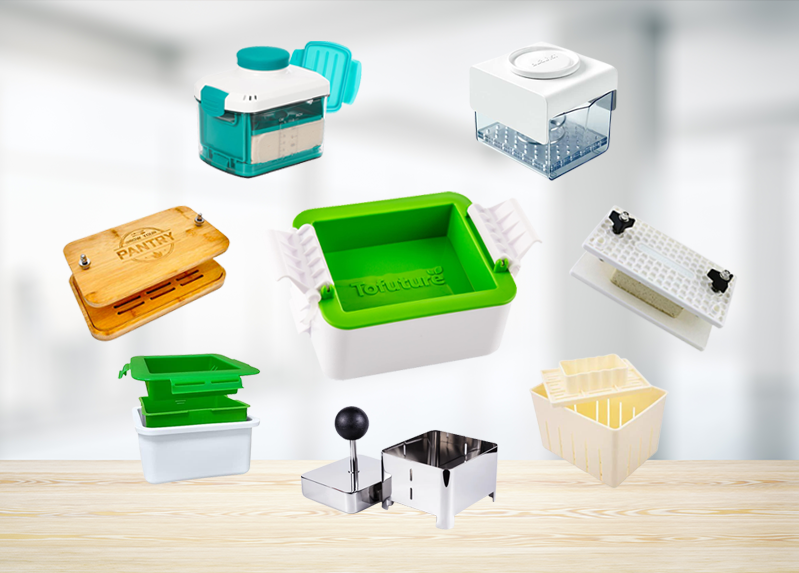 The Tofuture Tofu Press is the best kitchen gadget that quickly removes excess water from your bean curds and collects it in its outer container for mess-free pressing. The presser size is compact, easy to use, and made of BPA-free plastic, making it safe for cleaning in a dishwasher.
Below, we've researched for you and compiled a list of the best tofu press to help you achieve delicious, firm tofu perfect for stir-fries, salads, and more. We'll also discuss what you must consider when selecting a tofu press.
Do you really need a tofu press?
Pressing tofu is necessary for sautéing or shallow frying preparations to remove excess moisture and create a firmer texture. It can also make the process quicker and more efficient, allowing you to squeeze out most of the water in just 20 to 30 minutes. As a result, this dried tofu will sear or brown better and absorb flavors and spices more effectively.
10 Best Tofu Press in 2023
EZ Tofu Press is the best press as it has a user-friendly design that can extract all the moisture in as little as 15 minutes, resulting in firmer and more flavorful tofu for cooking, grilling, and baking.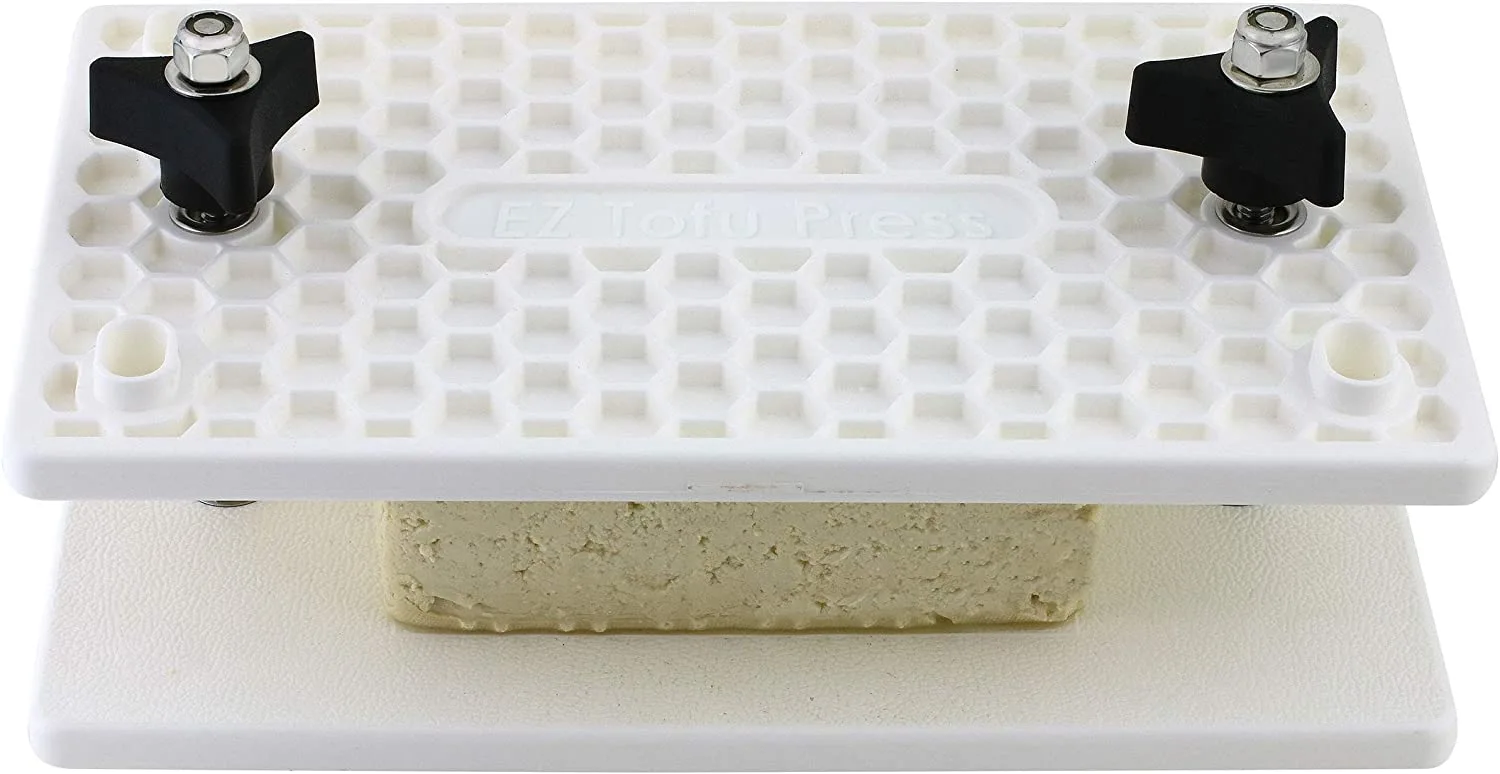 Now, let's explore the 10 best tofu presses to make perfectly pressed bean curd blocks ready to absorb all your favorite spices.
1. Tofuture Tofu Press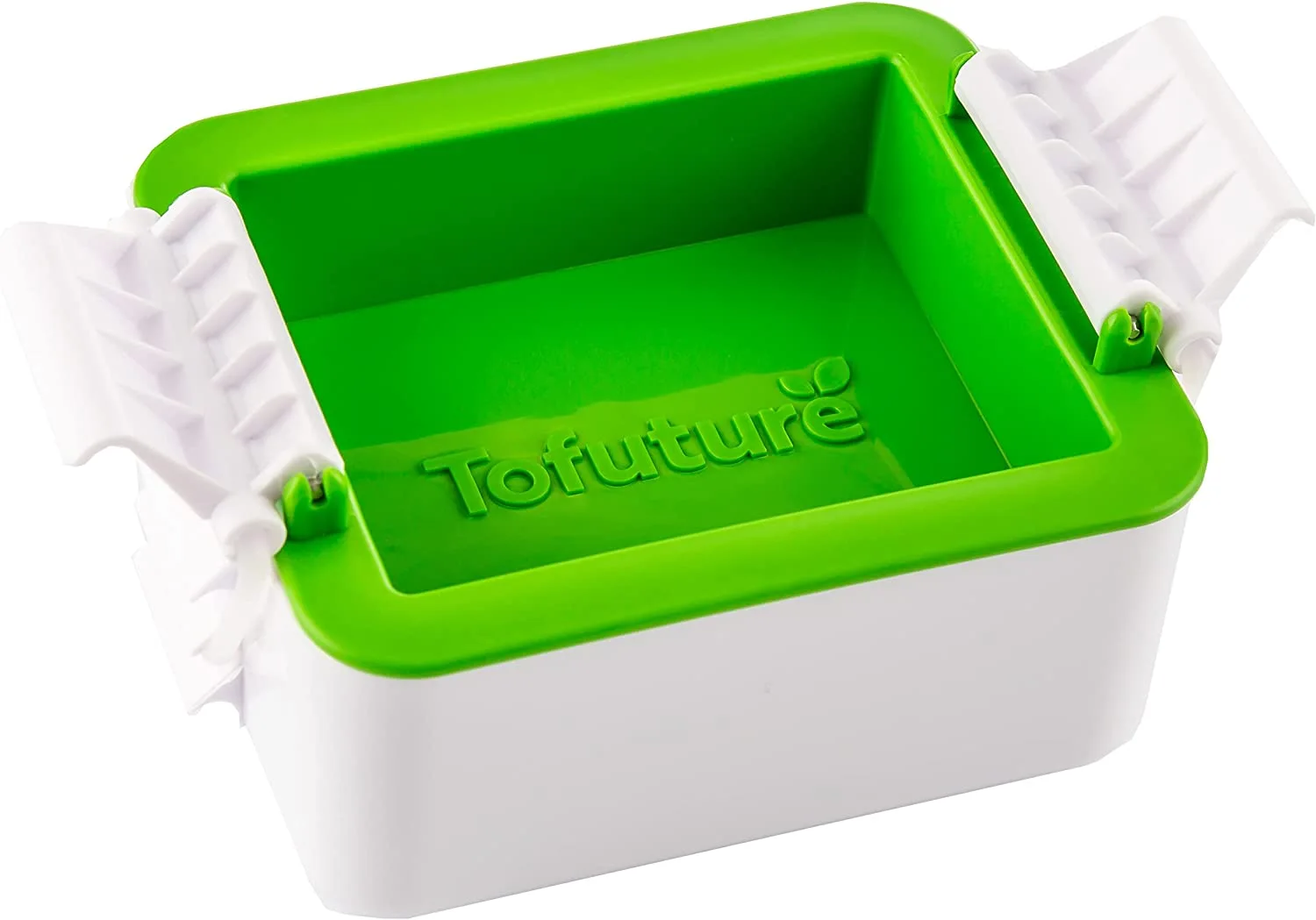 Tofuture Tofu Press is an efficient, easy-to-use, and affordable kitchen gadget for pressing tofu. The press features top-quality, BPA-free, dishwasher-safe material and is SATRA certified for food use. It also has three adjustable levels to press different sizes of tofu to improve its texture and make perfect blocks that absorb the spices easily.
Due to Tofuture's perfect design, the three-piece press keeps the tofu clear of the extracted water, which collects in the outer container. This allows for mess-free pressing without needing paper towels.
2-year warranty
Can make 8-12 oz tofu blocks
Compact design
Comes with a built-in drainage plate
Easy to use and clean
Dishwasher safe
High-quality plastic build
Completely streamlined with no unnecessary components
The silicon bands might be challenging to snap into place
Only comes in one color
Takes more time to press tofu
2. YARKOR Tofu Press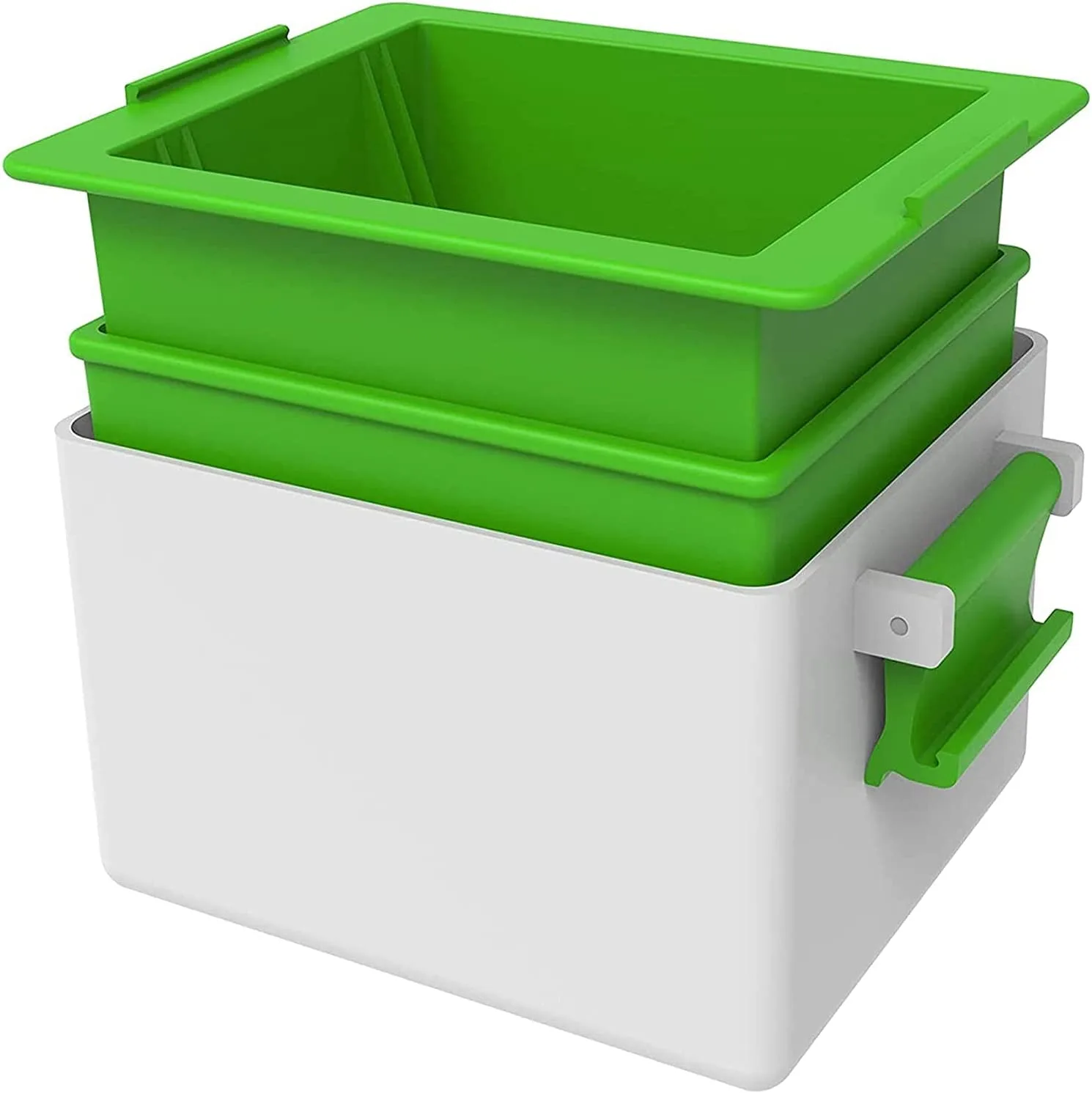 With four basic parts, the YARKOR Tofu Press helps improve the taste of bean curd by removing excess water. You can use it in just three simple steps; place the tofu in the strainer, cover it with the top lid, and lock it using the handles.
The press takes only 15-20 minutes to get firm and an additional 5-15 minutes for extra firm bean curd. YARKOR Tofu Press is made of high-quality food-grade materials and is BPA-free, making it safe for use in the dishwasher. The manufacturer also offers a 90-day money-back guarantee and a 2-year free replacement warranty.
Comes with a cheesecloth for other types of pressing and straining
Easy to use and clean 
Food-grade materials and BPA-free
Affordable
Dishwasher safe
Available in large and extra-large options
INFO: If you see spots on your tofu press after a wash, you can use the rinse aid feature in your dishwasher to clean it perfectly.
3. Mangocore Tofu Press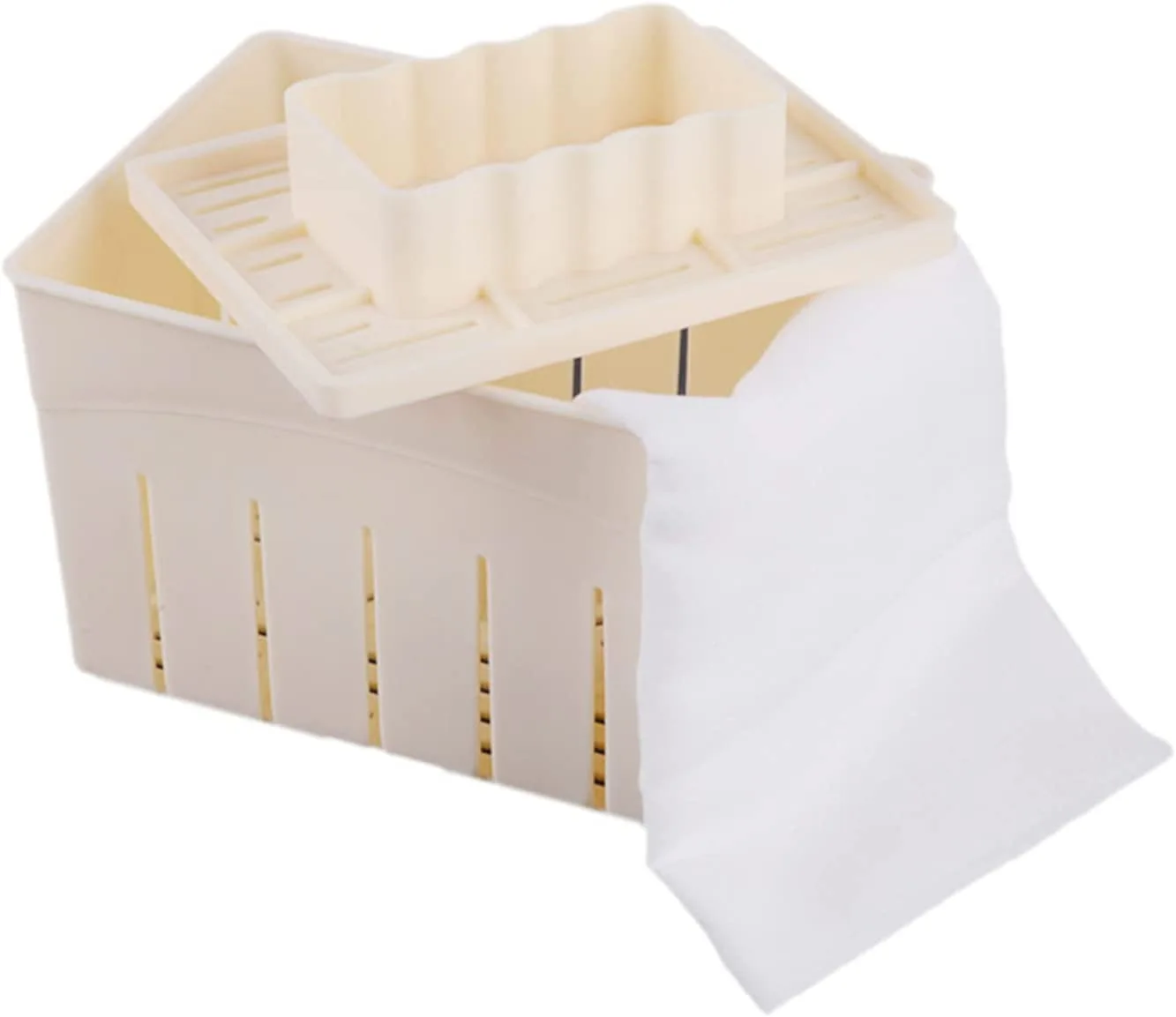 The Mangocore Tofu Press features food-grade plastic material, ensuring safety and durability for its users. The press also comes with a reusable, soft, breathable, and absorbent cloth, making it easy to create delicious, crispy tofu at home.
Aside from making tofu, you can use this press for food items, such as fresh homemade cheese and lobster sauce. This makes it a versatile tool in the kitchen, giving you more control over your food.
Compact size – 5.51×4.13×3.54 inches
High-quality food-grade plastic material
Includes reusable, comfortable, and soft tofu cloth
Best for making homemade tofu, cheese, and other vegetarian dishes
Great for beginners
Dishwasher-safe
Provides the best value for money
Does not come with a weighted top to press the water out
Dimensions may be small for larger amounts of tofu
4. EZ Tofu Press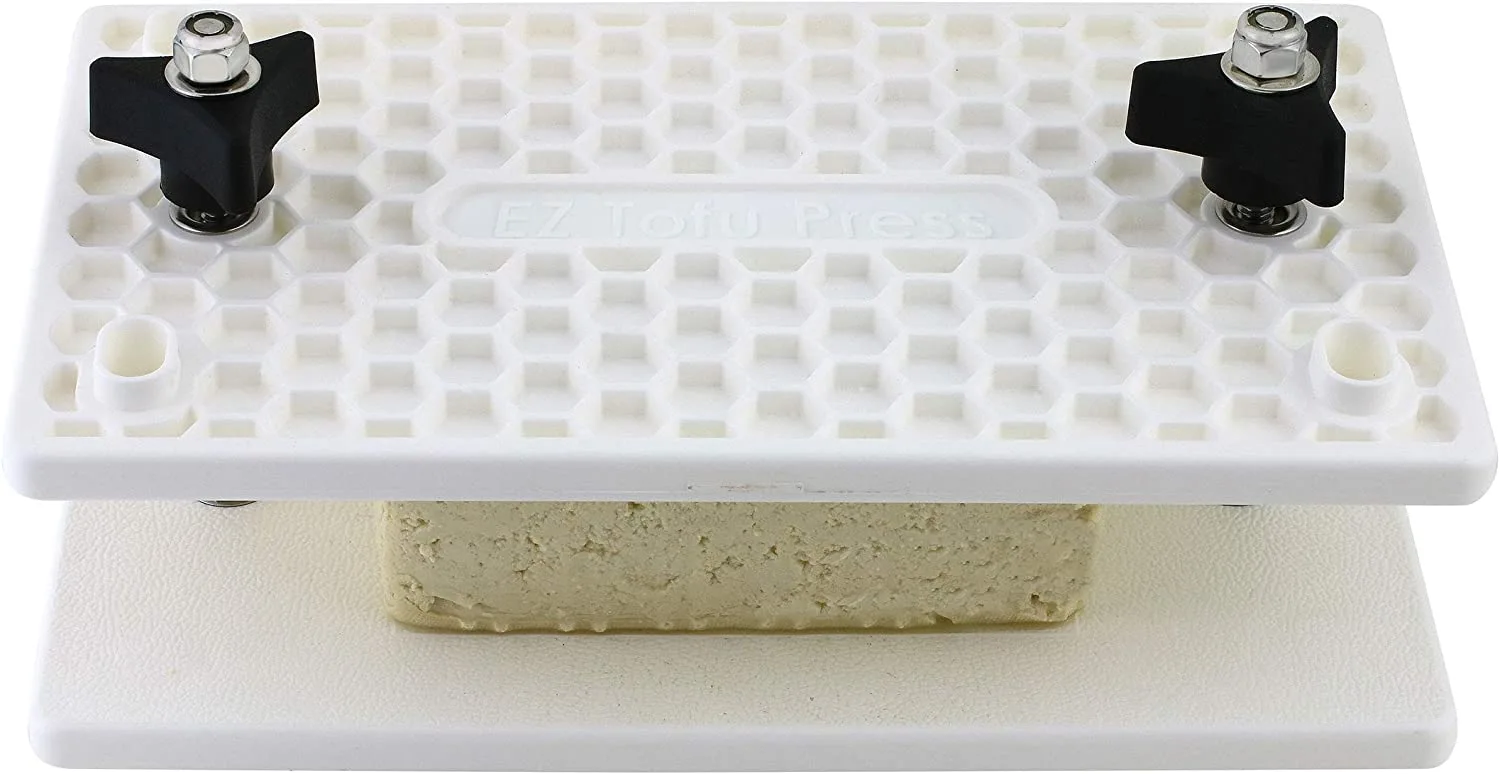 The EZ Tofu Press is a user-friendly kitchen gadget helpful in making extra firm tofu quickly and easily. Unlike other bean curd makers that use springs and elastic bands, this press has a simple, easy-to-use design. You can simply place your tofu block on the centering marks and tighten the knobs to make it extra firm.
The presser design is smooth and efficient. It has a stainless steel grommet top plate that removes water from your organic tofu in 15 minutes or less, turning it into a block ready to be marinated in spices and sliced.
Made with BPA-free USDA-approved plastic and stainless steel
User-friendly design
Smooth pressing with stainless steel grommet
Multi-use with different tofu mold sizes
Dishwasher safe
No set pressure level
No separate compartment to drain liquid
5. Grow Your Pantry Bamboo Tofu Press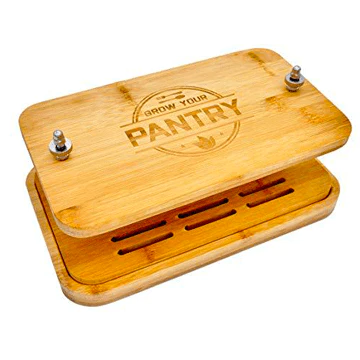 The Grow Your Pantry Bamboo Tofu Press is a must-have for crispy bean curd lovers. With its new and improved design, you can dry the tofu in just 15 minutes, providing restaurant-quality results.
The slotted holes are engineered for faster drainage of tofu, ensuring a firmer block in less time. The presser also comes with a drip tray, a drawstring tote bag, and an eBook guide with amazing tofu recipes from worldwide.
Makes firm tofu in 15 minutes
Improved design for faster drainage
Made with sustainable bamboo and stainless steel
Comes with a drip tray and storage bag
Includes recipe catalog
6. NOYA Adjustable Tofu Press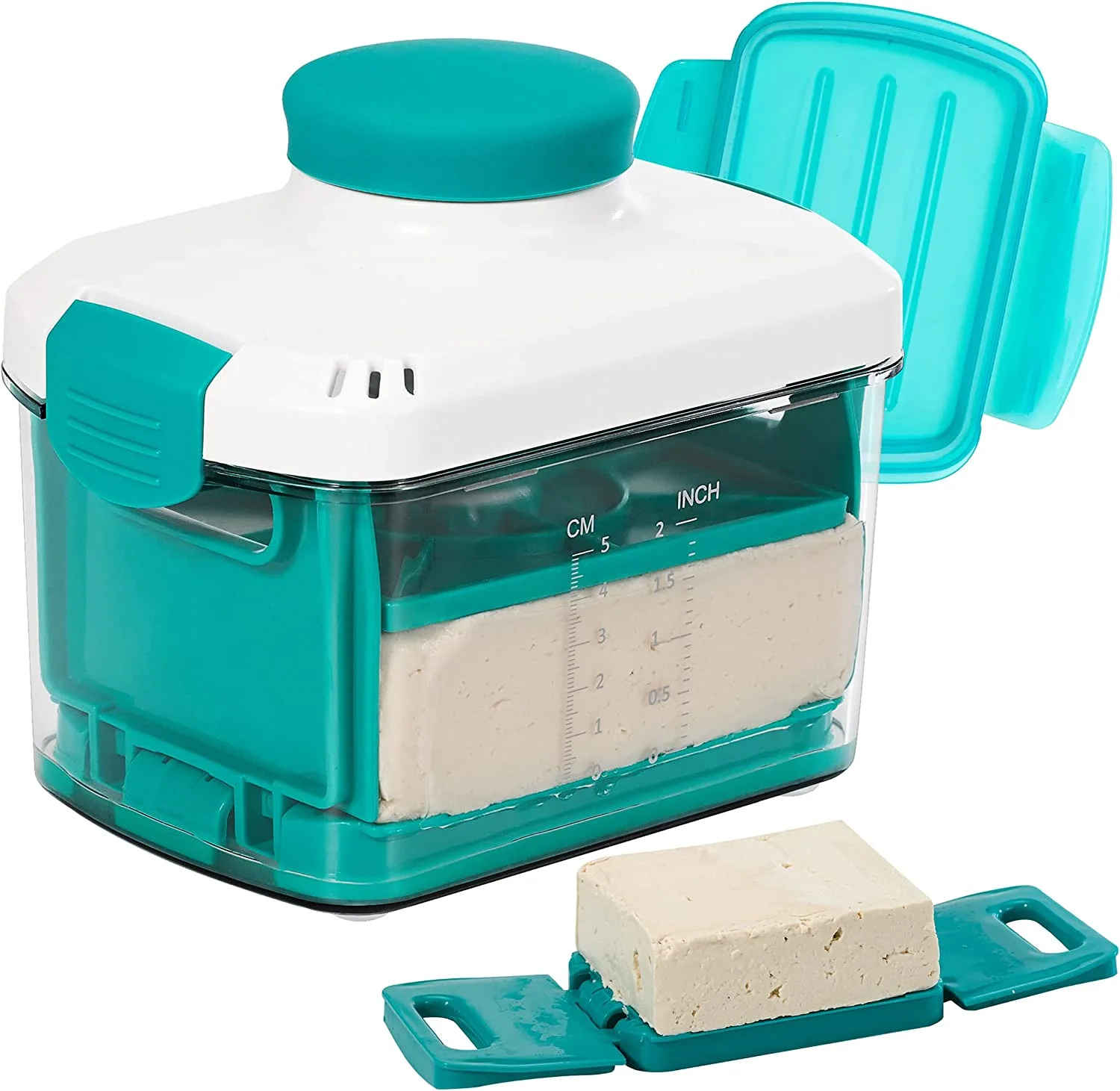 The NOYA Adjustable Tofu Press uses a stainless steel spring and a central dial to press out moisture from tofu quickly and evenly. The press has a clear water catcher with depth markings to measure the consistency of the tofu block.
The openable U drip tray in the press is a unique feature, making it easy to move the tofu without it crumbling.
Fast and even pressing
No cracking tofu
Openable U drip tray
Pour spout for easy water removal
Water catcher with depth marking
Bonus marinating lid
Compact design
The adjustable knob can be hard to tighten
The press can be uneven to place on kitchen surfaces
7. Raw Rutes Ninja Tofu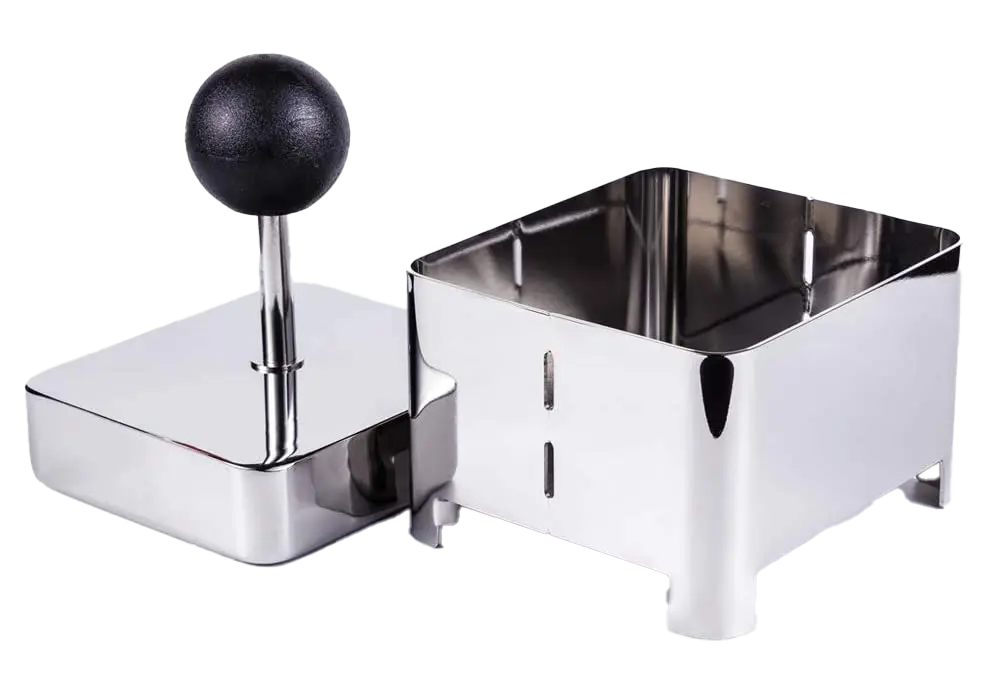 Raw Rutes Ninja Tofu is a durable stainless-steel press that promises to be the last tofu press you'll ever need to buy. Its ultra-heavy-duty pressing weight allows quick and effortless tofu pressing without any springs or rubber bands.
However, it doesn't have a compartment to collect moisture, so you must place it in a bowl or on a plate to avoid creating a mess afterward.
Made of sturdy stainless steel
Easy to use with minimal effort
Sleek and stylish design
Quick tofu pressing time
More expensive than other tofu presses
No compartment to collect tofu water
Not dishwasher-safe
8. ToPress Bamboo Tofu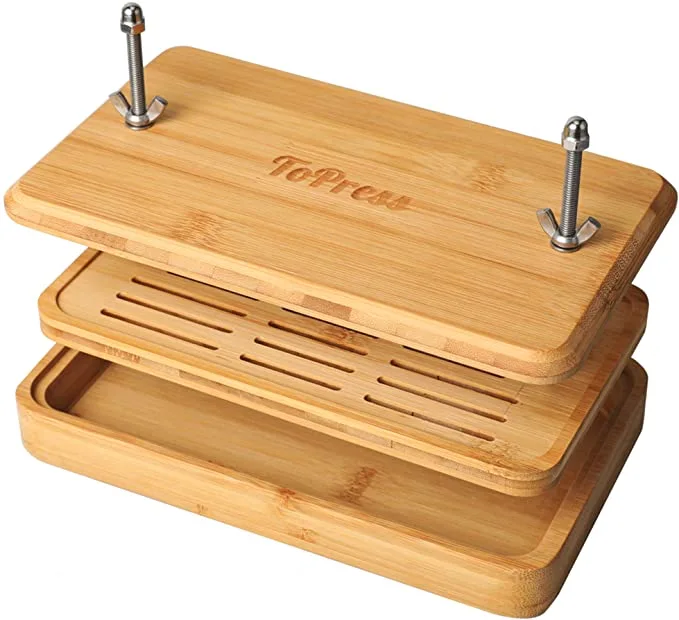 ToPress Bamboo Tofu, a 100% bamboo-made press, is perfect for bean curd enthusiasts and vegetarians. It's suitable for 8-16 oz tofu, and you can also use it for other foods like cheese. The press not only removes extra moisture from the bean curd but also makes it denser with deeper spices and flavor absorption.
Compared to others, this eco-friendly press has no plastics, glues, or petrochemicals, making it healthier for you and the environment. Furthermore, it offers easy-to-turn handles, drainage holes, a linen cloth filter, and a deep-fixing drip tray, perfect for small and large portions.
Made of natural bamboo, making it eco-friendly
Suitable for various tofu sizes
Provides better texture and flavor
Easy to use and mess-free
Comes with a 90-day money-back guarantee and a 12-month warranty
Made of durable stainless steel accessories
Even pressure from independent tightening
Can accommodate pressing more tofu in one go
Built-in drip tray for easy cleanup
Need to adjust knobs for complete drainage
Leaves indents on tofu after pressing
9. TofuBud Tofu Press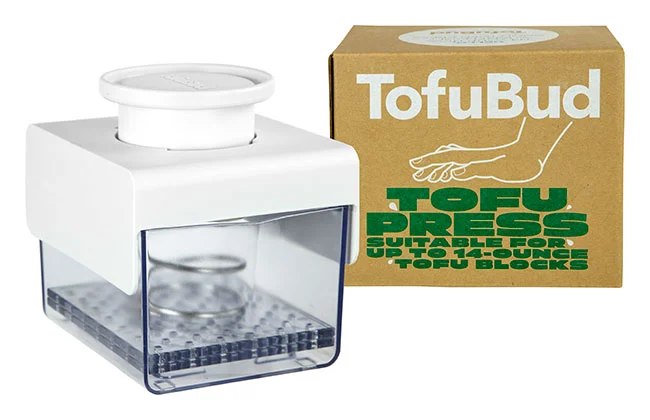 TofuBud Tofu Press is an excellent pick for making delicious, restaurant-quality bean curd at home. The press comes with two pressure levels, allowing you to choose the desired firmness for different types of tofu.
This press comprises only six parts for easy use and clean purposes. TofuBud Tofu Press is also dishwasher-safe and perfect for those who love to make bulk bean curd.
Drains moisture in 15 min
Dishwasher-safe
Made of food-grade, recyclable materials
Adjustable pressure levels for different firmness
Convenient removable drainer for no mess
Initial difficulty with twisting spring into place
10. TofuXpress Gourmet Tofu Press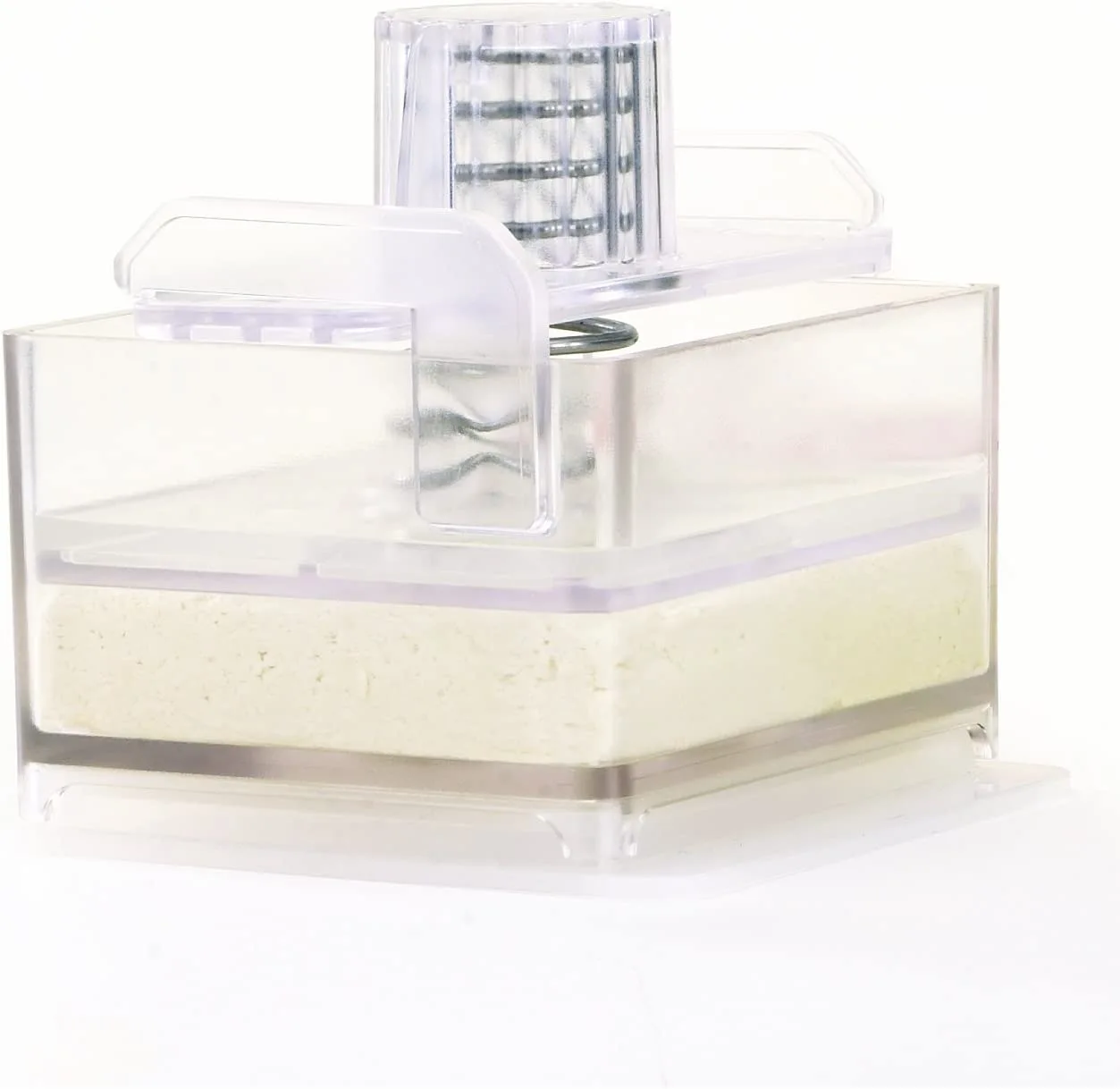 The TofuXpress Gourmet Tofu Press is a convenient and versatile tool that quickly removes moisture from tofu, creating an ideal texture for marinating, grilling, or baking.
The self-contained tray does not require a plate or bowl for draining and doubles as a marinating dish. The product's design makes it easy to clean, and you can even refrigerate the curd in it after use.
Easy tofu pressing
No need for a draining plate
Versatile for various foods
Doubles as marinating dish
Comes with a one-year warranty
What to Consider in a Tofu Press?
Since not all tofu presses are manufactured the same, you must consider the design, adjustability, material, and maintenance before buying. The best tofu press will withstand all the pressure built and provide a mess-free experience in making crispy tofu.
1. Design
The design of a tofu press can affect its functionality and ease of use. Therefore, buy a press with a stable and sturdy base to avoid any tipping over during use.
2. Adjustability
To get the best tofu press for your need, look for a gadget that lets you customize the pressure to make firmer or softer tofu, depending on your preferences.
3. Material
The material of the tofu press is also an essential factor to consider, as it can affect your overall experience. So, purchase a press made of durable and non-toxic materials like BPA-free plastic, bamboo, or stainless steel.
4. Maintenance
Lastly, consider the maintenance requirements of the tofu press. For example, some presses may require regular oiling or seasoning to prevent rusting or deterioration. While others may have parts that need to be replaced periodically, such as springs or rubber gaskets.
Read the manufacturer's instructions to ensure proper maintenance of your tofu press, and check if it comes with a warranty or replacement parts in case of damage.
How do you press tofu with a press?
To press tofu with a press, cut it into the desired size and place it into the press. Tighten the knob or screws until the water gets drained from the tofu, and leave it for 10 – 60 minutes to remove any remaining moisture.
Next, remove the bean curd from the press, pat dry with a towel, and cook your pressed tofu in grapeseed oil or its substitutes or marinate it according to your preference.
Conclusion
In this article, we've reviewed the 10 best tofu press gadgets to help you achieve perfectly pressed bean curd blocks every time you want to make it. We've also explored whether you need a tofu press and how to use it at home.
You now have all the necessary information you need to buy a tofu press and add it to your gadget in the kitchen.
FAQs
How long should tofu be pressed?
In general, pressing tofu for at least 30 minutes is recommended to remove extra moisture and improve its texture. However, if you want soft tofu, press it for just ten minutes.
What is the benefit of pressing tofu?
Pressing tofu is beneficial because it compresses the bean curd, removing excess water and resulting in a firmer and drier block that retains its shape during cooking.
What happens if you don't press tofu?
If you don't press tofu, it will not absorb flavor as effectively, and you won't achieve a crispy texture when cooking, grilling, or baking it.
How do you know if tofu is pressed enough?
To determine if tofu is pressed enough, visually check if the block has become thinner after pressing. 
Should I cut tofu before pressing? 
Cutting the tofu before pressing can allow it to hold its shape better throughout the cooking process, especially when you are marinating or simmering it. 
Does pressed tofu to go bad?
Like any food, pressed tofu can go bad if it is not stored correctly or kept for too long. To preserve it for an extended period, refrigerate and store the tofu in an airtight container or wrapped tightly in plastic wrap to prevent it from drying out and absorbing odors from other foods.