Have you ever visited Burger King to try their tasty menu items and wondered if they offer any salads?
Burger King Side Garden Salad is an excellent pick for vegetarians, and the Chicken Garden Salad contains grilled or breaded chicken. Both of these salads are delicious and are packed with healthier ingredients.
In this article, we'll explore Burger King salads, along with their ingredients and nutritional values. We'll also discuss whether these salads are healthy enough to be your best option for your next meal at the food restaurant.
Does Burger King have salads?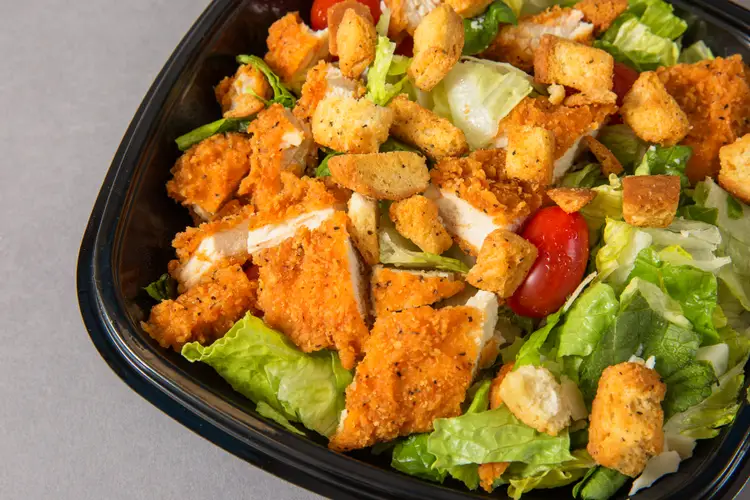 You'll find two Burger King salads at their restaurant chain. One is the Side Garden Salad, an excellent pick for vegetarians, and the other is Chicken Garden Salad, which contains grilled or breaded chicken.
Let's look at these two Burger King salads, their ingredients, and dressing options to help you pick one or both when dining at Burger King.
Side Garden Salad
Side Garden Salad at Burger King is an excellent option for vegetarians or anyone who follows a strict and healthy diet. It's up to you to order it as a side dish with any meal or enjoy it as a whole snack.
This light and refreshing salad come with a blend of premium lettuce, corn, cucumber, cherry tomatoes, and your choice of dressings.
Burger King offers different dressing options for customizing the Side Garden Salad, including:
KEN's salad dressing.
Italian dressing.
Caesar's dressing.
Ranch dressing.
Lite Honey Balsamic dressing.
Chicken Garden Salad
The second Burger King Salads option is the "Chicken Garden Salad," packed with a delightful combination of grilled or breaded chicken, fresh green veggies, and shredded cheddar cheese.
The salad starts with mixed greens, like crisp green romaine, radicchio lettuce, and green leaf. These vegetables make Chicken Garden salad refreshing and crunchy, enhancing the overall taste.
Next, the restaurant adds luscious ripened tomatoes and buttery garlic croutons to provide a more vibrant flavor profile and freshness.
As the name indicates, the main ingredient of Chicken Garden salad is tender and succulent grilled or breaded chicken from the breast meat, which adds a delectable protein element. The medley of shredded cheese adds an extra layer of texture and taste.
To complete the Burger King Chicken Garden Salad, you can choose dressings to customize the snack per your preference. This includes:
Ranch dressing.
Italian dressing.
Honey Balsamic dressing.
You may find other salad options at a few Burger King locations, like in Cyprus chains. Some of them are:
Vegan royale salad.
Kids side salad.
Vegan royale salad.
Grilled chicken salad.
Crispy chicken salad.
How Many Calories Are In A Burger King Garden Salad?
Burger King Side Garden Salad has only 62 calories per 99 g serving, while the Chicken Garden Salad with grilled chicken has 320 calories.
Here are the complete details of calories and nutritional values in Burger King salads:
Calories In Side Garden Salad
One aspect many health-conscious individuals love about Burger King's Side Green salad is its 62-calorie count and no trans fat without dressing. Compared to other fast food items, this salad is a guilt-free option for those concerned about calorie intake.
Below is the breakdown of the nutritional value of Side Garden salad:
| | |
| --- | --- |
| Serving Size | 99 g |
| Proteins | 4 g |
| Net Carbs | 2.4 g |
| Glycemic Load | 1.09 |
| Fat & Cholesterol | 3.7 g & 20 mg |
Calories In Chicken Garden Salad
On average, a standard-sized Burger King Chicken Garden Salad without dressing contains 320 calories, making it the most indulgent and healthiest item on the menu.
This calorie count is calculated approximately with vegetables, buttery garlic croutons, shredded cheddar cheese, and grilled chicken. However, it varies depending on the portion size and dressing. So, opt for a lighter dressing option to manage your calorie intake.
Below is the complete overview of the nutritional value of Burger King Chicken Garden Salad:
| | |
| --- | --- |
| Serving Size | 308 g |
| Proteins | 36 g with a 72% daily value |
| Net Carbs | 16 g with a 5% daily value |
| Cholesterol | 115mg with a 38% daily value |
| Fat | 14 g |
Are Burger King Salads Healthy?
The low-calorie count in Burger King salads makes them healthy eatables compared to other items on their menu. Both salads are trans fats free, which is suitable for people with cardiovascular diseases.
The Burger King's Side Garden salad is also rich in the following nutritional supplements:
| | |
| --- | --- |
| Supplements | Value in mg or g |
| Calcium | 115.2 mg |
| Iron | 0.7 mg |
| Magnesium | 14.5 mg |
| Sodium | 98.4 mg |
| Zinc | 0.7 mg |
| Phosphorus | 86.9 mg |
| Potassium | 223.7 mg |
| Folate | 62.8 mcg |
| Selenium | 3.3 mcg |
| Choline | 11 mg |
| Vitamin A | 327.6 mcg |
| Thiamin or Vitamin B1 | 0.1 mg |
| Riboflavin or B2 | 0.1 mg |
| Niacin or B3 | 0.4 mg |
| B5 | 0.2 mg |
| B6 | 0.1 mg |
| B12 | 0.2 mcg |
| Vitamin C | 6.6 mg |
| D | 0.1 mcg |
| Vitamin E | 0.5 mg |
| Vitamin K | 89.8 mcg |
The Chicken Garden salad is a rich source of Sodium (1210 mg) that provides almost half the recommended daily intake for an individual.
Are There Any Healthier Options At Burger King Other Than Salads?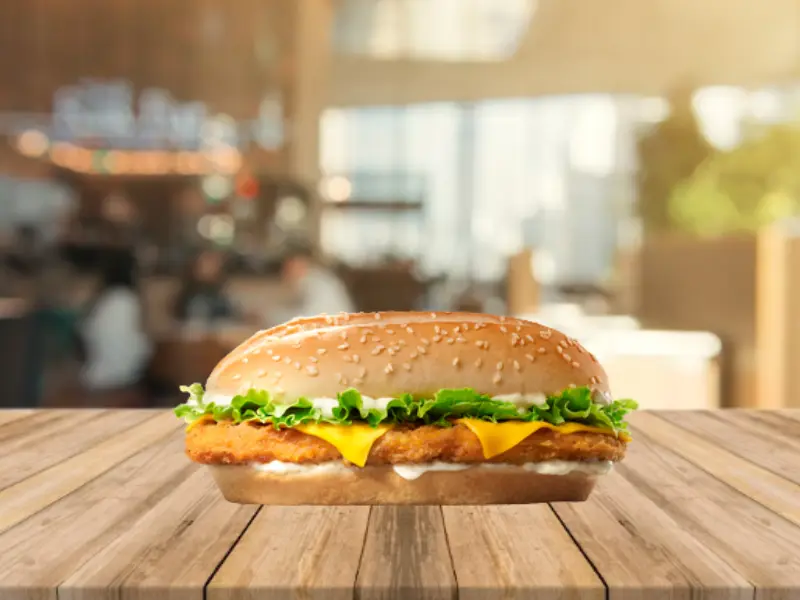 Besides the salads, Burger King also offers other healthier options in their fast-food menu, such as cheeseburgers, hamburgers, and Chicken nuggets.
Below, we'll talk about these items and analyze how they benefit your health.
Cheeseburger
Burger King Cheeseburger is an excellent alternative to their Garden Side salad. One reason is it has just over 40 calories and almost 3 grams of fat per serving. The second is its sodium content which is lower than both salads served at the fast food restaurant.
Moreover, the cheese adds flavor to your burger and increases the protein content to 15 grams. However, if you pair it with other items, like fries, onion rings, or cold drinks, your meal's calorie, and sodium content increases significantly.
So we recommend you consume the cheeseburger with sides like applesauce or unsweetened drinks.
Hamburger
Another healthy option other than the salads at Burger King is the plain hamburger. It contains 240 calories and only 10 grams of fats which is relatively low than Chicken Garden salad.
The Burger King hamburger sodium content is 380 mg; adding toppings, drinks, and condiments will increase your hamburger calories and fat counts.
To keep the hamburger healthier, opt for low calories sides, avoid additional sauces, and drinks only unsweetened beverages with it.
Chicken Nuggets
If you want a healthier chicken snack at Burger King besides their salads, order the 4-piece nuggets pack for your next meal.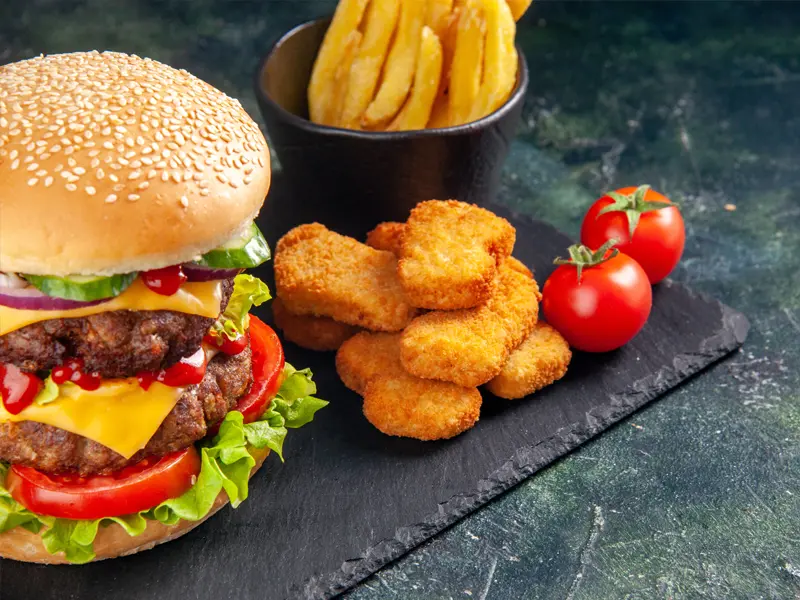 A pack of Burger King chicken nuggets has only 170 calories per serving. The Sodium and fat content, which is 310 mg and 11 g, is also low compared to other meals.
NOTE: If you are trying to make BK nuggets at home, measure the chicken breast weight in ounces or pounds for perfect recipe results.
Whopper Jr.
The Burger Kings's Whopper Jr. is perhaps the lowest sodium meal on the menu, containing 390 mg. However, toppings, sides, and condiments can add 100-300 mg of sodium to these numbers.
Although the 390 mg sodium is not considered low according to FDA, it is best to consume Whopper Jr. in moderation and keep it as an occasional part of your balanced diet.
Keto-Friendly Breakfast
Burger King is a popular choice for people who want to start their day by eating breakfast there. If you're going to keep tabs on your health, order any of the sandwiches without the biscuit.
For instance, the egg, sausage, and cheese biscuit without adding the biscuit in the mix will give you a low-carb, high-protein snack. You can change the sausage with bacon or ham and keep the carb count low.
This whole breakfast fuels your day by providing 14 grams of protein that helps you feel full and fresh for the tough tasks ahead.
NOTE: To keep calories on the lower side, choose any of Burger King's BBQ or buffalo sauce, honey mustard, and ketchup, which has less than 100 calories for each serving.
Conclusion
In this article, we've discussed the two Burger King salads, i.e., Side Garden and Chicken Garden salads, their ingredients, dressing options, and nutritional values. We've also explained other healthier items on the Burger King menu.
Next time you visit Burger King, order these salads to enjoy a delicious and healthier meal without compromising your healthy lifestyle.
FAQs
Did Burger King Used To Have A Salad Bar?
Burger King used to have a salad bar in the 1980s that offered a variety of fresh salads. However, it lost profits and faced complaints from franchisees about high operating costs and low return on investment. 
As a result, the salad bar was discontinued by the end of the 1980s and replaced with pre-made salads.
Will Burger King Bring Back Salads?
At some locations in New York, Burger King discontinued offering salads on their menu in 2022. As per the reports, the restaurant managers have confirmed these items are removed forever and won't be coming back soon.
How Much Is A Garden Salad At Burger King?
The Burger King's Garden Side salad is only $1.59, while the Chicken Garden salad is offered at different prices based on the type of chicken used.
What Kind Of Lettuce Does Burger King Use?
Burger King uses freshly cut premium iceberg and radicchio lettuce in their Garden Side and Chicken Garden salads.